Click here to contribute a review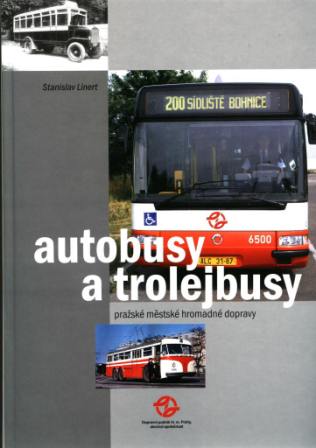 Autobusy a Trolejbusy - pražské mĕstské hromadné dopravy

Stanislav Linert

ISBN 80-238-8574X - 216mm x 302mm - 264 pages Hardback
Illustrated in Colour and Monochrome.

"This is a chronicle of buses and trolleybuses in Prague from 1908 to 2002. I purchased the book at The Transportation Museum in Prague. The book is written in Czech but since it serves mainly as a reference guide of the various vehicle makes and models, this becomes less important. A Czech dictionary however, may be handy to have. The vehicle information is grouped by time period and then manufacturer and model. Tatra, Skoda, Ikarus and Karosa are just a few of the manufacturer's buses used in Prague during this time period. There are many photographs and diagrams giving vehicle dimensions and some even show seating arrangements. They also supply some technical data including motor, transmission, and maximum speed and more. The year of manufacture and the number of vehicles purchased and fleet numbers assigned is also documented. There is a small section devoted to the various garages again, showing many photographs There are several short historical overviews throughout the book that may be difficult if you aren't fluent in Czech, but this book is well worth the purchase for the photographs alone!"

WLD

Published in 2002 by the Prague Transportation Company

Charlie Wyatt

ISBN 978-1-85414-325-9 - 225mm x 268mm - 216 pages - Hardback
Illustrated in colour and monochrome

"After 36 years on the buses with London Transport, Charlie Wyatt takes up all but the final four pages of this wonderful book with ten years of memories of working as conductor and driver on the trolleybuses out of Finchley Depot in North London. A rare insight into the society, jobs, vehicles, infrastructure of that 'silent' era, Charlie's words are lavishly illustrated with numerous fine photographs that bring clarity to the text and a huge sense of involvement to the reader. Driving a trolleybus (brake pedal on the right, power on the left) required certain techniques to cope with the confines of the wires, and as well as informing the reader of how to do it correctly, there is much made of putting things right when they occasionally went wrong! Much humour creeps in to the words, especially when remembering such things as an unofficial speed trial and the pranks played on colleagues and unsuspecting passengers alike. Special mention should be made of Hugh Taylor who compiled the words and pictures into such a magnificent reminiscence.
A warm and nostalgic read, and probably my transport book of the year for 2008."
AAP
Published in 2008 by Capital Transport Publishing

Andrew Henbest

ISBN 1-904474-34-9 - 169mm x 234mm - 96 pages - Softback
Illustrated in monochrome

Click HERE to read a review of this book and
Memories Brighton Trolleybuses by Glyn Kraemer-Johnson and John Bishop

Terry Russell
ISBN 1-8737-9373-1 – 169mm x 234mm – 96 pages – Softback
Illustrated in monochrome
"Croydon only ever had two trolley bus routes, the 654 Crystal Palace to Sutton, and the busy 630 West Croydon to Willesden. This volume majors on the former and allows a fascinating insight into one of London's rare orbital trolleybus routes and its special connections with both the Crystal Palace and the old tram depot at Carshalton."
AAP
Published in 1996 by Middleton Press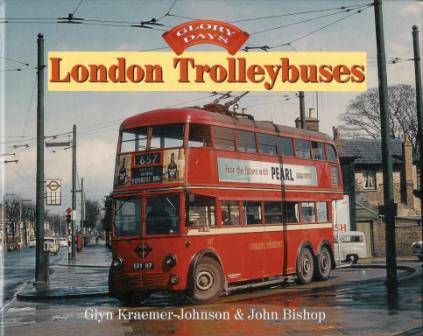 Glory Days - London Trolleybuses
Glyn Kraemer-Johnson and John Bishop
ISBN 0-7110-2949-0 - 245mm x 190mm - 96 pages - Hardback
Illustrated in colour and monochrome
"When Diddler No.1 started service for London United Tramways in 1931, the London bus passenger would begin a relationship with a mode of transport that, whilst it was only to last just over 30 years, would forever be remembered with affection, and often sought after for revival in the 21st century. With notable exceptions, the London trolleybus has not been as popular as the motorbus with model enthusiasts, perhaps because of the associated infrastructure, and the difficulties of presenting a realistic setting, perhaps because of their apparent similarity in appearance - red body, waist-level cream band, and brown roof. This book does much to reveal the greater details of the many different classes of vehicles that occupied 'the wires'. The monochrome illustrated history ends on page 48, and from then on in its a wonderful, often full page, always nostalgic, colour portrayal of these efficient work-horses going about their near-silent business."
AAP
Published in 2003 by Ian Allan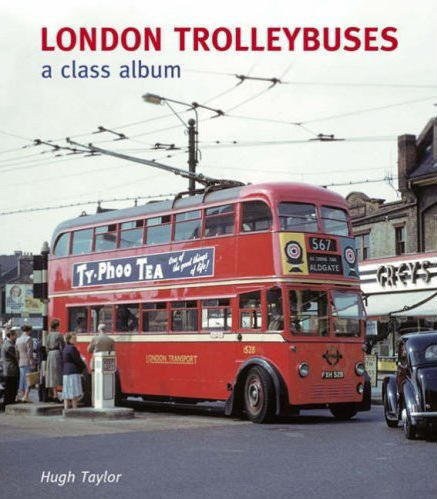 London Trolleybuses - A Class Album

Hugh Taylor

ISBN 1-85414-302-6 - 222mm x 254mm - 120 pages - Hardback
Illustrated in full colour

"This superb book from Capital Transport is a full colour album of every class of London Trolleybus, from the first 'Diddlers' to the 'Q1' class, with a comprehensive history of each class to accompany the excellent photographs, the clarity of which almost makes one feel they are stepping into a past of overhead wires and police boxes. This is a fine companion to Ken Blacker's seminal works on London's Trolleybuses, and also a worthy addition to anybody's Trolleybus library."

SJM

Published in 2006 by Capital Transport Publishing
Author not stated (believed to be Ken Blacker)

ISBN N/A - 140mm x 210mm - 60 pages- Softback
Illustrated in monochrome

"Produced as London trolleybuses were being phased out, this useful booklet provides a history of trolleybus introduction and operation. In very small print (perhaps 8 point font) it includes quite a lot of detail with particular comments on chassisless and unit construction vehicles, and on the experimental vehicles. There are useful appendices giving fleet details, a list of garages and of routes operated. The fleet list gives a brief specification of each class along with fleet numbers and registrations. The route list includes dates of first and last operation. Hindsight tells us that this booklet was prepared by a group of young enthusiasts, some of whom are still with us in the twenty-first century."

RBB
Published c. 1962 by Dryhurst Publications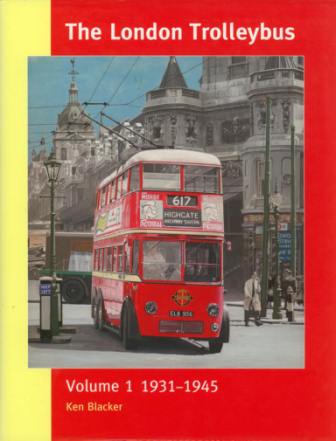 London Trolleybus, The - Volume 1 1931-1945
Ken Blacker

ISBN 185414-260-7 - 222mm x 286mm - 208 pages - Hardback
Illustrated in monochrome (one in colour)

"Published a full 40 years after Ken Blacker's first essay in the history of London trolleybuses, this book, eagerly awaited by those who had missed the earlier books, proves to be no disappointment. Profusely illustrated in the now familiar Capital Transport style with many excellent and often previously unpublished pictures the text is unlikely ever to be improved upon and will undoubtedly be the definitive history of the London system. Unsurprisingly, the subject matter is largely as before, but much expanded with new information uncovered in the more than 25 years since "Trolleybus" appeared. Details of the fleet from the old Dryhurst publication, missing from "Trolleybus", are restored here in an appendix. There is also an appendix giving dates of delivery of the pre-war and wartime fleet. The appetite is whetted, for Volume 2 promised to contain details of post-war developments and peripheral activities."
RBB
Published in 2002 by Capital Transport Publications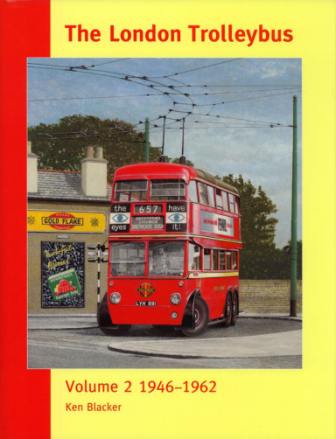 London Trolleybus, The - Volume 2 1946-1962
Ken Blacker
ISBN 185414-285-2- 222mm x 286mm - 216 pages- Hardback
Illustrated in monochrome with a few in colour

"Completing, as promised, Ken Blacker's monumental history of the London trolleybus system, this book lives up to expectations. Now there is the story of re-bodying of war damaged vehicles, the South London plans and descriptions of the post-war vehicles followed by the sad history of the winding up of the system. Also included are chapters on the infrastructure, maintenance and odd workings. There is a useful set of appendices adding to those of Volume 1 and including one correcting discovered errors in Volume 1. As always there are many excellent illustrations. This book and Volume 1 should not be missed by anyone with a serious interest in London trolleybuses."

RBB

Published in 2004 by Capital Transport Publishing

Hugh Taylor
ISBN 185414-155-4 - 222mm x 286mm - 176 pages - Hardback
Illustrated in monochrome (colour on dust jacket)

"Providing an excellent companion to Ken Blacker's earlier "Trolleybus" from the same publisher this book describes each route or group of routes comprising the London system in good detail. Each group is given a chapter of its own, which includes the start and end dates of the services, the vehicles which operated them and modifications made to the routes during their lifetime. There are also chapters on non-service running, battery movements and problems such as de-wirements. The proposals for operation in South London are discussed. There are many high quality illustrations including some of blind layouts, which are sure to be of great value to modellers."

RBB

Published in 1994 by Capital Transport Publications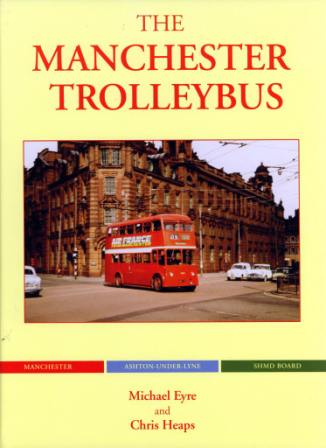 The Manchester Trolleybus
Michael Eyre and Chris Heaps
ISBN: 978-0-7110-3245-3 - 230mm x 288mm - 112 pages - Hardback
Illustrated colour and monochrome

"This work follows earlier works by the same authors with words on this topic. There are now more words as a result of further information coming to light. The story of Manchester's trolleybus services is one of political interference and even Government intrasigence. But it has to be said that without the interference there would have been no trolleybuses and no book. As it is the book covers the vagaries of the development and decline of the system very well. As the system was interlinked with that of Ashton-under-Lyne and SHMD, those systems are also described.

The many illustrations of the book are a delightful reminder of past Manchester and environs and it is worth purchasing for these alone. Many of these are in colour including a speculative piece of image editing to show what might have been an SHMD trolleybus which may, or may not, have ever been ordered."

RBB
Published in 2008 by Ian Allan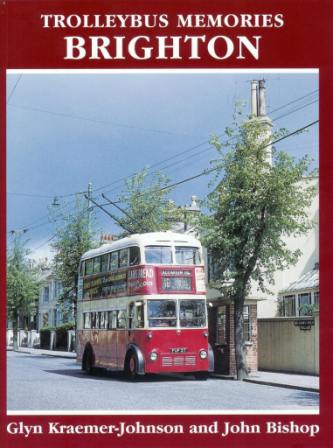 Memories Brighton Trolleybuses
Glyn Kraemer-Johnson and John Bishop

ISBN (13)978 0-7110-3199-9 - 213mm x 282mm - 80 pages - Softback
Illustrated in colour and monochrome

Click HERE to read a review of this book and
Brighton's Trolleybuses by Andrew Henbest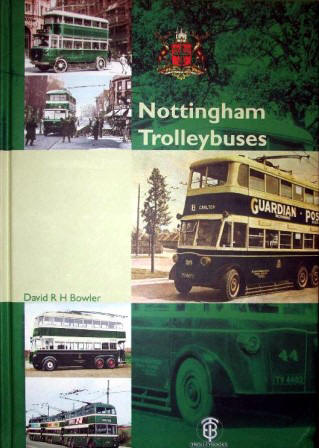 Nottingham Trolleybuses

David R.H. Bowler

ISBN 0-904235-20-3 - 210 x 297mm - 336 pages - Hardback
Illustrated in monochrome and colour

"From the moment I opened this book I was amazed by the wealth of detail within. Before starting with a potted history of the City of Nottingham, there is a comprehensive glossary of Trolleybus terminology as well as abbreviations used throughout the book. The history of the Nottingham trolley system is then traced from its beginnings in 1927 until its sad demise forty years later, including a wealth of photographs, detailed sidebars and system maps. The appendices take up almost half of the book, covering every aspect of the system, from the buses themselves to the depots, power supply, fares and tickets, and so much more. Copious statistics are also included, and there is even a fold out map of the 1960 system inserted in the back cover. This is possibly the best transport related book I have come across, and I would recommend it to anyone with even a passing interest in Trolleybuses."

SJM

Published in 2006 by Trolleybooks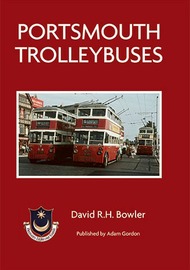 Portsmouth Trolleybuses

David R.H. Bowler

ISBN 13 9781874422969 - A4 - 383 pages - Hardback - £48.00
Illustrated in monochrome and colour

"David R.H. Bowler the author of the histories of both Bournemouth and Nottingham trolleybus systems has penned another definitive work covering the Portsmouth network.

The book which runs to an impressive 383 pages starts with a overview at the city's former tramway system and then covers the history of trolleybus system from the first unsuccessful council discussions, through to the first experimental route. The system's development is then covered in great details, and includes among other things, the tram to trolleybus conversion programme and the effect that the heavy bombing of the city had during World War II. The system's post war recovery and growth are then charted through to its zenith in the 1950s. Finally the rundown and conversion to motor bus are then covered up to the final closure of the system in 1963.

The book contains numerous appendices which cover everything form power supply to vehicles. There are also many plans & maps of the network and a good selection of both colour & black & white photographs which show the vehicles & the city through almost 30 years of the operation.

If you want the definitive history of Portsmouth Trolleybuses or are interested in British Trolleybuses in general then this book is a must and leaves very few stones unturned. "

KRE

Published in 2014 by Adam Gordon, Kintradwell Farmhouse, Brora, Sutherland KW9 6LU

Ken Blacker

ISBN 0-904711-00-5 - 222mm x 286mm - 123 pages - Hardback
Illustrated in monochrome

"Admitting in an Author's Note that he wrote "The London Trolleybus (Dryhurst)" Ken Blacker provides a much expanded and more comprehensive history of the London trolleybus system, although it is clear that some text is shared with the earlier publication. Each class, including the experimental ones, receives several paragraphs of description. There are sections on special activities, such as Pay-As-You-Board and the Kingsway tunnel project. Broad descriptions of routes are followed by chapters on tickets, overhead, maintenance and briefly on the demise of the system. The book is profusely illustrated with many of the rather fuzzy illustrations likely to be of use to modellers. Some appendix material from the earlier publication is included in the main body of the work where appropriate. Were it not for later work this long out of print book would be worth seeking out."
RBB
Published in 1975 by Capital Transport Publishing