Click here to contribute a review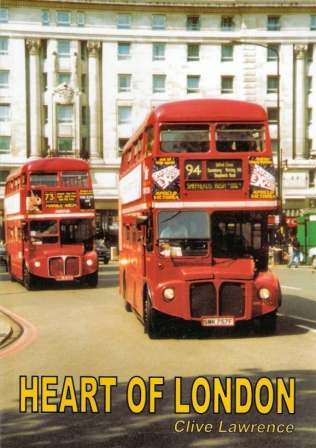 Heart of London
Clive Lawrence
ISBN n/a – 146mm x 210mm – 80 pages – Paperback
Illustrated in colour
"This is unquestionably a book for the London Enthusiast as it contains pictures taken of London buses between 1998 and 2001. It was a time when the Routemaster was slowly disappearing in London with only 20 routes remaining so pictures of Routemasters abound in this delightful little book. It is by no means another Routemaster book as there are plenty of pictures of other London buses, e.g. Metrobuses, Titans, Olympians, in all shapes and sizes and also the then new ALX400 which was starting to become more and more common around London. Most of the illustrations are of double deck buses but there are a few single deckers.
A lovely little book with super pictures and informative text."
BJK
Published in 2002 by L.B.R.T.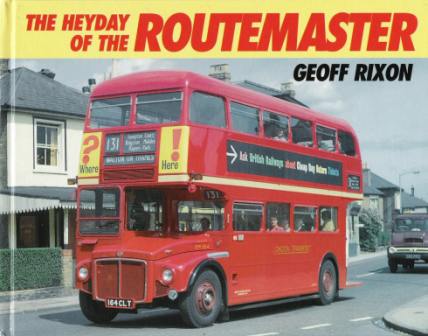 Heyday of the Routemaster, The
Geoff Rixon
ISBN 0-7110-2507-X – 245mm x 190mm – 80 pages – Hardback
Illustrated in colour
"It must be very difficult to produce a book on the Routemaster to show something different, Geoff Rixon manages this on the title page with an advertising livery for Celebrity Travel that lasted only 5 months during 1973. Whilst there are pictures of all types of Routemasters in the standard Red and Green liveries there are many with special liveries and of course liveries of other Routemaster operators. It is quite amazing how many different liveries the Routemaster has carried, even under London Transport there are a large number of variations. There is one picture of a Routemaster branded for route 15 with a yellow waist rail and yellow band following the roof line and curving around the back windows. All-over advertising was popular in the 1970's and there are many examples illustrated here including one for Dinky Toys. For those north of the border there are Routemasters in Clydeside and Kelvin Scottish yellow and blue livery. What this book does illustrate is that the Routemaster looked good in most liveries, there are exceptions of course but outwith red and green my personal favourite is the dark blue and cream of East Yorkshire."
BJK
Published in 1997 by Ian Allan

Kevin McCormack
ISBN 0-7110-2927-X – 245mm x 190mm – 80 pages – Hardback
Illustrated in colour
"The Heyday of the RT is a pictorial tribute to the various types that made up the RT family, an amazing 6956 of which were built between 1939 and 1954. It's interesting that the RT was apparently reviled by enthusiasts as it monopolised LT services. I wonder if the bendy buses will achieve the same level of enthusiast support in 30 years time: I think not – but then again you never know As colour pictures in the early days are scarce, and to avoid using previously published pictures, Kevin McCormack has elected to use pictures from 1955. Even with such a high degree of standardisation there were still several variations, e.g. RTL, RTW, roof box, Cravens bodies all of which are illustrated within the pages of this book. The vast majority of the illustrations are of the RTs in LT's standard red and green liveries going about their daily business, and these make a fascinating comparison with modern days, especially the relatively low volume of traffic on the roads in many of the pictures. Thankfully the pictures are not limited to Central London and there are pictures from the leafy suburbs. There is one picture of an RT on route 353 from Berkhamsted to Windsor. This route still runs today under Arriva using a variety of Darts but now terminates at Slough. The book finishes with a picture taken on 7th April 1979 as RT624 completes the final service journey of a London Transport RT, the crowd scene is reminiscent of the last RM journey on 9th December 2005."
BJK
Published in 2002 by Ian Allan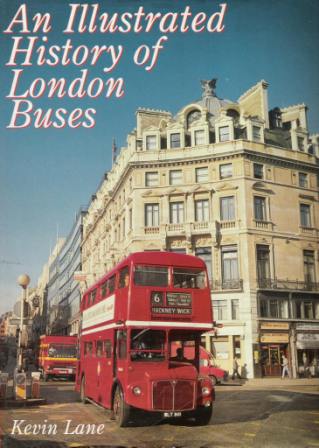 Illustrated History of London Buses, An
Kevin Lane
ISBN 0-7110-2516-9 – 222mm x 298mm – 144 pages – Hardback
Illustrated in monochrome
"The London Passenger Transport Board came into being in 1933 and lasted for almost 60 years during which time it introduced standard bus designs, many of which, e.g. RT, RM and RF have gone on to become classic buses The book takes a look at all of the LPTB bus types from the single deck T to the last of the line the L (Leyland Olympian) with each design having its own section, although the RT is split into pre-war and post-war sections. There are illustrations of each type as well as many of the variations. The final chapters look at Mini and Midibuses, LT Coaching, BEA and Demonstrators, there is also a small bibliography to aid in further reading material. This really is an excellent reference book and is invaluable aid when understanding different LPTB buses."
BJK
Published in 1997 by Ian Allan