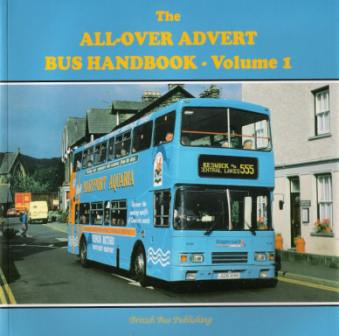 All-Over Advert Bus Handbook, The - Volume 1
Tony Wilson
ISBN 1-897990-62-6 – 211mm x 211mm – 96 pages – Softback
Illustrated in colour and monochrome
"Advertising on buses is a popular way used by companies to promote their products, advertisements on buses is nothing new and has been with us since the first horse drawn omnibuses became a common sight on the streets of our towns and cities. As technology advanced it became possible to decorate buses in complicated liveries, hence all-over advertising was born. It is now possible with the aid of vinyls and contra-vision to completely cover a bus in an advert to make it almost unrecognisable. All-over adverts range from the simple single colour with a few words to the really very complicated works of art that adorn some buses. The illustrations have been well closed to provide a wide variety of adverts, bus types and geographical locations, a good percentage of the pictures are in black and white which is a shame as it does not enable the advertisements to be enjoyed at their best."
BJK
Published in 2000 by British Bus Publishing

D.D. Gladwin
ISBN 0-85361-607-8 – 150mm x 210mm – 208 pages – Paperback
Illustrated in colour and monochrome
"Oakwood press are normally associated with railway books but they do occasionally publish on other transport subjects and this is an excellent example of their work. The book covers every aspect of bus life from days with horses through to a new age in the 1990s shown using excellent photographs taken all over the country. The illustrations have very informative text and are not limited to buses themselves but include a wide variety of bus related objects such as tickets, badges, garages and people. There are several photographs taken inside buses which provides the opportunity to compare different interiors between manufacturers and over time. There is a very useful index shown by bodybuilders, chassis manufactures, locations and operators: authors take note!"
BJK
Published in 2003 by Oakwood Press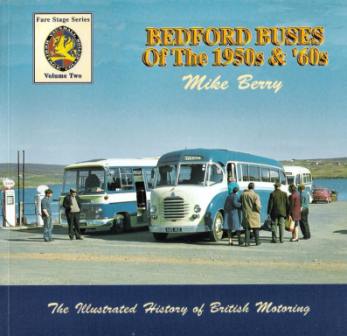 Bedford Buses Of The 1950s and '60s
Mike Berry
ISBN 1-9030106-10-X - 200mm x 210mm - 50 pages – Paperback
Illustrated in colour and monochrome
"Anyone familiar with the Nostalgia Road series of books will be aware of the format this series follows: it simply is an illustrated history of the subject. Anyone who has a recollection or memory of transport in the 50s and 60s will enjoy this little book it is full of fascinating pictures of Bedford buses from the period. There is a section on each of the main Bedford types, i.e. SB, VAS, VAM and VAL as well as the small dormobile and midibuses of the times. Whilst there are many pictures of Duple bodied vehicles there are also many examples of other coach builders. Some such as Strachan are well known but others, e.g. Mulliner are perhaps not so common."
BJK
Published in 2001 by Tran-Pennine Publishing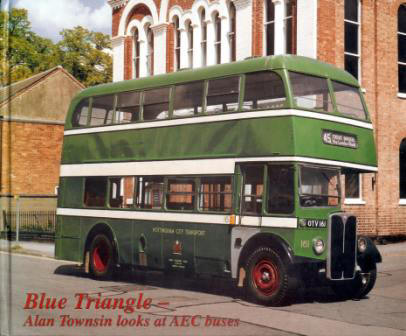 Blue Triangle - Alan Townsin looks at AEC Buses
Alan Townsin

ISBN 1-898432-04-X - 250mm x 207mm - 260 pages - Hardback
Fully illustrated (monochrome + some colour)

A history of AEC buses from the period leading up to the company's formation in June 1912 through to membership of the Leyland Motor Corporation, and the eventual closure of production facilities in 1979.
A large copiously illustrated volume containing a detailed history of one the world's most famous bus marques.

Published in 1994 by Ventura Publications Limited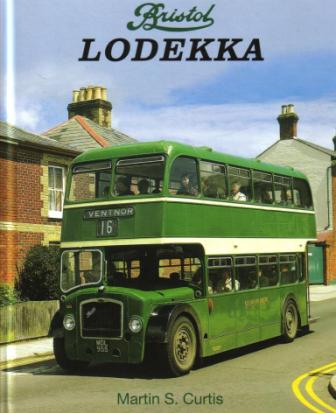 Bristol Lodekka
Martin S. Curtis
ISBN 978-0-7110-3312-2 - 220mm x 285mm - 96 pages - Hardback
Illustrated in colour and monochrome
"With his richly illustrated text, Martin Curtis has made a valuable contribution to the literature covering this bus type which dominated the British scene outside London for so many years. This book deals with the period from the earliest days of the Lodekka until its demise, and I have learned a great deal which was unknown, and supplemented even more my already sketchy knowledge of the type.

Martin Curtis opens with a look at the bus scene following the end of the Second World War and shows how the lowbridge buses of the time were limited in design. I remember the four across seating on the top deck of these buses. United Automobiles having the ECW bodied Bristol Ks. They were cumbersome for a passenger to get in and out of and added time to both fare collecting and alighting at bus stops. The scene is thus set for the entry of the Bristol design to revolutionise the situation.

One aspect of this book which both adds authenticity and first-hand knowledge is the personal relationship of the author to the Bristol factory where his father was closely involved in developing the chassis used in the Lodekka concept. The revolution announced by the author is a true one indeed. The technical description of the new chassis and the thinking behind it is excellently presented and easily understood by the layman. I personally enjoyed this section of the book which is also well documented with illustrations showing the chassis itself, and the resulting flat-floor lower deck which it made possible. The prototypes and pre-production versions which travelled the country are also well described. I did not realise how much the body evolved from the original to its ultimate LD shape. The rounding of the profile seems to have grown on the Lodekka!
The narrative continues with the production LDs and moves on to the later versions of this truly versatile design. Axle length increases make possible the LDL and forward entrance versions culminating in the FLF, so familiar in the North East and elsewhere up into the seventies.

Reading this book a couple of times has raised a few questions in my mind. I do not regard these as criticisms necessarily because a book which leaves me asking questions and wanting more is a good thing. The enjoyment of the many photographs, both black and white and colour shows clearly how the ECW body design changed. I would have like to know more about such detail as the bottom off-side line of the cab, which started with a slope under the window and changed to a horizontal profile. What about the Cave-Browne-Cave heater characterised by the oblong ventilators either side of the destination boxes? The radiator grill changed in shape over time as well. These are just three of many such detail questions of which I would like to have more knowledge. It is possible to glean some of the information from Martin Curtis' excellently written text, but a more structured presentation of the information involved would have made this book even more useful as a source of documentation for the modeller. Dates are important, as are "which company did what" to their Lodekkas. The Brighton and Hove ideas are mentioned as are Scottish versions, but this is knowledge I feel that is already widespread. This is obviously a question of priorities. Time and hard work is required in addition to that already put into the production of what, I think, is a book well worth Ł16.99.

Who would find this book useful? Well, I did, for a start. The illustrations are largely new or seldom seem before. Although United is hardly offered a mention, I can live with all the greens of Bristol, Hants & Dorset or Western National. There are several more pictures showing that red and green were not ubiquitous and the Midland General and Cheltenham liveries are there in colour for anyone doing a model conversion who needs a colour reference. The chapter covering the Dennis Loline, or Guildford Lodekka as the chapter on this version is titled, is also comprehensive and useful.

As it is, I can thoroughly recommend this book and look forward to a more detailed and systematically arranged sequel!"
AMG
Published in 2009 by Ian Allan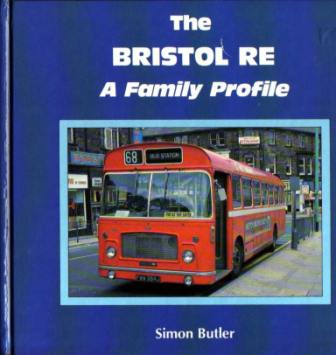 Bristol RE, The - A Family Profile
Simon Butler
ISBN 1-870484-00-2 - 225mm x 210mm - 128 pages - Hardback
Illustrated in monochrome
Click here to read a review of this book and
Bus Monograph 5: Bristol RE by Martin S. Curtis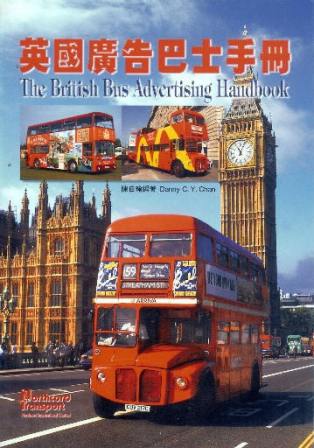 British Bus Advertising Handbook, The
Danny C.Y. Chan

ISBN 9-629200-28-7 - 148mm x 210mm - 114 pages - Softback
Fully illustrated (colour)

A pictorial examination of British bus advertising, from the most simple to the 'all-over', and its relationship to both company liveries and consumers.

Published in 2000 by Northcord International Limited

Gavin Booth
ISBN 0-7110-2477-4 – 222mm x 298mm – 112 pages – Hardback
Illustrated in colour
"Gavin Booth has put together a collection of colour photographs taken between 1950 and 1986 of buses from around Britain and it superbly shows the wide variety of bus and body types in use during that period of time. This was an era when buses from the 30s could still be seen operating on a daily basis and coachwork was produced by both large and small companies. The pictures are all of excellent quality but what strikes me most of all is the sheer variety of buses, operators and liveries in that period, especially when compared with today when a few builders provide buses to a relatively few operators. A superb book for those of us who love to reminisce."
BJK
Published in 1996 by Ian Allan

Stephen Morris
ISBN 0-7110-2280-1 - 180mm x 242mm - 128 pages – Hardback
Illustrated in monochrome
"This book was published in 1995 so it is in reality a look of 50 years of British Buses. With such a wide remit it clearly is not possible to cover every bus in detail but it is a super introduction to the bus types in use during the period. Each manufacturer has its own section which can range from a few lines, e.g. Karrier, to several pages for the larger manufactures such as Leyland. The book is full of interesting information, e.g. how many readers would have considered Shelvoke and Drewery to have been a bus builder? Okay only a single bus in 1982, but nevertheless worthy of inclusion in this publication. As you would expect the book is well illustrated with many examples of buses and coaches from the manufacturers and there are some real gems to be discovered. The book has been out of print for some time but appears to be available on the second hand market. Well worth a look if you can find it on the shelves."
BJK
Published in 1995 by Ian Allan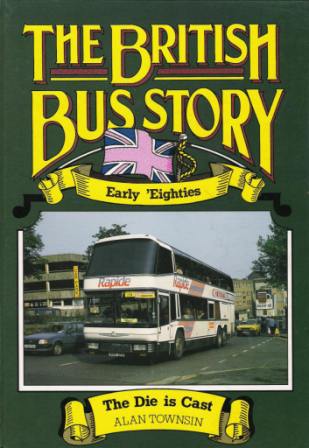 British Bus Story, The – Early 'Eighties – The Die is Cast
Alan Townsin
ISBN 0-86317-170-2 – 211mm x 309mm – 96 pages – Hardback
Illustrated in monochrome
"The decade started for the bus world with a small bang that gave some hint of a bigger explosion in the future. The small bang being the de-regulation of the Coach Services by the new Thatcher Government, which paved the way later in the decade for the de-regulation of bus services. The change to coach services saw the introduction of a new company to England that of Stagecoach, certainly a company with a future! The start of the decade also saw two new Leyland vehicles, the Olympian and the Tiger both of which were excellent sellers for the company. In London the early '80s saw the Alternative Vehicle Evaluation which tested three each of the Olympian, Metrobus MkII, Dennis Dominator and the Ailsa: the Olympian was chosen but the other types also saw limited services in the capital. The early '80s also saw a large increase in the number of immigrants to the bus and coach world, the main ones being Volvo and DAF with MAN and Scania also producing right hand drive vehicles. The illustrations in the book are well chosen to highlight the text with some unusual buses and coaches on show."
BJK
Published in 1992 by The Transport Publishing Company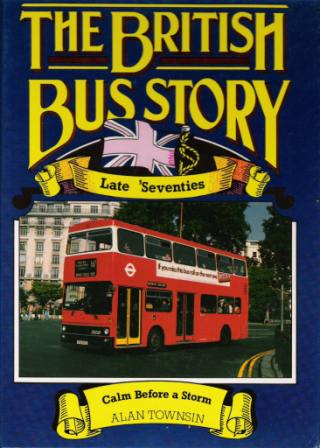 British Bus Story, The – Late 'Seventies – Calm Before a Storm
Alan Townsin
ISBN 0-86317-150-8 – 211mm x 309mm – 96 pages – Hardback
Illustrated in monochrome
"In 1974 London Transport still had nearly 1000 RTs licensed; by the end of the decade they had all been withdrawn. This in a way epitomised the late 70s - a rapid withdrawal of many half-cab vehicles but because of the state of the industry, with falling passenger numbers, many were not replaced by more modern vehicles. This book captures the feel of that time. Regrettably the illustrations aren't as sharp as they could be but there are some excellent period pictures to be seen. There is an interesting chapter entitled Innovation and Experiment which includes a picture of an electric National powered by batteries weighing some 7 tons and requiring a trailer to carry them! The late 70s was also a time when the 'bread van' minibus was introduced, as they were seen as a way of reducing costs on services only used by a small number of passengers. Interestingly the late 70s also saw the introduction of the bendy-bus to the UK with Leyland-DAB and MAN both producing examples; even then it was seen that a large passenger carrying capacity could only be achieved by having mainly standing accommodation – one of the criticisms of the modern bendy-bus."
BJK
Published in 1991 by The Transport Publishing Company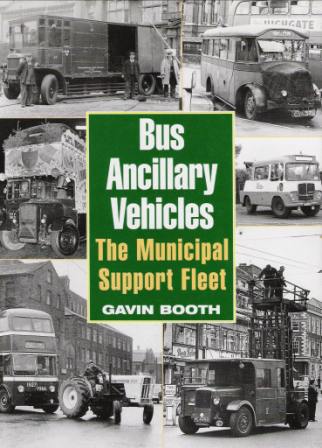 Bus Ancillary Vehicles: The Municipal Fleet
Gavin Booth
ISBN 0-7110-2797-8 – 178mm x 242mm – 128 pages – Hardback
Illustrated in monochrome
"Ancillary vehicles are a fascinating subject and as the title suggests this book concentrates on those vehicles found in the Municipal fleets. The range of vehicles is impressive including Tramway servicing, tower wagons, recovery vehicles, lorries, canteens, etc., a few being purpose built vehicles but many being converted buses retired from public service and constructed in the operators' workshops. There is one photograph of a bus converted to a snowplough – with the plough at the back! I wonder how effective that was? The illustrations are a joy and really display the engineers' ingenuity when converting old buses for further use: it seems that purpose built vehicles became more common after the war, certainly as far as recovery vehicles are concerned, but conversions were still carried out. Driver training buses are not forgotten and there is a section dedicated to these buses as well. There are some super little sections at the end, one in particular on decorated buses. Finally three areas Birmingham, Edinburgh and Huddersfield are looked at in a little bit more detail. This is a really enjoyable book full of fascinating pictures of unusual vehicles: a delight."
BJK
Published in 2001 by Ian Allan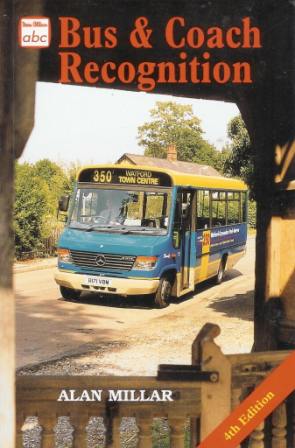 Bus & Coach Recognition (4th Edition)
Alan Millar
ISBN-7110-2598-3 - 120mm x 183mm - 160 pages - Softback
Fully illustrated in monochrome
"Divided into double deck buses, single deck buses, coaches and minibuses, this useful pocket-sized compendium has everything one needs to have at the fingertips to accurately recognise a (then) current body-style. A book for those who may struggle to tell the difference between a Wright Endeavour, Endurance, Urbanranger, Pathfinder, Liberator, Crusader, Renown, Axcess-ultralow or Axcess Floline!"

AAP

Published in 1998 by Ian Allan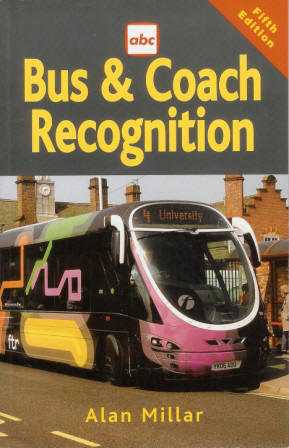 Bus & Coach Recognition (5th Edition)
Alan Millar
ISBN-7110-3136-3 - 120mm x 183mm - 176 pages - Softback
Fully illustrated in colour
"A very worthy upgrade from the last edition (see above), this is a completely revised work, and is now illustrated in colour throughout. Whilst many would say that the modern box-shapes of today have far less character than the half-cabs of an earlier era, there is no doubt that the modern box is rapidly losing its squared-off corners and, in the process, developing new characters fit for the 21st Century - the cover illustration (a Wright StreetCar-bodied Volvo B7AL of First York), like it or not, is ample evidence of this. The chunky little book happily retains the necessary dimensions to fit the anorak pocket."

AAP

Published in 2007 by Ian Allan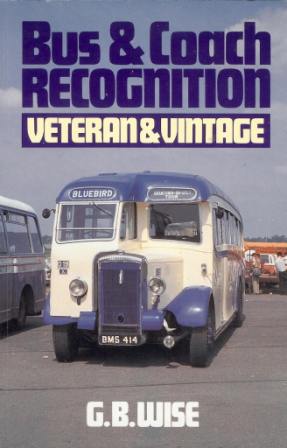 Bus & Coach Recognition - Veteran & Vintage
G.B. Wise
ISBN0-7110-1858-8 - 120mm x 183mm - 160 pages - Softback
Fully illustrated in monochrome
"A delightful pocket-bible for the enthusiastic transport historian, with densely packed text and a huge number of supportive photographs. Alphabetically listed from ADC to Vulcan, the wholly British content moves from the early open toppers now preserved, through to the Routemaster period. An appendix with a selection of close-up shots of radiators is interesting. A fount of knowledge from Graham Wise."

AAP

Published in 1989 by Ian Allan

Paul Haywood
ISBN 1-905304-08-0 – 240mm x 175mm – 80 pages – Hardback
Illustrated in colour
"I discovered this book whilst looking at new releases in the Ian Allan Shop in London and fell in love with it immediately. The illustrations depict every type of bus you can imagine and some you can't! It covers the world from Australia to the United States passing through China, Finland, Hong Kong, Israel, Portugal and many other locations. There are pictures of converted army lorries and up to date double articulated buses The pictures include British vehicles, many second-hand ex-British operators, as well as vehicles manufactured in other countries. Those of you who visited Showbus last year may recall the left hand drive half-cab so how about a left hand drive half-cab AEC Regent V, there's one pictured in this book!
I could go on but it would only serve to spoil your enjoyment of this book, it is a real little gem with some delightful pictures of buses around the world."

BJK

Published in 2005 by Venture Publications Limited

Gavin Booth
ISBN 0-7110-3326-9 - 222mm x 300mm - 160 pages - Hardback
Illustrated in monochrome and colour
"Making extensive use of manufacturers' official photographs of shiny new vehicles, this book looks at the impact made by 'legislation, changing demand, passenger expectation, the economy, the development of new materials and technology...... and how these have affected the shape and look of buses over the past half-century or so' since 1950. Whilst, understandably perhaps, the front three-quarter view pre-dominates, the quality of the often large pictures is absolutely outstanding. Interspersed with manufacturers' sectional diagrams, the whole provides a terrific resource for those replicating such vehicles in a much smaller scale. From the pre-1950s introduction to the 2005 unveiling of Wright Group's StreetCar, this is a volume that is well written, detailed in its captions and well worth taking home from the reading room of the local bookshop. Gavin Booth is to be congratulated on his research and compilation of such a hugely rewarding, and niche-filling, publication."
AAP
Published in 2008 by Ian Allan Publishing

Note: the picture of this very large book is shown at approximately 80% of the scale of the other pictures on the page.

Stewart J Brown
ISBN 1-85414-181-3 – 227mm x 257mm – 224 pages – Hardback
Illustrated in colour
"This book follows the same format as Buses in Britain the 1970s in that each section covers a different part of Britain. What struck me in particularly about this volume was the different liveries that were still to be seen in the 90s, although corporate identity was slowly finding its way onto the Stagecoach fleet and the GRT standard livery could be seen in many fleets. Both Stagecoach and FirstBus (as it was then) were starting to introduce their standard buses such as Darts and Olympians. Of course by this time most half-cabs had disappeared from our streets with the notable exception of the Routemasters although older buses such as Fleetlines, Atlanteans and VRTs were still providing frontline service. Nostalgia was the order of the day with Timebus and Nostalgiabus both running scheduled services and there is a super picture of a Guy Special working a Nostalgiabus Dorking service painted in a rich Burgundy livery. As with the earlier book the pictures have been well chosen to illustrate the variety to be seen"
BJK
Published in 1999 by Capital Transport

Stewart J Brown
ISBN 1-85414-217-8 – 227mm x 257mm – 200 pages – Hardback
Illustrated in colour
"This book is an excellent retrospective look at the 1970's and it is packed with pictures from that decade, all in glorious colour. There is a chapter for each area of Britain; but why is it that Northern Ireland and the Isle of Man are rarely included in books that cover the remainder of the United Kingdom? The start of the 70s was a time of changing liveries as the NBC started to make its presence felt in the bus world. The pictures are well chosen and show the huge variety of buses running at that time, half-cab double deckers were still a common sight, some still being only a few months old, but the rear engine, front entrance vehicles were making their inexorable appearance. I love this type of book as it acts as a great reminder of my travels around the country. There is something in this book for everyone."
BJK
Published in 1999 by Capital Transport

John Banks & G H F Atkins
ISBN 1-898432-93-7 – 242mm x 176mm – 80 pages – Hardback
Illustrated in colour
"If you like seventies nostalgia then this book provides it by the bucketful. It is full of evocative pictures of buses and coaches carrying out their day-to-day duties throughout England, Scotland and Wales. The pictures are of a very high standard and contain scenes that are no longer part of the bus scene in the UK, e.g. a line up of buses and coaches offering day trips and excursions to various local sights, no doubt there would have been the ubiquitous Mystery Tour on offer as well. The illustrations offer a good selection of the usual as well as the unusual, e.g. in the unusual category is a pictures of two post war Guy Wolfs with Llandudno UDC which were looking decidedly antique when photographed in 1970."
BJK
Published in 2003 by Venture Publications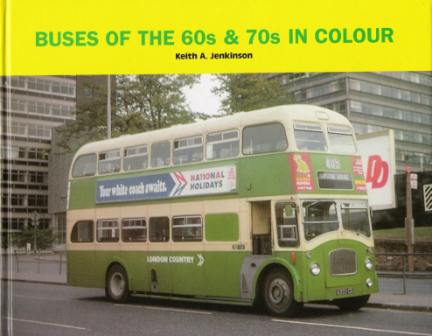 Buses of the 60s and 70s in Colour
Keith A. Jenkinson
ISBN 0-907834-44-2 – 250mm x 195mm – 80 pages – Hardback
Illustrated in colour
"This book is a colour album of pictures taken in the 60s and 70s and contains a wide variety of both bus types and liveries mainly from England but with the odd gem from Cyprus and even Vancouver. The majority of the buses were still in service when photographed but there is the occasional sad picture of a derelict Dennis Lancet that had been used as a caravan. The majority of the pictures were take by the author and the charm of a book like this is that the photographs are not posed in anyway but taken as and when the photographer felt there was something of interest. There is a study of 5 trolleybuses taken on the final day of the Bradford City Transport network with the trolleys still looking as though they had many years service ahead of them – and they probably did! Again with so many books of this type it ably demonstrates the rich variety of bus types and liveries that could be seen before the large companies introduced their corporate colours across the fleets."
BJK
Published in 2001 by Autobus Review Publications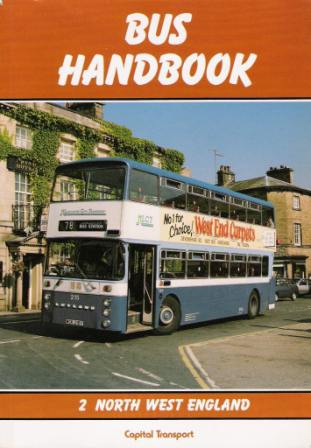 Bus Handbook 2 - North West England
Capital Transport (Bill Potter and Steve Sanderson)
ISBN 1-85414-121-X – 148mm x 210mm – 152 pages – Softback
Illustrated in monochrome
"This is an old issue from the Bus Handbook series dating from 1990 and one that was published at the time I was living near Stockport so it is a personal reminder of the Manchester bus scene at that time. It was a time following the break up of the National Bus Company and a time of 'bread vans' being used as buses: some may recall the Bee Line Buzz Company that operated from a garage called The Hive! Each company in the north west of England has its own section complete with a brief description and pictures of some of the fleet, from the mighty GM Buses to the smaller operators such as Finglands. Regrettably the illustrations are in black and white so you have to imagine some of the liveries such as North Western's bright red and blue applied diagonally! The majority of the operators are no longer with us having been swallowed up by the big companies, so once again this is a great reminder of what was in the north west bus world."
BJK
Published in 1990 by Capital Transport Publishing

Philip Wallis
ISBN 0-7110-2538-X – 178mm x 240mm – 112 pages – Hardback
Illustrated in monochrome
"Apart from being the year I got married 1967 was also the year in which the plans for the National Bus Company were formulated, the company coming into being on 1st January 1969. There are three main areas of the book, firstly Setting the Scene providing an introduction and information about the major bus companies in the UK. Secondly there is a chapter called Building the Buses which looks at the buses available to operators at this time and thirdly the book takes a look at the bus news for the months of 1967. Each month has a small heading with World News and Top of the Pops: it's fascinating how little has changed! Of course there are bus pictures galore and they have been selected to complement the bus news of the month, e.g. "May – London Transport continued to take delivery of new AEC/Park Royal Routemasters…..". Finally there are interesting appendices showing the numbers of buses in the various municipal, Tilling and BET fleets as at 1st January 1967. Excellent nostalgia."
BJK
Published in 1997 by Ian Allan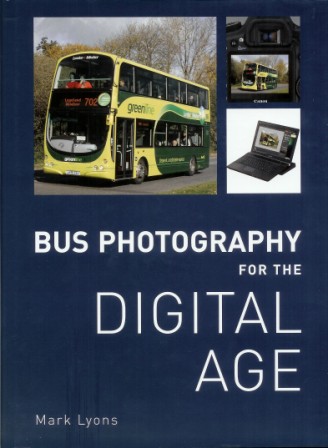 Bus Photography for the Digital Age
Mark Lyons
ISBN 0-7110-3420-4 - 205mm x 275mm - 160 pages - Hardback
Illustrated in colour
"As one who occasionally carries a camera in his shirt pocket for the occasional snap of a passing vehicle I am often only too painfully aware of the amateur results I achieve in comparison to the more accomplished transport photographers. This weighty tome is a huge and very detailed insight into how such professional results might be achieved. Copiously illustrated with both photographs and screen shots, the reader is taken from choosing the right camera to advanced photo editing, by way of every conceivable aspect of taking, editing, enhancing a publishing digital photographs. The widely available, comprehensively featured and reasonably priced Adobe Photoshop Elements is the sensibly chosen image editing software of choice. It is a credit to the author that the book, despite the extraordinarily in-depth coverage of the subject, manages to retain the basic element of approachable readability that many such specialist books lose too early in their content. An extremely practical book which I rate as highly recommended, both for the amateur photographer and the more seasoned enthusiast."
AAP
Published in 2010 by Ian Allen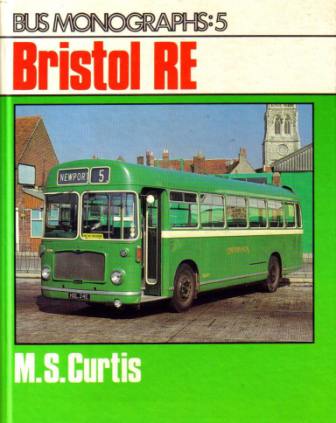 Bus Monographs: 5 - Bristol RE
Martin S. Curtis
ISBN 0-7110-1683-6 - 175mm x 240mm - 96 pages - Hardback
Illustrated in monochrome
Click here to read a review of this book and
The Bristol RE - A Family Portrait by Simon Butler

Stewart J Brown
ISBN 0-946265-XX-5 – 168mm x 238mm – 48 pages – Softbank
Illustrated in colour and monochrome
"The Bus Review series of books provided a review of the British bus industry in their respective years, the books illustrated cover 1998 and 2000. The series covered a diary of the year's main events; manufacturers; body builders and their product ranges; who owns whom; bus deliveries during the year; and a host of other information. There are useful tables showing who owned the various bus companies at publication and who makes what and a list of bodybuilders active in the UK. In Review 16 (2000) there is an artist's impression of the Eclipse-Gemini and in the 1998 publication an article on the 'new' low-floor double deck buses. I don't believe these books are still published; they were excellent publications full of useful information and excellent illustrations."
BJK
Published in 1999 and 2001 by Bus Enthusiast Publishing

Note: the picture shows the books at approximately 60% of the scale of the other pictures on the page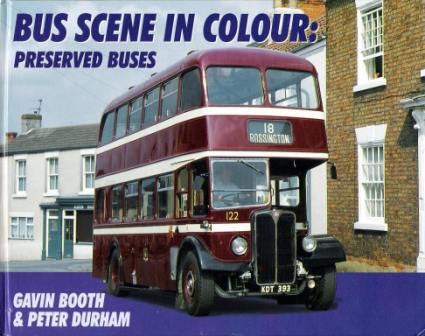 Bus Scene in Colour: Preserved Buses
Gavin Booth & Peter Durham
ISBN 0-7110-2537-1 – 245mm x 190mm – 80 pages – Hardback
Illustrated in colour
"This volume does not limit itself to motor buses but also includes preserved trolleybuses and is organised in chassis order from AEC to Sunbeam. It is interesting to read that when this book was published in 1997 there were over 6000 preserved buses and coaches in the United Kingdom, a remarkable figure considering that in 1961 there were less than 100, many of which were preserved by the large operators and organisations and it is quite recently that private ownership has become far more common. The illustrations are well chosen and as you would expect the buses themselves are in pristine condition. Many of the vehicles pictured have been used as a base for some of the diecast models we have today, e.g. the Guy Special illustrated is that in Southern Motorways livery and there is the Guy Arab III that was modelled by Britbus as the Gerry Brown commemorative model GS06-GB. The buses included in the book tend to be post-war vehicles although one, the 1908 London central Leyland X2 stands out not only because of its age but by its truly immaculate condition. An interesting book and it would be fascinating to see what a similar volume published in 2007 would contain."
BJK
Published in 1997 by Ian Allan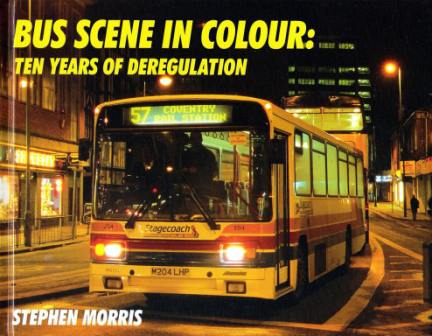 Bus Scene in Colour: Ten Years of Deregulation
Stephen Morris
ISBN 0-7110-2493-6 – 245mm x 190mm – 80 pages – Hardback
Illustrated in colour
"This book was published ten years ago so you can imagine the different vehicles and liveries contained within its pages. What I find fascinating is that the author has managed to put together an amazing collection of photographs from parts of the UK not normally seen in bus photographs. This is not to say that the larger conurbations have been ignored, but they have not been given undue weighting within the book. During the period covered within the book Bristol REs and Leyland Lynxes were common in daily use and 'bread vans' were making their entrance, but the low-floor future can be seen lurking in the background. During the period covered, companies competed for routes well away from their normal sphere of operation and this activity also brought buses to routes far from their origins: Grampian Atlanteans running in the centre of Manchester, Routemasters in Maidstone and Alexander Y Type Leyland Leopards in Tunbridge Wells are all captured within the pages of this book. A fascinating volume, well worth a look if you can find a copy."
BJK
Published in 1996 by Ian Allan