Click here to contribute a review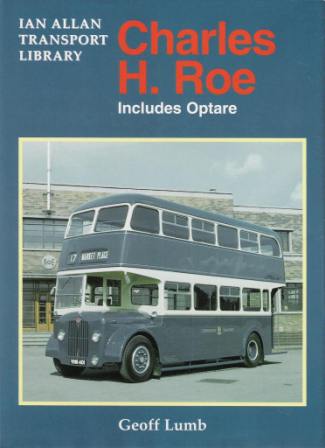 Charles H. Roe (Includes Optare)
Geoff Lumb
ISBN 0-7110-2626-2 – 178mm x 242mm – 128 pages – Hardback
Illustrated in monochrome
"Charles H. Roe started building bus bodywork following World War 1 and continued through British Leyland to closure in the mid-1980s but the story continued after that as Optare rose from the ashes. As with many bodybuilders Roe did not start building buses but with trailers, small trade vehicles and started putting 12 seat charabanc bodies on long-wheelbased Ford Model T. In 1923 Roe received orders for motorbus bodies for Rotherham and Ramsbottom, from these small beginnings the Roe business grew. The book follows the business through the war years, when Roe bodied many military vehicles, to closure in 1984. The last chapter looks at how Optare grew from the remains of Roe. As you would expect the book is well illustrated with examples of Roe's work for operators all over the UK. The Optare chapter covers until the mid 90s at the time of the announcement of the Solo. An excellent book which superbly shows the wide variety of bodies and customers Roe supplied."
BJK
Published in 1999 by Ian Allan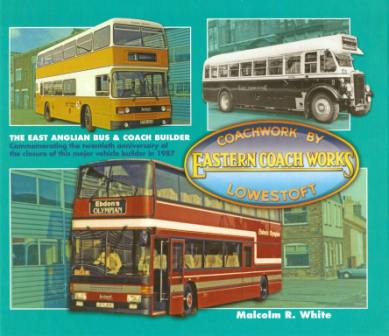 Coachwork by Eastern Coach Works
Malcolm R. White
ISBN 978-0-9547323-5-6 – 257mm x 217mm – 176 pages – Hardback
Illustrated in colour and monochrome
"This book was published to commemorate the twentieth anniversary of the closure in 1987 of the Eastern Coachworks. The author and publisher Malcolm R. White was born in Lowestoft, his father working all his life for ECW which gives the book a somewhat different slant than others on the subject. The opening chapters provide information on the history of the factory and of the buses and coaches that were built there, with excellent quality illustrations. It is the second part of the book that starts to show the difference with a couple of short pieces by ex-workers, the first from the Body Shop and the second from the Trimmer's Shop both giving a fascinating insight into the work within their departments. Again showing a different angle of this book is the chapter' The Final Years – Building the Olympians' which maps the progress from the arrival of the chassis to the finished product and sadly the closure of the plant, most of the pictures coming from one of the workers involved in the production rather than from any official source. The final section is an album containing many previously unpublished pictures of vehicles that were built by ECW, the final picture being of the last vehicle, Olympian L263 leaving ECW in January1987."
BJK
Published in 2007 by Coastal Publications (http://www.maritimelowestoft.co.uk/)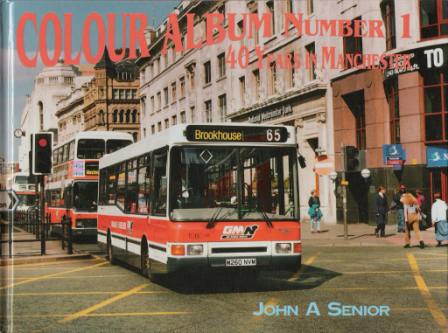 Colour Album Number 1 40 Years of Buses in Manchester
John A senior
ISBN 1-898432-65-1 – 240mm x 180mm – 80 pages – Hardback
Illustrated in colour
"There are many books on the Railways in and around Manchester but few about the buses, surprising when you consider it is one of England's largest cities and have one of the largest bus fleets outside London. The 40 Years of the title runs from 1956 to 1996 and covers a time of enormous change from local council operated buses to the PTE's and finally deregulation and the book reflects that by looking first at the various and diverse fleets in the Manchester Area before continuing on to SELNEC and deregulation. The liveries that could be seen prior to the creation of the PTE's were as varied as the buses themselves, ranging from the red of Manchester, the green of Salford to the maroon of Bolton. Perhaps unsurprisingly the majority of buses were either Leyland or Crossley, although the majority of other bus builders were also represented throughout the area. On creation of the PTE's the individual liveries disappeared, replaced by the Orange and White SELNEC livery and the introduction of standard buses. Deregulation has once again seen the variety of liveries and buses return to the streets of Manchester. There is much in this book to enjoy; the pictures are all of the highest quality and the text both meaningful and informative."
BJK
Published in 1995 by Venture Publications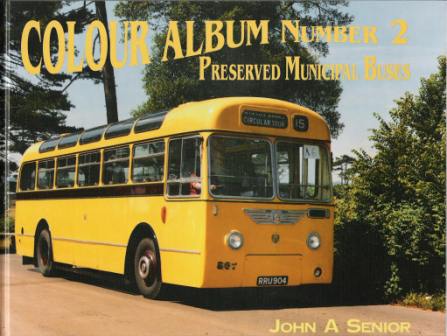 Colour Album Number 2 Preserved Municipal Buses
John A Senior
ISBN 1-898432-66-X – 240mm x 180mm – 80 pages – Hardback
Illustrated in colour
"Interestingly the title page has the title of this book as Preserved Buses Volume One Municipal Fleets but whatever the title it does not detract from the excellent content. From one time or another nearly 120 local authorities were involved in running public transport within their areas; the vast majority ran bus fleets ranging from 1 or 2 vehicles to large operations such as Manchester with over 1,200 buses. The book provides a selection of pictures of these vehicles, many of which have been rebuilt from wrecks found abandoned and left to rot. The pictures are mainly from the Midlands and North of England although Scotland and the South are also represented. The buses are all shown in 'as preserved' condition which, in some cases, may not be as built but contain modifications made during the lifetime of the vehicle. It is a fascinating collection and includes many buses which have been seen at rallies up and down the country including, of course, Showbus. The book is well illustrated, with informative text providing a brief history of the buses together with notes on the operators. For those of you who remember Gerry Brown the book includes the actual bus his Britbus memorial model was based on, without, of course, the Gerry Brown and dbi advertising."
BJK
Published in 1996 by Venture Publications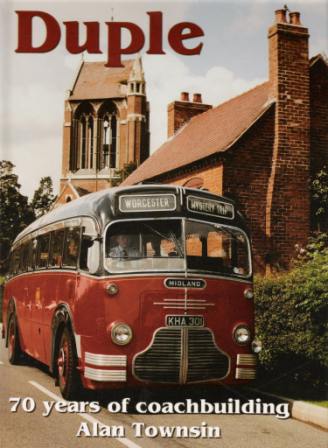 Duple – 70 years of coachbuilding
Alan Townsin
ISBN 1-898432-46-5 – 215mm x 303mm – 168 pages – Hardback
Illustrated in monochrome
"The name Duple immediately conjures up in my mind the Duple bodied OBs and the later Vista and Vega bodies that seemed to adorn every coach that I saw. But, of course, Duple were much more than those body types and in fact were a leading UK coachbuilder from just after the end of World War 1 until their take-over by Plaxton and subsequent closure in 1989, Indeed, some of their products are still in daily use today, whilst many others have been preserved. Alan Townsin has produced a book full of information about the company complete with many excellent illustrations of their products. It is always a shame that colour photography was not available much earlier so that we could enjoy the variety of liveries that adorned Duple bodywork. There is an excellent index in the book something that is frequently missing from many tomes."
BJK
Published in 1998 by Venture Publications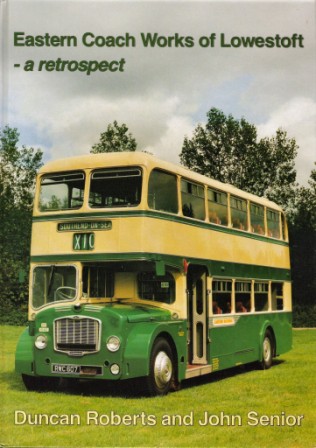 Eastern Coach Works of Lowestoft – a Retrospect
Duncan Roberts and John Senior
ISBN 1-898432-17-1 – 215mm x 297mm – 149 pages – Hardback
Illustrated in colour and monochrome
"The Maurice Doggett and Alan Townsin books on the history of ECW covered the works in great detail and yet this book still manages to find new information and pictures. It is not a history of ECW but seeks to look at the work carried out over the many years that ECW produced work of the highest quality There is one picture showing the interior of a coach from the thirties and it just does not compare even with the so called luxury of modern coaches. There is a super chapter entitled Building an Olympian which shows in pictures various stages in building one of these vehicles –the last to be built at the works. Another chapter shows colour pictures of ECW survivors from around the world a great testament to the works and men who built them.
The book is a super retrospect of ECW and also acts and a tremendous companion to the Doggett and Townsin book."
BJK
Published in 1995 by Venture Publications

Harry Postlethwaite
ISBN 1-898432-15-5 – 213mm x 300mm – 160 pages – Hardback
Illustrated in colour and monochrome
"East Lancashire Coach Builders was first registered in 1934, bus building commencing in 1938, and it is still one of the country's leading coachbuilding companies, and probably the one about which we know the least. The full history of the company to 1999 is covered, including the Myllennium single-deckers, there is also a section covering personalities within the company both past and present. The book is very well illustrated in both colour and black and white. There is an excellent chapter entitled "Manufacture of a Body" where the process is described in some detail, supported by illustrations of buses at various stages of manufacture and another chapter covering the National Greenway. The appendices are very interesting including a copy of a 1919 City and Guilds Examination Paper on Road-Carriage Building as well as a list of bodies and customers from 1938 to 1999. "
BJK
Published in 2000 by Venture Publications

M G Doggett & A A Townsin
ISBN 1-898432-01-5 – 215mm x 303mm – 144 pages – Hardback
Illustrated in monochrome
"This is the first of two books covering the history of Eastern Coachworks from 1946 to closure in 1987. The book is packed full of information and illustrations which are mainly of the standard Bristol/ECW marriage that we all know so well. There are however pictures of other types that ECW bodied, notably Guy Specials for London Transport and of course CRL4, one of the prototype Routemasters. ECW built some chassis-less buses for Eastern Counties and also some lorry cabs for Bristol lorry chassis. A strange sight is the prototype Lodekka with an exposed radiator rather then the tin front that was on the production models. The appendices provide details of body number allocations as well as production details by year and body type. An excellent and informative book."
BJK
Published in 1993 by Venture Publications

M G Doggett & A A Townsin
ISBN 1-898432-11-2 – 215mm x 303mm – 176 pages – Hardback
Illustrated in colour and monochrome
"In the second volume the ECW story continues though the Leyland days and into the NBC era. The major developments within this period were the rear engined buses, notably as far as ECW were concerned, the VRs and the Olympians. The format of the book follows that of the first volume with many superb pictures and very informative text. As part of Leyland ECW were once again free to produce body work for a wider variety of bus and coach operators and on different chassis, e.g. Fleetlines, Atlanteans, AEC, Ford, etc. ECW products were also sold overseas, e.g. Hong Kong, Greece and Saudi Arabia. This is another excellent book full of pictures of old favourites as well as some of the more unusual products, e.g. dual door MW and three door 6 wheel Olympian for Hong Kong. The book is tinged with sadness with pictures of the last bus built by ECW, Olympian L263 for the Stagecoach SELKENT fleet. There is a light hearted chapter at the end of the book with a brief look at ECW look-alikes by such notable companies as Beadles, Strachans and of course Roe."
BJK
Published in 1993 by Venture Publications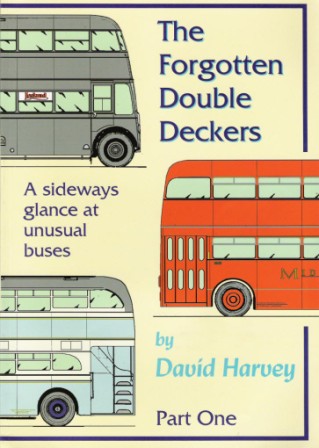 Forgotten Double Deckers, The – Part One
David Harvey
ISBN 1-85638-036-X – 211mm x 298mm – 72 pages – Softback
Illustrated in monochrome
"The subtitle of this book is 'A sideways glance at unusual buses' and this book does just that by looking at some detail into 6 buses. The buses in question are: CVA430 – The daddy of them all (Prototype PD2); B.M.M.O. D10; Guy Wulfrunian rear and forward entrance; D.U.T.C Leyland Tiger TS1 d/ds; Crossley Bridgemasters; and Bradford Crossley DD42/4s. Each of these buses has a separate section where they are looked at in some detail, including a full history and technical information, there is also space to discuss earlier buses of a similar type together with what competition from other buses . The pictures of the 'Forgotten Double Deckers' are excellent as are pictures of the other buses discussed in the text. A fascinating and unusual book ."
BJK
Published in 1998 by Allan T. Condie Publications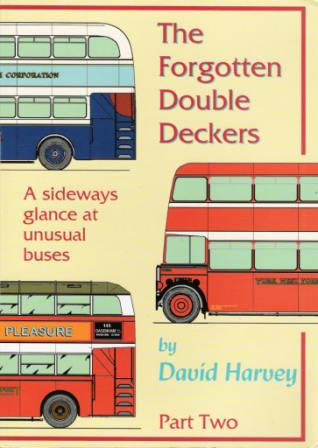 Forgotten Double Deckers, The – Part Two
David Harvey
ISBN 1-85638-036-X – 211mm x 298mm – 72 pages – Softback
Illustrated in monochrome
"Following on from Part 1 the subtitle of this book is 'Another sideways glance at unusual buses'. The buses in Part Two are: Belfast Corporations Transport's wartime Guy "Arab" IIs; The West Bromwich side of the equation; The Forgotten Nine; The Only Pre-war bodies built by ECW on Daimler COG Chassis; The Strange Case of the 'New' Pre-war Bristol KSGs of 1955;The Forgotten Twelve; and The Unlikely Story of the Missing One. The book follows the same format as Part 1 with excellent informative text and illustration. Because of the topic of the book, some of the illustrations are unique and not of the best quality but thankfully pictures do exist . It is, of course, unlikely that any of the buses will ever be modelled by any of the major manufacturers but kit-builders might produce some of them. Like Part One it is a fascinating and unusual book ."
BJK
Published in 2004 by Allan T. Condie Publications