Click here to contribute a review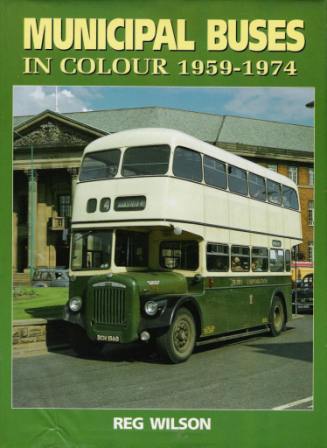 Municipal Buses in Colour 1959-1974
Reg Wilson
ISBN 0-7110-2544-4 – 222mm x 298mm – 128 pages – Hardback
Illustrated in colour
"Many towns and cities had their own bus services controlled by the local council. The number of councils operating their own buses had fallen to less than 100 by the late 50s. Reg Wilson has gathered together a record of 104 (including 3 joint operations) from Aberdare to Wolverhampton. From large operations such as Birmingham and Manchester, to the smaller operations such as Colwyn Bay and Hartlepool, with 5 and 4 buses respectively. Each operator's history is briefly described with illustrations of buses within the fleets, each section also has an illustration of the coat of arms for the council concerned. It is an excellent book with superb illustrations of an important part of bus history that has all but disappeared."
BJK
Published in 1997 by Ian Allan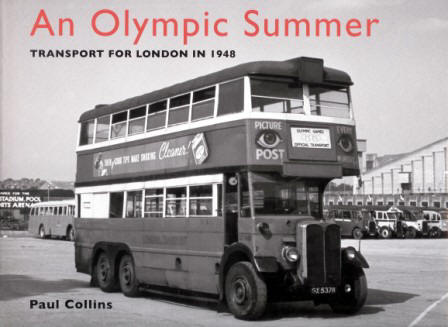 An Olympic Summer - Transport for London in 1948
Paul Collins
ISBN 0-7110-3309-2 - 222mm x 300mm - 152 pages - Hardback
Illustrated in monochrome
"Don't be deceived by the cover! The London Olympic Games of 1948 impacted on transport throughout Britain, and this weighty volume, goes far beyond the capital city in its scope. Paul Collins has put together a collection of pictures, most of which have not been published before, largely based on the camerawork of the late V.C. Jones. The book is set in context from the start, both in terms of world and Olympic history before moving chronologically from Saturday 11th March to Saturday 21st August 1948. Provincial vehicles drafted in to assist in moving the people at the time are given space alongside the capital's buses and trams of the day, and the majority of the photographs are large and and bring the small detail of the vehicles to the fore. The photographer takes significant pictorial time out to record 1948 transport in Guildford, Hastings, Southend-on-Sea, Southampton and Portsmouth, Brighton and Reading, and whilst buses are to the fore, other modes of transport have their place.

My only gripe is the amount of space given to a single large load moving through south east London on 11th April 1948, pictures which seem strangely out of context."
AAP
Published in 2008 by Ian Allan Publishing

Note: the picture of this very large book is shown at approximately 80% of the scale of the other pictures on the page.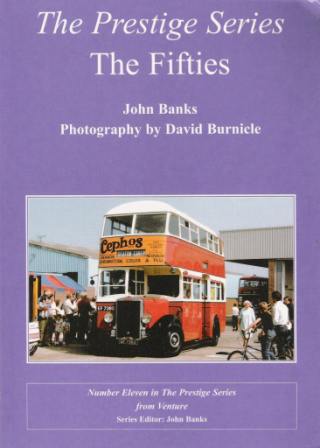 Prestige Series, The – The Fifties
John Banks, photography by David Burnicle
ISBN 1-898432-55-4 – 170mm x 240mm – 64 pages – Paperback
Illustrated in monochrome
"This is a fascinating little book full of photographs of unusual buses and what today would be considered strange practice, e.g. a letterbox attached to the rear of a Crosville Bristol single decker. The photographs in the book are take from all over England and Scotland but as they were all taken with 'modest equipment' some of the photographs are not as sharp as those taken by the professional photographer but that should not detract from what is a super book and full marks to David Burnicle for taking shots of the unusual as well as the usual If I have one small criticism it is that the text does not always provide details of locations although information of the vehicles photographed is always available.
An excellent book and recommended as a worthwhile addition to your library."
BJK
Published in 2001 by Venture Publications

Provincial Buses in Colour: 1960s
B. S. Watson
ISBN 0-7110-2792-7 – 245mm x 190mm – 80 pages – Hardback
Illustrated in colour
"If the 1960s is an era that you like then you'll love this book, it is packed with nostalgic and evocative pictures from the decade. What also makes this book something special is the sheer variety of buses and trolleybuses that have been packed into its pages, from the common or garden Leyland PD1s and Bedford OBs to the more unusual such as an open top trolleybus and an Albion Venturer. As usual with such books the background is almost as fascinating as the buses and trolleybuses with tantalising glimpses of Ford Zodiacs, Ford Cortina Mk1s and a Jowett Javelin as well as the Morris 1000. One area which seems to have been neglected by the model makers is the staff bus; companies who bought out of service buses to transport their staff to an from work – now sadly a thing of the past, Elkes Biscuits of Uttoxeter was one such company and is illustrated in this book. The Odeon cinema in Loughborough was showing Call me Bwana starring Bob Hope and Anita Ekberg. The quality of the illustrations is without exception excellent, a very enjoyable trip down memory lane."
BJK
Published in 2001 by Ian Allan

Geoff Rixon
ISBN 0-7110-2682-3 – 245mm x 190mm – 80 pages – Hardback
Illustrated in colour
"This is a Routemaster book with a difference: less than half of the illustrations are of Routemasters in London Transport service and several are of Routemasters in service overseas, including New Zealand, Sri Lanka and Hong Kong. When looking through the book it is amazing how many different liveries the Routemasters have carried - so collectors beware - there are many possible variations to come! Whilst some of the liveries treat the Routemaster with a degree of respect, others, such as the livery chosen to celebrate Brent Council's support for the European Community are best forgotten. As you would expect many of the livery variations have red as a base because a red Routemaster is many peoples idea of a real bus and it has to be said that red does suit the lines of the bus as do other liveries such as the simple but effective liveries of East Yorkshire and The Delaine, but I am yet to be convinced that the Stagecoach stripes do the bus any favours! There are even Routemasters in the book that don't look like Routemasters, both in Hong Kong and both treated to open top treatment and with RT style bonnets and radiators. If you're a Routemaster fan you'll love this book and if not perhaps you'll enjoy seeing the indignity to which some of them have been put."
BJK
Published in 1999 by Ian Allan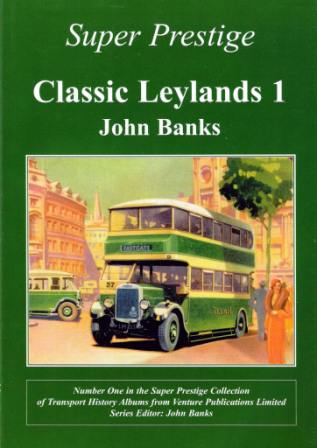 Super Prestige - Classic Leylands 1
John Banks
ISBN 1-898432-34-1 – 170mm x 240mm – 128 pages – Softback
Illustrated in monochrome
"I am going to have some difficulty in reviewing this book: picking any one of the 200+ truly remarkable illustrations will detract from the others. This volume covers Leyland bus-chassied vehicles around the world from around 1925 to the outbreak of the second World War and includes coaches, buses, trolleybuses and a mobile gymnasium built for the Daily Mirror with 8 young ladies as instructors! Without exception the pictures are of the very highest quality, even those dating from the start of the period covered and come from all over the world; Europe, Africa, Middle East, Australia. The text is informative without being intruding into the real stars, the illustrations themselves. I was unaware that Leyland produced a twin-steer chassis that predated the Bedford Val by some 25 years: it was not a success, with only 8 chassis being built. This, then, is a super book and it really is worth trying to find on the bookshelves, I can guarantee you will not be disappointed."
BJK
Published in 2001 by Venture Publications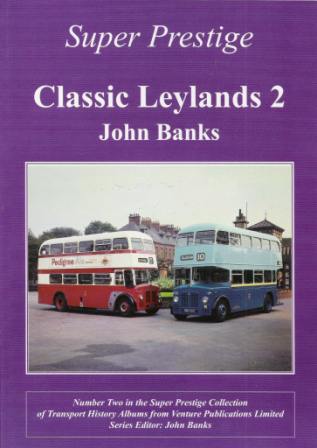 Super prestige - Classic Leylands 2
John Banks
ISBN 1-898432-31-7 – 170mm x 240mm – 128 pages – Softback
Illustrated in monochrome
"For me this volume is not quite as evocative as volume 1 - please don't get me wrong, it is an excellent book full of wonderful pictures. I have been thinking about this and I believe it is because many of the buses and coaches in this volume were around in the 60s and into the 70s so they are familiar to me, whilst those in volume 1 were all pre-war and therefore relatively unknown. This volume starts where volume 1 finished at the outbreak of World War 2 and takes us to the end of the half-cab era. There are pictures well into the70s but they are all of traditional buses and coaches and the modern bus in the form of the Atlantean only appears in the last picture, billed as "the future". Several of the buses illustrated here will be well known to all enthusiast and diecast collectors and include classics such as the RTL and the all Leyland Titans and Tigers. Amongst the unusual is a Duple bodied Comet and a Royal Tiger in a somewhat continental looking Windover coach body. This is an excellent companion to Volume 1 and it would be nice to see a third and final volume to finish the story of the Classic Leylands."
BJK
Published in 2002 by Venture Publications

John Howie and Neville Mercer
ISBN 1-898432-50-3 – 170mm x 240mm – 160 pages – Softback
Illustrated in monochrome and colour
"I first became interested in Sentinel because of their unique chain driven steam locomotives which could be seen on British Railways in the 1950s; from there I discovered Sentinel Steam Wagons and buses and because they were so different from anything else I was hooked. Sentinel produced a few steam buses between the wars and one gas powered half-cab in the late 1930s, but didn't start serious bus construction until after the Second World War with an innovative (for the time) under-floor engine and it was the reliability of this engine and poor design that led to poor reputation and sales. After the war Sentinel were purchased by Metal Industries Group who, as part of their business, supplied panelling to the Kent bodybuilders Beadle - thus was born a partnership for Sentinel to enter the world of bus building. Sentinel's biggest single customer was Ribble who took 20 vehicles from them between 1949 and 195. Sentinels profits came from their railways shunting locomotives and in 1955 the company was sold to Rolls Royce which brought and end to the production of road vehicles. This is a truly fascinating book full of evocative pictures of these innovative vehicles, the variety of body styles is amazing from Beadle and Burlingham to small companies who perhaps made one of two bodies, many of the coaches had futuristic (for the time) looking bodywork. It is sad to see some of these vehicles ending up as mobile cafes or builders huts, but thankfully a few have been preserved for posterity. The book is packed with interesting information and pictures including a history of individual buses, advertising and a 1949 road test of a Sentinel-Beadle. Considering most Sentinel records were destroyed after the takeover by Rolls Royce the authors have managed to pull together an enormous amount of detail. A super book well worth reading. "
BJK
Published in 2005 by Venture Publications

Robert Malster
ISBN 0-7509-1448-5 – 170mm x 243mm – 128 pages – Softback
Illustrated in monochrome
"This is very much a transport book rather than a bus book as it covers all transport Suffolk on land, sea and river. The pictures are from around 1880 to the mid 1940s and considering their age they are clear and detailed. For those of you with a liking for railways the section covering this has some excellent illustrations of all aspects of the railway. Road transport is well covered from horse drawn carts and wagons to cars and lorries by way of traction engines. The Public Transport section covers trams, trolley buses; horse drawn buses and motor buses, again there are some fascinating photographs of all aspects of public transport including GER operated buses and early days of the Ipswich trolley bus system. An excellent book for anyone interested in transport history in general and Suffolk in particular. "
BJK
Published in 1997 Sutton Publishing