Click here to contribute a review
Kevin Lane
ISBN 0-7110-2596-7 –120mm x 183mm – 96 pages – Paperback
Illustrated in colour and monochrome
"Like many such books this is very much a snapshot in time- in this instance of bus operators in the London area in 1998. Each operator is briefly introduced with sample pictures from their fleets, many of the names and liveries have now disappeared from the London scene, e.g. Grey-Green, Kentish Bus, Sovereign. It is a great shame that these books are not published on a regular basis to form little time warps of buses of their time."
BJK
Published in 1998 by Ian Allan

compiled by James Whiting
ISBN 185414-280-1 –225mm x 258mm – 96 pages – Hardback
Illustrated in colour and monochrome
"When you read that John Aldridge, Ken Blacker, Gavin Booth, Stewart J. Brown, Ken Glazier and Alan A. Townsin have, alongside James Whiting, all contributed to this book you will immediately know that this is not 'just another Routemaster book'. The history of the Routemaster is taken forward in eighteen chapters from 31st July 1947 when the new bus was first requested through to 1965 when the last RMLs were introduced and the 1949 idea of standee buses was resurrected. Containing a rich collection of previously unpublished photographs, drawings and diagrams, and many previously unseen mock-ups of the vehicle at various stages in its design. It is a fascinating book centering on the the long-held traditions and often painful machinations of LT. Ken Glazier's chapter recalling his ride on RM1's first trip in public service in 1956 is a delight to read. Ken Blacker recalls the huge number of problems that the vehicles had during the first years in service, problems that are, today, largely forgotten and overlooked as we remember a much-loved bus. Thoroughly recommended for those who wish to go a little deeper into the Routemaster story than the many picture books often allow."
AAP
Published in 2004 by Capital Transport Publishing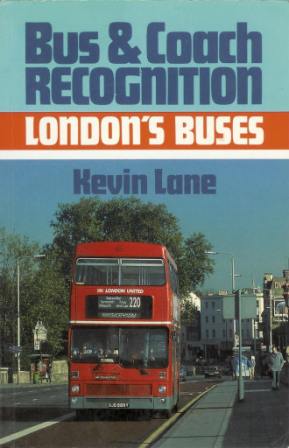 Bus & Coach Recognition - London's Buses
Kevin Lane
ISBN0-7110-1997-5 - 120mm x 183mm - 128 pages - Softback
Fully illustrated in monochrome
"This edition is very much of its time and offers what is now a retrospective of the London Bus Units, LT Contract Operators and Other Operators of the day, and the vehicles associated with them. Includes a comprehensive, and very handy, section on where to go and what to see. An excellent little guide - if 1991 is your period."
AAP
Published in 1991 by Ian Allan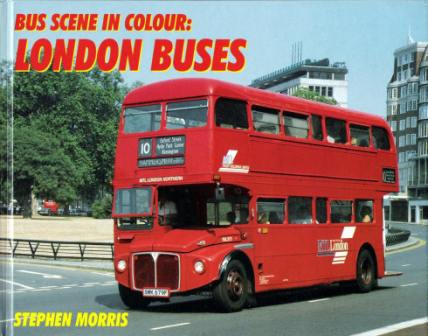 Bus Scene in Colour: London Buses
Stephen Morris
ISBN 0-7110-2555-X – 245mm x 190mm – 80 pages – Hardback
Illustrated in colour
"This is a fascinating colour album of London buses; of course it contains Routemasters, but they are in the minority as this is mainly a record of the wide variety of buses that have seen service in London in the last three decades. The first few pages include an Eastern National Wadham Stringer bodied Bedford YMQS, a National London liveried Leyland National Series B, a HTI bodied Leyland Cub in Crystal's livery and a ex-LT Daimler Fleetline in Len Wright colours. These then set the scene for the book - a collection of usual and unusual buses and liveries that could be seen in London following LT's decision to tender some of the routes to other operators. Whilst there are pictures from all over London the majority are from north of the Thames. Whilst London is often seen as an area of great standardisation this book shows that there have been a wide variety of bus types operating in the capital, indeed some of the buses operating LT services are ex-LT vehicles themselves. All this goes to provide a pictorial record of an interesting period in London's transport."
Published in 1998 by Ian Allan
BJK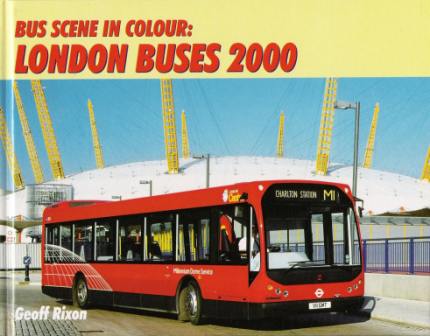 Bus Scene in Colour: London Buses 2000
Geoff Rixon
ISBN 0-7110-2763-3 – 245mm x 190mm – 80 pages – Hardback
Illustrated in colour
"What is amazing in a book like this is the number of bus companies, bus types and liveries that have disappeared (or are rapidly disappearing) in the 6 short years since this book was published. Operators such as Mitcham Belle and Limebourne have disappeared, as have vehicles such as the ECW Olympians, Metrobuses, Titans and Routemasters from normal day to day service in the Capital. The livery changes have, in the main, been dictated by TfL's policy on the amount of red that buses must have as part of their livery. Looking through the book it is surprising how many have been modelled: on the first 12 or so pages 4 of the routes and liveries depicted have been produced as diecast models, It is equally surprising how many different vehicles and liveries that are still available to be produced, not least of which are the Northern Counties bodied Olympians. Amongst the unusual vehicles illustrated is one of the 9 Volvo B10M coaches re-bodied by Alexander as double deck buses - this produced a strange looking vehicle with a very short overhang at the rear. Geoff Rixon has put together an excellent selection of super photographs as a reminder that things do not stand still and evolve at quite a remarkable pace."
BJK
Published in 2000 by Ian Allan

Kevin McCormack
ISBN 0-7110-3107-X – 245mm x 190mm – 80 pages – Hardback
Illustrated in colour
"Kevin McCormack has brought together a magnificent collection of colour photographs taken between the end of World War 2 and the 1960s of all things transport in London Every aspect of transport in the Capital, be it land, sea or air, is covered within the pages of this book, in many cases the transport is secondary to the main pictures but that does not detract from the interest. Many of the pictures bring back personal memories, e.g. a Stanier Pacific at Willesden Depot, a Metropolitan Railway electric locomotive at Baker Street. There are superb illustrations of trolleybuses and trams still in operations around London as well as the expected pictures of RT, RTL and RFs not forgetting a few of that revolutionary new bus design, the Routemaster! How about Midland Red and Royal Blue coaches at Victoria for those of you who may have interest other than London!
One of the great things about such a book is the comparison with modern London, many of the views have changed little, apart from the vehicles, whilst others are barely recognisable."
BJK
Published in 2006 by Ian Allan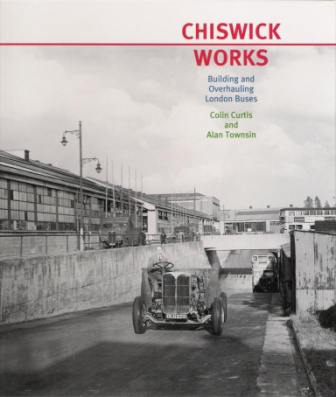 Chiswick Works (Building and Overhauling London Buses)
Colin Curtis and Alan Townsin
ISBN 1-85414-218-6 - 228mm x 257mm - 88 pages - Hardback
Illustrated in monochrome
"Chiswick works was opened in 1921 by the London General Omnibus Company to centralise the overhaul, repair and construction of their bus fleet, a role it fulfilled for over 60 years. This excellent book follows The Works from inception to final closure and describes in text and illustrations how their day to day work was carried out. There are also chapters on Chiswick's role during the war and the service vehicles used. I found the chapter on their experimental work fascinating and some of the designs that might have been would certainly have been ground-breaking.
The illustrations are excellent and include such wonders as an open top STL and a flat front STL as well as the more common buses in use during the time of the works. An excellent book and a must for all London enthusiasts."
BJK
Published in 2000 by Capital transport Publishing

Kevin McCormack
ISBN 0-7110-2738-2 - 245mm x 190mm - 96 pages - Hardback
Illustrated in colour and monochrome
"Compiled to mark the 70th Anniversary of the Green Line name, this is a pictorial romp through an amazing number of bus types from the early AEC Ts to the DAF PDLs by way of fascinations such as the Leyland FECs (TFs), the AEC Qs, the Green Line RT (RTC1), prototype Routemaster CRL4, and even an RLH, albeit on a Relief duty. Pride of place among the curios must go the the tri-axled double deck AEC LT1137 with it's concertina style canvas convertible top! For those of us who associated the Green Line almost solely with the ubiquitous Lincoln Green RFs of a certain era, this book is a real eye-opener, and is likely to provide some unexpected details for the Green Line modeller. The final chapter entitled 'From Tamplin & Makovski to ARRIVA: The Reigate Connection' is a fascinating and unexpected final chapter to a thoroughly enjoyable book."
AAP
Published in 2000 by Ian Allan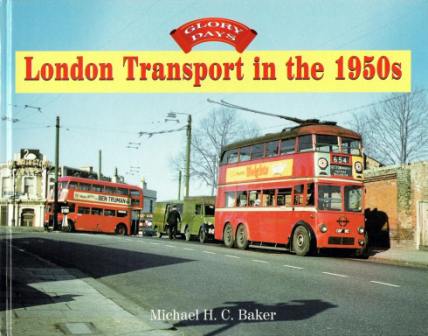 Glory Days: London Transport in the 1950
Michael H. C. Baker
ISBN 0-7110-2688-2 – 245mm x 190mm – 96 pages – Hardback
Illustrated in monochrome and colour
"The title suggests that the whole of London Transport is covered in this volume and that is true although the vast majority of the book covers trams, trolleybuses and buses, the Underground is covered by a few colour pictures and in a small section towards the end. Looking at the pages of this book it is obvious that traffic congestion in London is not a modern invention and the same areas today, e.g. Bank and Hammersmith Broadway still experience high levels of traffic. The early 1950s must have been fascinating with many pre-war types such as LTs, STs and 10T10s still running in daily service, although these would all be replaced by the more modern RT and RF buses before the decade was over. London had over 800 trams still operational at the end of the war but they were all gone by 1952, the last days of these magnificent vehicles are recorded in the book, including some excellent colour pictures. Trolleybuses on the other hand were to see out the decade lasting until 1962 and many of the different classes are captured here. Many of the vehicles illustrated have been modelled, e.g. RT, RF, RM, Feltham Tram, Q1 Trolleybus, but there are several still available for modelling such as the RFW and the RF half-deckers for British European Airways."
Published in 2000 by Ian Allan
BJK

Steve Fennell
ISBN 0-7110-2646-7 - 245mm x 190mm - 96 pages - Hardback
Illustrated in colour and monochrome
"The RFs were to single deck travel in London, what the seemingly omnipresent RTs were to double deck transport - a classic standardised fleet of vehicles. Associated most closely by many with the capital's Green Line services, the RFs also consistently occupied their territory in the outer suburbs of London and most especially into the countryside around the capital. After many years of half-cab vehicles the RFs were seen rather disparagingly as 'boxes on wheels' by many, but unlike many of today's 'boxes' the RFs nearly all provided over 25 years service through the 50s, 60s and 70s. The Private Hire fleet is covered here, as are the 'deck-and-a-half' BEA Coaches. The bulk of the book, quite rightly, tells the tale of its sub-title: 'London's Classic Suburban Bus'. It says much of both their robustness and popularity that so many RFs remain happily with us in active preservation."
AAP
Published in 2001 by Ian Allan

Laurie Akehurst

ISBN 1-8541-4290-9 - 222mm x 286mm - 144 pages - Hardback
Illustrated in colour and monochrome. Maps and pictorial advertising

"From the run up to the formation of Green Line in 1930, to 1969 when London Transport ceased to be responsible for the services, this is a comprehensive study typical of the large-format output from Capital Transport. Profusely illustrated with pictures generally unpublished before, not just of the vehicles, but also of associated ephemera over the period, this is a very detailed and meticulously researched book that should be compulsory reading from the library of the London Transport enthusiast."

AAP

Published in 2005 by Capital Transport Publishing

D.W.K. Jones and B.J. Davis

ISBN 0-9050-0902-9 - 298mm x 210mm - 136 pages - Softback
Illustrated in monochrome
"This well illustrated book charts the first 50 years of Green Line from it's conception and early acquisition of rival services to the much re-vamped system and growing fleet of luxury Duple Dominant and Plaxton Supreme coaches introduced in the late 1970's. The majority of the book is given over to dealing with the route and vehicle developments while a further comprehensive section is devoted to all the different vehicle types that have operated the routes from 1930 to the date of publication. Further chapters give brief overview of the garages used, private hire operations, ticketing and publicity produced for the services. The book concludes with a chronological list of the major service changes made between August 1928 and October 1979."
KRE

Published in 1980 by London Country Bus Services Ltd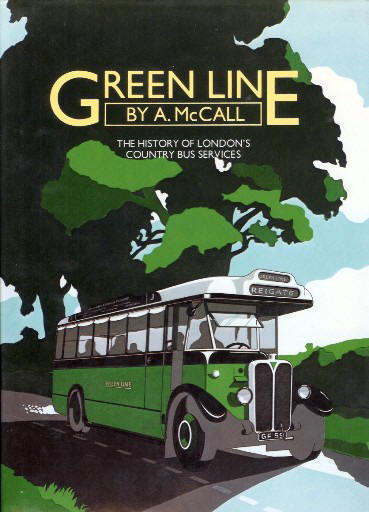 Green Line. The History of London's Country Bus Services
A. McCall

ISBN 0-904568-26-1 - 210mm x 298mm - 208 pages - Hardback
220+ illustrations (colour and monochrome). Maps and detailed appendices

A extremely comprehensive history of London's short distance express coach services from 1927 onwards.
Published in 1980 by New Cavendish Books