Click here to contribute a review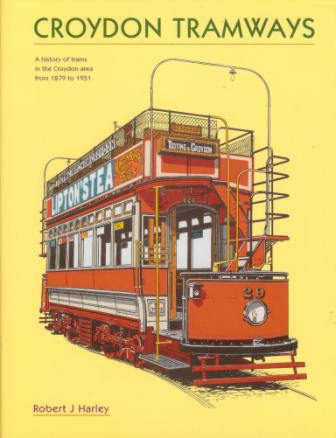 Croydon Tramways (1879 - 1951)
Robert J. Harley
ISBN 185414-278-X – 222mm x 286mm – 128 pages – Hardback
Illustrated in monochrome and (towards the end) colour
This book covers the history of the previous generations of Croydon Tram from Victorian times up to 1951. The story begins with the horse trams and ends with a brief look at the latest trams 120 years or so from the start.
"So says the flyleaf. By the time you've got to page seven, if you have any interest in Croydon or Croydon's Tramways, you're hooked! After due acknowledgement to local historian John Gent the Introduction opens with mores pictures than words - 'the only known picture of a SMET tram at Mitcham Cricketers Tram Terminus' is among the earliest pictures. In-depth coverage of the South Metropolitan Electric Tramways and Lighting Company's workings is a feature of the tome. The pictures of the horse-trams in Croydon are hugely evocative of a time before the reader's reminiscences are likely to set in. This is no singularly pictorial record - the text is lengthy and significant, and very well written. The pictures are of huge historical interest to those who know the area, and equally so to those with an interest in social history. If I had to choose a favourite picture it would be one taken from the open top deck of car 455 as it traverses Station Road with the roof of one of those new-fangled trolleybus things beside it on recently introduced route 654. There is a useful line-drawing of a 1928 enclosed car for the modeller. Croydon's Tramlink receives a brief (in colour) chapter to close the book, and after this there is an appendix of colour reproductions of example maps, fare tables and timetables of the era, followed by a fascinating summary of 'The report by Mssrs. Dalrymple and Howley on the Croydon Tramways undertaking' dated 21st April 1922 - it might well make interesting reading to modern-day Tramlink enthusiasts."
AAP
Published in 2004 by Capital Transport Publishing

John B. Gent and John H. Meredith
ISBN 1-8737-9342-1 – 174mm x 242mm – 96 pages – Hardback
Illustrated in monochrome
"Centering on the Croydon Corporation and South Metropolitan systems, that included the east to west trunk route between Crystal Palace and Sutton, this is a typical Middleton Press volume, containing a wonderful selection of 121 pictures each with an informed and extensive narrative. As with most MP books the period pictures are fascinating for their historical backgrounds, and will have added-value to those who may have associations with the area."
AAP
Published in 1994 (re.1999) by Middleton Press

WGS Hyde and FK Pearson

ISBN N/A - 302mm x 243mm - 52 pages - Softback
Illustrated with sepia prints

"A rare tome, very large in area and modest in thickness, containing some of the most fabulously detailed historical tram pictures I have ever seen. The contribution by Arthur Winter, whose first photographic business was recorded in Preston in 1885, and the pictures from the archive of the United Electric Car Company of Preston (later the English Electric Company) are acknowledged. This is a photographic record that will be of huge interest to the tram modeller. Some 40+ tramway systems have cars recorded for posterity, the vast majority being in the UK. Galway and Salthill, Athens, East London (South Africa), and Barcelona (and others) all have pictorial references. One of the delights of the book is the unusually detailed, and clear, interior views of so many tramcars. The captions are brief but informative, but the pages are given over to hugely clear and detailed sepia-printed pictures, mostly one large plate to a page. The occasional buses and service vehicles reward the reader (viewer?) further. A stunning historical record, which may not always be easy to find 35 odd years after publication."
AAP

Published in 1972 by Preston Guild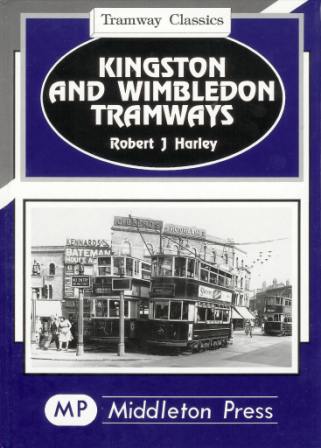 Kingston and Wimbledon Tramways
Robert J. Harley

ISBN 1-873793-56-1 175mm x 243mm - 96 pages - Hardback
Illustrated in monochrome
"The home of London United Tramways, the volume moves pictorially from Tooting in the east to Hampton Court in the west. The classic red and white LUT livery sits handsomely on the company's cars. Early one man operated trams were trialled as early as 1922. Among all the double deck cars, the occasional single deck tram rather jumps of the page! Modellers should note the scale drawing of LUT's magnificent class of trams that ran as 301-340 - they were introduced in 1906 for the opening of the Kingston lines, and the published praise from the time makes fascinating reading. After the hurly-burly suburban town scenes, the book ends in the more open countrified setting of Hampton Court. Complete with a goodly scattering of maps, timetables, and tickets, all of which illuminate further the captions to the pictures. Finally, the author can't resist just one picture showing a LUT-liveried diddler trolleybus on the now disused tracks on its way to Twickenham."

AAP

Published in 1995 by Middleton Press

M.J.D. Willsher

ISBN 0-90433-84-1 138mm x 216mm - 60 pages - Softback
Illustrated in monochrome
"This is a publication that sheds huge light on a very fascinating, most obscure and little known element of the history of London's tramways. Based on the notes made by A.W. Morant, the hugely detailed words are illuminated by some quite extraordinary pictures. The LCC Trailers were mainly used on the London to Merton and Norbury routes, together with the London, New Cross, Camberwell triangle, and the Woolwich to Abbey Wood and Eltham tracks. Of particular interest to the historian will be the track plans of the depots that ran these services (Marius Road, Clapham, Woolwich, Abbey Wood, Telford Avenue, Brixton Hill and Evelyn Street) that are clearly shown. Detailed drawings of a trailer car are reproduced, along with technical diagrams of the coupling system used, which will be of interest to the modeller. The full page pictures are a particular delight. All in all a thoroughly rewarding read, and an insight into a little known facet of London's tramway history that thoroughly deserves re-publication."

AAP

Published in 1982 by the Light Rail Transit Association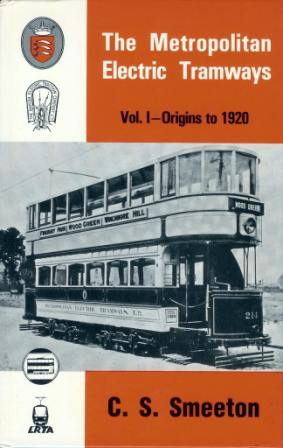 Metropolitan Electric Tramways, The (Vol. 1)
C.S. Smeeton

ISBN 0-900433-94-9 142mm x 224mm - 224 pages - Hardback
Illustrated in monochrome
"Cyril Smeeton's epic history of the The Metropolitan Electric Tramways starts right at the beginning with the horse tramways, and then the steam tramways, from 1871. Covering fascinating proposals in the MET area that never materialised, the volume is a deeply satisfying history of the company through until 1920. With detailed examinations of track and overhead equipment, and associated tram depots and works, this is indeed a comprehensive publication. The eleven appendices at the back of the book are more than just lists, as they detail in quite some depth such things as The Alexandra Park Electric Railway, Trolleybuses (the MET demonstrated the first trolleybus to be built in Britain), Inspection and Opening Dates, Speed Limits, and Advertisements. Profusely detailed (a huge achievement given the time-scale covered) with monochrome pictures, and enhanced with numerous maps and line drawings, this sturdy historical account is one for the shelves of the serious enthusiast cum historian. Following on beyond 1920..... "

AAP

Published in 1984 by the Light Rail Transit Association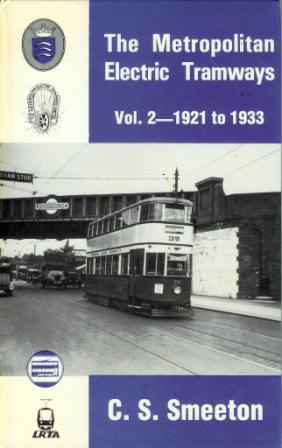 Metropolitan Electric Tramways, The (Vol. 2)
C.S. Smeeton

ISBN 0-948106-00-X 142mm x 224mm - 256 pages - Hardback
Illustrated in monochrome
"..... Volume 2 continues from precisely where volume 1 left off, even to maintaining the page numbering sequence. The pictures are enhanced once again with detailed maps and drawings, images of posters, signs and tickets, and, of course, wonderful pictures of the trams themselves: these often contain a depth of detail that would benefit the modeller. The pictorial portrayal of the passing of history in the images published in these two volumes is fascinating - a study in its own right. The works fleet is covered in detail, as are the experimental Felthams, the Felthams themselves, and, finally, the transition into London Transport ownership. Again, eleven appendices enhance the book, with such varied topics as Staff Working Conditions, Destination Equipment and Hendon Works receiving detailed coverage.

Highly recommended reading for the serious transport historian."

AAP

Published in 1986 by the Light Rail Transit Association

Robert J. Harley

ISBN 1-904474-89-6 175mm x 243mm - 96 pages - Hardback
Illustrated in monochrome
"This volume continues the story from the 1903-33 book, and pick up with the commencement of the London Passenger Transport Board on 1st July 1933. The pictures and captions are further enhanced by the detailed tramway maps produced by Frank Merton Atkins, and various other diagrams. The pictures are rich in local detail, and the atmospheric shots of an era with living memory for many make interesting comparison with knowledge of the same locations today. The areas around Clapham, New Cross and Deptford are well covered, as is Croydon which merits its own chapter. The book nears its end with a section entitled trams and trackwork, which has a very nice detailed drawing of a re-built E1 class vehicle, which might well assist a modeller's accuracy in model production. Beyond this, just three pictures, only one of which mentions the 'last day'."

AAP

Published in 2006 by Middleton Press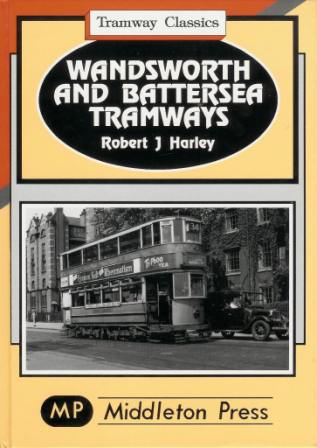 Wandsworth and Battersea Tramways
Robert J. Harley

ISBN 1-873793-63-4 175mm x 243mm - 96 pages - Hardback
Illustrated in monochrome
"This book depicts the routes across a narrow strip of South London from Hammersmith, across Putney Bridge, and the eastwards to Wandsworth, Battersea and Nine Elms. The South London Tramways Company commenced trading in 1881, and by the time London County Council purchased their operations in 1902 each routes was running with its own dedicated coloured trams, something that today might be called route branding. Sections devoted to Clapham Junction (a fine aerial photograph, and the old horse tram depot), Lavender Hill (the runaway tram) and Putney (some excellent photos of Putney Bridge) are worthy of special mention. Many maps and timetable illuminate the reader beyond the detailed captions that relate to the photographs, the whole being presented in the familiar Middleton Press house style. A detailed scale drawing of a LCC D class vehicle, together with one of LCC Car 2 are especially helpful to the potential modeller."

AAP

Published in 1995 by Middleton Press