Click here to contribute a review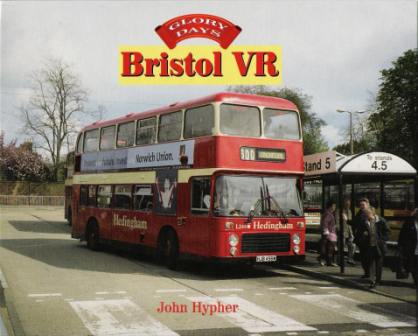 Glory Days - Bristol VR
John Hypher
ISBN 0-7110-2870-2 – 245mm x 190mm – 96 pages – Hardback
Illustrated in monochrome and colour
"The Bristol VR was launched in 1966 as Bristol's first entry into the rear-engine double decker market and production continued until 1981 after over 4800 vehicles were produced, some 3800 of those bodied by ECW. Other coachworks that bodied the VR were: East Lancs., Alexander, Willowbrook and MCW, and examples of each of these are illustrated in the book. The first 50 pages are in black and white and are dedicated to the history of the VR, the remainder of the book being colour photographs which superbly illustrate the coachwork and liveries carried on the VR, which, as the bus was found UK wide are many and varied. Some unusual varieties that caught my eye were the East Lancs bodied long-wheel base with a bustle; the Standerwick double deck coaches and a long-wheel-based bus in South Africa. EFE have produced some examples of the VR and examples of those modelled can be found illustrated in this delightful book."
BJK
Published in 2002 by Ian Allan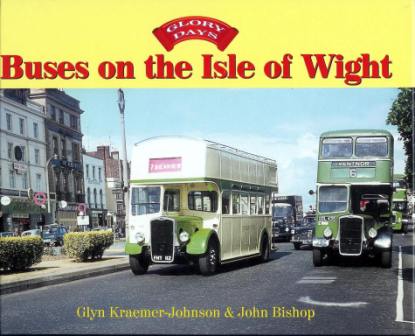 Glory Days - Buses on the Isle of Wight
Glyn Kraemer-Johnson & John Bishop
ISBN 0-7110-3114-2 - 245mm x 190mm - 96 pages - Hardback
Illustrated in colour and monochrome
Click here to read a review of this book

Published in 2006 by Ian Allan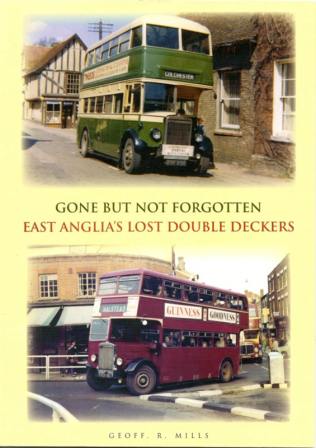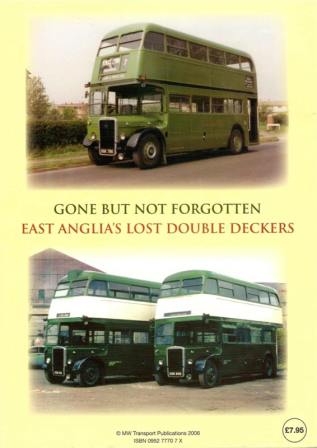 Gone But Not Forgotten – East Anglia's Lost Double Deckers
Geoff R Mills
ISBN 0952 7770 7 X – 210mm x 295mm – 63 pages – Softback
Illustrated in monochrome with colour covers.
"For the purposes of this book East Anglia covers Norfolk, Suffolk and Essex and does not extend, as some might argue into Cambs or Lincs. I have to say that the title is somewhat misleading as the book is really about the smaller operators and the double deckers that they operated rather than all East Anglian Double Deckers as suggested. This is a really delightful book and provides a rare insight into the fleets of the smaller operators and, whilst limited to East Anglia, a similar picture can be told of such operators across the length and breadth of the country. All the operators in the book ran than 30 double deckers at any point in time and many only ever operated 1 or 2. Not unsurprisingly many of the buses were bought second hand, not only from the local operators such as Eastern Counties and Eastern National but from as far a field as the West Midlands, North of England and even Aberdeen! London Transport are of course well represented with RT, RTL, RTW, Daimler, MCW Metrobuses and several other types included amongst the fleets. Whilst most companies bought only second-hand buses a few bought vehicles from new, ranging from Guy Arabs to Leyland Atlanteans. As you would expect from fleets containing many second-hand buses there is a huge variety, a few of the London Transport ones I have already mentioned above and of course Guy Arabs, Bristol VRs, Lodekkas of all types, AEC Regents and Leyland PDs are amongst the commonest vehicles to be seen. There are also several unusual buses that can be found amongst these pages; a rare Bristol VRT/MCW combination, ex-Ribble White Lady, ex-Ribble Gay Hostess to name but a few. I even spotted a Dennis Loline (RDB 889) modelled by Britbus in Selnec Cheshire (DL-08A) and Selnec Southern (DL-08B) liveries, this time in the live y of Pilbeams of Great Oakley, Essex. There is an excellent map at the front of the book showing the area covered and the locations where bus operators were found, each company has a separate section within the book giving a brief history of the company, some of the notable vehicles owned together with a detailed list of all double deckers operated by the company under the headings; registration, chassis, body, seats, new date, in date, ex (previous owner) and out date. With the exception of the cover pages the illustrations are all black and white covering many of the various deckers owned by the companies, they are all of good quality and are well chosen to show the variety of vehicles operated.
I was first attracted to this fascinating book simply because it had East Anglia in the title and I was a little disappointed at first when many of the operators I knew were not included, I quickly realised it was because they only operated single deck buses. However the book with so many different facts and illustrations quickly won me over and I really find it a little gem. I have looked at it several times now and am still finding something new each and every time; it is one of those books where there really is something for everyone to enjoy wherever their allegiances lie. I am hoping that a similar book of single deckers will also be published. It would very quickly join my collection.

BJK

Published in 2006 by MW Transport Publications
Stewart J Brown
ISBN 1-85414-240-2 – 227mm x 257mm – 112 pages – Hardback
Illustrated in colour
"Despite the title this book is not simply about half cab buses, although of course they are prominent in the illustrations, it is in fact a look at the period of change as rear-engine, front entrance buses started to enter service. The last half cab bus entered service in 1969 and as the first production Atlanteans entered service in late 1958 it was a slow decline rather than a sudden finish. This book then covers the period from the late 50s to the early 70s when half cabs were disappearing very quickly in favour of the new style bus. As always with Stewart Brown's books the illustrations are excellent and cover the whole area of the subject. There are pictures of the usual and unusual, amongst the latter being the Wearsider – a front entranced Routemaster conversion to one-man operation by Northern General. In addition to the normal photographs the book is littered with illustrations showing the manufacturers advertising for various buses. There is a fascinating table in the Appendix showing the number of new double deckers by type and manufacturer delivered between 1946 and 1969 and another showing percentage of market share over the same period, I was amazed to see that Bristol, despite their captive audience never exceeded 22% of the market."
BJK
Published in 2001 by Capital Transport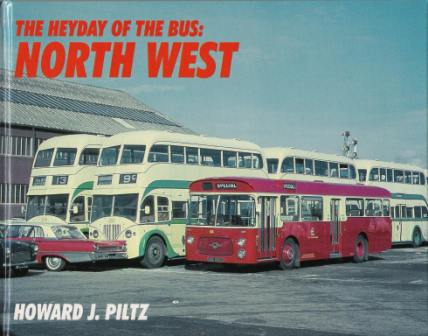 Heyday of the Bus, The: North West
Howard J. Piltz
ISBN 0-7110-2460-X – 245mm x 190mm – 80 pages – Hardback
Illustrated in colour
"I lived in Stockport for many years so the North West of England brings back many happy memories for me, particularly the areas around Stockport and Manchester. The book covers the post-war period up to the mid 1970s and the temptation with a book such as this must be to concentrate on the major operators such as Manchester, Liverpool etc and whilst there are indeed pictures from the larger operators the smaller companies are by no means neglected. There are many examples of unique vehicles such as the Foden double deckers of Warrington, the in-house Leyland PD3 conversion of Preston and the amazing variety of Leyland buses in Blackpool. Local builders such as Leyland, Burlingham, East Lancs and of course Crossley are all well represented and illustrate just how many varieties of buses and liveries existed in the North West. On the cover is a pictures of one of Manchester Corporations Leyland Panther Cubs: whilst they were not a success I always felt they looked the part and probably wouldn't look out of place on the streets today. A super book with something for everyone."
BJK
Published in 1996 by Ian Allan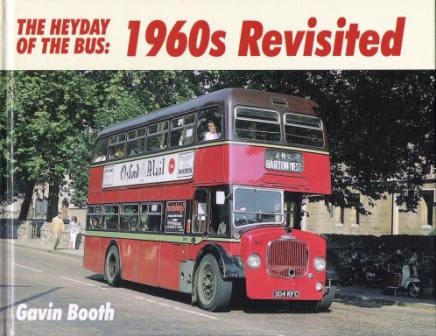 Heyday of the Bus, The: 1960s Revisited
Gavin Booth
ISBN 0-7710-2588-6 – 245mm x 190mm – 80 pages – Hardback
Illustrated in colour
"Those of you who have read others of Gavin Booth's books will be aware that he has this amazing knack of discovering previously unpublished pictures of both the common and not so common: this book is no exception and for those of us of a certain age it is a real nostalgia trip back to our teens. It starts off with a small section on London Transport including a fine example of an RLH in green livery and a picture of an RM alongside the preserved Diddler. The next section is on the Tilling Group and includes another unusual picture of an ECW bodied Leyland PD1A alongside a full front ECW bodied Bristol L and a picture of one of the pre-production Lodekkas in Western National Green. The book continues through the BET Group, Municipalities including a fine shot of a Leyland PD2A with East Lancs body and St Helens front in Lowestoft Corporation colours. The book finishes with sections on the Scottish Bus Group and Independents. Whilst many examples within the book have been produced in diecast from it is unlikely that we will see many of them modelled, e.g. the aforementioned Lowestoft Leyland, the Wolfrunian, Mancunian, etc. "
BJK
Published in 1998 by Ian Allan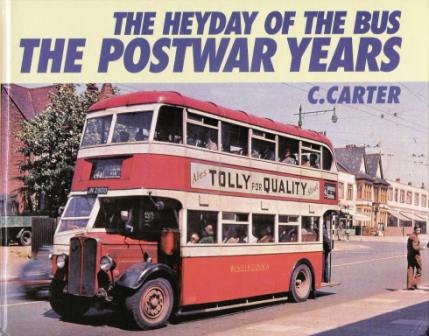 Heyday of the Bus, The: The Postwar Years
C.Carter
ISBN 0-7710-2514-2 – 245mm x 190mm – 80 pages – Hardback
Illustrated in colour
"All the pictures in this book were taken between 1949 and 1952 and remarkably they are all in colour, incredible when you consider that colour photography was a rarity at the time. Give the time period it will come as not surprise that, with one exception, every subject is a half-cab single or double decker bus, the one exception being a Duple bodied Bedford OWB. The chassis makers are limited to the usual suspects, i.e. Leyland, Bristol Guy Daimler AEC and one lone Dennis but once again it is the sheer variety of body work that provides the main interest for example as well as the standard Bristol/ECW offerings there are also Bristol/Beadle and Bristol/Bruce combinations Considering the age of the photographs and the difficulties in working in colour during the period the vast majority of the pictures are clear with very true colours."
BJK
Published in 1997 by Ian Allan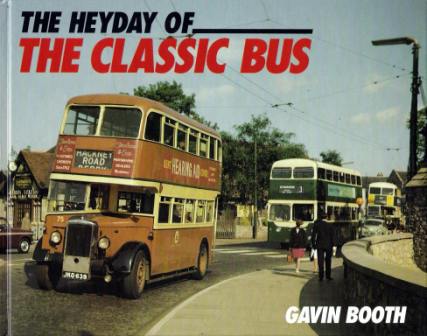 Heyday of the Classic Bus, The
Gavin Booth
ISBN 0-7710-2227-5 – 245mm x 190mm – 80 pages – Hardback
Illustrated in colour
"As Gavin Booth explains in the introduction, the heyday of the bus is somewhat subjective and for many it was the years when they first developed their interest in buses; in Gavin's case it was the 1950s and 1960s.The book is arranged in chassis type order from A-Z, actually AEC to Leyland sandwiching other types such as Bristol, Crossley, Daimler, Guy, etc. The pictures have been well chosen with informative texts both about the buses and the operators. Photographs of Great Yarmouth Corporation buses are unusual, surprising perhaps when you consider the number of visitors that went there in the summer months, so it is good to see a picture of an unusual Daimler Freeline bus included here and on the next page a more common DaimlerCVG6 of Derby Corporation. More of the unusual includes a Foden half-cab single deck bus, a Guy full front Massey bodied double decker and a 'new' Leyland Tiger Cub in Jersey! I guess in many ways that sums up the book, in that it manages to include the common buses and locations as well as the unusual within its 80 pages."
BJK
Published in 1994 by Ian Allan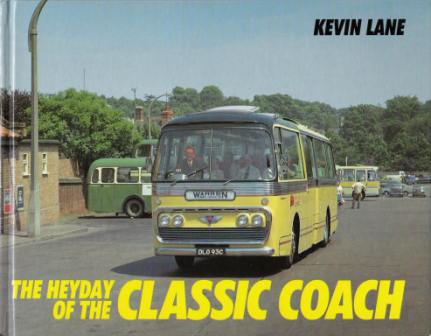 Heyday of the Classic Coach, The
Kevin Lane
ISBN 0-771-2270-4 – 245mm x 190mm – 80 pages – Hardback
Illustrated in colour
"In this case the Heyday is considered as 1945 to the mid 1960s. What I find remarkable in this book is the sheer variety of coach bodies that were produced, even the large producers such as Plaxton and Duple had a rich variety with subtle changes to almost make each coach unique, even within the same style. As an example there is one picture of four Bedford VAL/VAM coaches with Duple bodywork and not one has the same front; that must be a nightmare for the model maker. What makes a book such as this a delight are the pictures of the unusual such as a Mann Egerton bodied Austin CXD and a Leyland Tiger re-bodied by Barton themselves. The illustrations are well chosen to provide a wide variety of coaches over locations across the whole of the UK. I was particularly pleased to see a picture of a London Transport RFW and a coach version of the Bristol SU, both with ECW coachwork, as colour pictures of these buses are not very common. It is not possible in such a short review to mention other than a fraction of the super pictures within this book. To find and enjoy them all you have to read the book."
BJK
Published in 1994 by Ian Allan

Kevin McCormack
ISBN 0-7710-2889-3 – 245mm x 190mm – 80 pages – Hardback
Illustrated in colour
"It could be argued that the heyday of the half-cab was pre-war but since this album is all-colour the period covered is 1955-1966 and as the Leyland Atlantean entered service in 1958 it is well into the decline of the half-cab bus although new half-cabs were available until the end of the 1960s. The book provides excellent coverage across the British Isles unusually including the Isle of Man and the Irish Republic. Many of the buses pictured are obviously well cared for but some, such as the Wolverhampton Corporation Guy Arab III with a chock under the front wheel to assist the handbrake, are not so well loved. As usual in such books it is the sheer variety of vehicles and liveries that make turning every page an adventure, never quite knowing what will turn up. There is a picture of an Ipswich Corporation AEC Regent III, sister of the one modelled by Britbus; a look at the picture confirms what a super job Britbus have made of the model."
BJK
Published in 2002 by Ian Allan