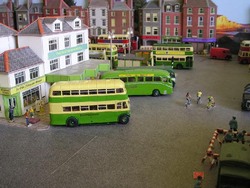 Most of the picture collections below have been recovered from the now defunct Fotopic.net service which hosted the Photographic Gallery used to supplement the Worldwide Model Buses Yahoo Group & website. The site & gallery was rebranded the Model Bus by Tony Price and I took over the site from Tony Price in early 2012.
Hosting limitations mean its unlikely I'll be able to restore everything previously available on Fotopic which hosted almost 1GB of data, but hopefully some of the more unique collections will make a reappearance here in the future.
One downside of the Fotopic failure is that all the collection description text and the copyright stamps have been lost, luckily I've managed to recover all the photo descriptions but if you see some of your images in the collections below which are uncredited please let me know and I'll happily either add a due credit or remove the pictures if you so wish.
Hope you enjoy browsing the photographs
Kevin Ellis