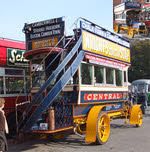 This section contains just over 300 photographs showing the often overlooked rear profiles of buses & coaches dating from the 1920s to the present day.
Modellers often find it difficult to come by rear shots of vehicle when looking for reference material and hopefully this collection will help.
The collection has been separated into three pages and the UK vehicle pictures have been sorted by vehicle age & registration marks.