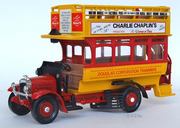 This section contains photographs of the various bus & coach models produced by Corgi & Corgi Classics.
These are of a larger scale than the much more recent OOC range, with scales ranging from 1/64 to 1/43, some of the models such as the Routemaster & Metrobus are better described as toys rather than collectors models. These models were released during the late 1970's through to the early 1990's and were the best diecast offerings available to the model bus collector at that time.
The late 1980's saw Corgi produce a range of much more detailed 1/50 scale models aimed at the collector's market, however the growing range of smaller scale 1/76 models ultimately proved more popular & the larger scale releases gradually fizzled out.