As you may be aware the new Classic Coach Collection has recently been introduced by Atlas Editions in the UK. Publicity for the first model, a Burlingham Seagull Coach, clearly states that it is 1/76 scale, however unlike the trial for the collection, Atlas have used a new tooling for the model rather than the existing Corgi OOC casting. The base of this new model clearly states the model is actually 1/72 scale which means it's slightly larger than other UK bus and coach models.


OOC AN40306 (1/76) & Atlas Editions (1/72 scale model)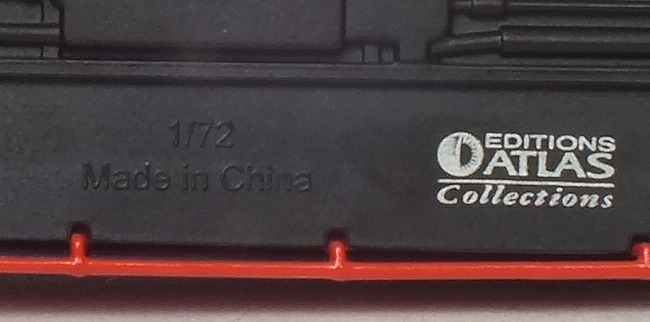 The base of the Atlas Editions Burlingham Seagull Coach states the scale is 1/72.

Robbie Foster has been in contact with Atlas Editions in regards to this scale miss-match and isn't happy with the response he has had from them. After phoning them and raising the issue he received a letter from their 'Customer Services department', the text of which reads as follows:
'Thank you for contacting Atlas Editions.
We can confirm that the Burlingham Seagull model that you have received is 1.76 scale, as stated on the box and also as advertised.
We apologise of you do not agree (sic) and have today discounted the £1.99 so please keep it free of charge or dispose of it as you see fit'

It does appear Atlas Editions don't know their products very well and as Robbie says:
I think you will agree that this is a disgraceful misleading of customers by AE - most of who will, like me, have assumed that these models were going to be made from old Corgi tooling in the same way as the former 'Great British buses' range was.
During my telephone conversation with AE a few days ago I made it clear that I considered the 'Seagull' to be a very nice model in its own right, but that it was NOT what they had advertised.

I asked what the future releases would be scaled as - clearly stating that most collectors would realise in advance that the two (so far) continental coaches would likely be to the smaller 1.87 (HO) scale due to their origins and use with continental model railways. As such these continental models would be acceptable in this light, but that British collectors would be concerned to know what the scale of future British coaches would be - thus enabling us to make a decision whether to continue to purchase the series or not, depending on compatibility with existing collections.

Robbie clearly feels the advertising for the collection has been very misleading and that Atlas Edition's response hasn't really addressed the issue.

The second model in the collection is expected to start arriving with customers shortly, it will be interesting to see whether this Plaxton bodied Bedford VAL coach is really 1/76 scale, as stated on the flyer supplied with the first model, or another new 1/72 scale tooling!