NORTHCORD MODEL COMPANY - PRESS RELEASE
Date: 20th May 2013.

ukbus 6034 & ukbus 6035 Alexander-Dennis Enviro400Hybrid

Stagecoach in Oxfordshire and Stagecoach in Manchester

Northcord Model Company is proud to release its first modified tooling on the former CMNL Enviro400 tooling.

This is launched on ukbus 6034, Stagecoach in Oxfordshire, and ukbus 6035, Stagecoach in Manchester. Both models feature the revised engine room that is reflecting the ADL hybrid driveline on the long wheelbase Enviro400 chassis.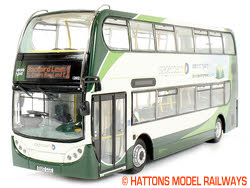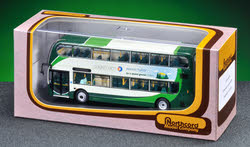 ukbus 6034 features Stagecoach in Oxfordshire 12002 (OU10 GGE) carrying the standard Stagecoach electric hybrid bus livery with distinct "for a cleaner greener Oxford" branding, working on route 1 to Blackbird Leys via Cowley Road.

Stagecoach in Oxfordshire 12002 OU10 GGE is one of 26 Alexander Dennis Enviro400Hs that entered service on local services in Oxford in July and August 2010. The vehicles were purchased ahead of the introduction of coordinated timetables and joint ticketing with competitor Oxford Bus Company from 24 July 2011. Initially they were used on route 1 to Blackbird Leys and route 7A/7B to Kidlington, and then additionally on route 8 to Barton and route 9 to Risinghurst from July 2011.

Funding from the government's green bus fund covered the difference in cost between these electric hybrids and ordinary diesel buses, the distinct branding has been applied to highlight their environmental credentials. Additional environmental gains have been made by replacing higher frequency single deckers with lower frequency double deckers – but through coordination with Oxford Bus Company's services the overall timetable is more frequent and attractive than before, and ticketing is made easier with the Oxford SmartZone range.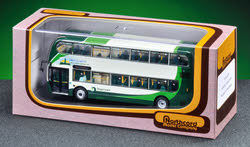 ukbus 6035 features Stagecoach in Manchester 12040 (MX60 BVG) carrying the distinctive Stagecoach electric hybrid livery working on route 43 to Airport via University.

The replicas feature excellent detailing, inside and out, such as realistic-looking handpoles and handrails. The Enviro400H model is a one-piece casting whose clean lines accentuate the windows and livery application on which all logos and lettering are clearly legible.

The brand new ukbus 6034 and ukbus 6035 models are each based on a Limited Edition of only 480 pieces produced.