This spotlight focuses on the latest model release by Bachmann Europe in its Exculsive First Editions range.

The model is now available from Bachmann appointed stockists has a RRP of £29.95.



E16611 - Leyland National Mk1 Short 2-Door LT Golden Jubilee




London Transport celebrated its fiftieth birthday on 1st July 1983 and in commemoration, a series of Golden Jubilee events were held at various LT Works and bus garages from April to October 1983. Nearly twenty LT vehicles received Golden Jubilee liveries, several in an attractive rendition of the old pre-1933 General livery.

On 2nd/3rd July 1983, a special gala weekend was held at Chiswick and Acton Works, where the only Golden Jubilee single decker took part. Leyland National LS194 registration THX 194S allocated to Croydon Garage ran in this livery from June 1983 until the end of the year, being repainted red early in 1984.

Shown with route 234A blinds at the front, the rear triple track number blinds did not have letters and therefore 234 was displayed at the back.

The original silver roof was overpainted white just prior to the Chiswick Gala.


Below are a selection of large photographs showing the model kindly supplied by Bachmann. Each photograph will open in new window/tab.
A full HD Video slide show with some additional images is also available below in the form of a YouTube video.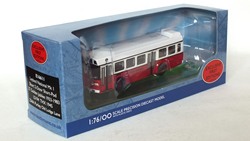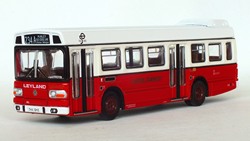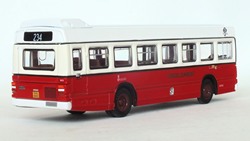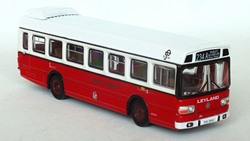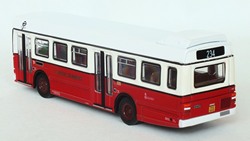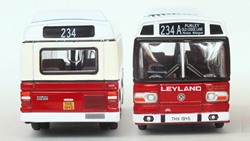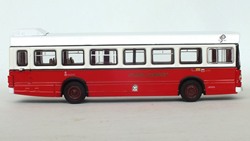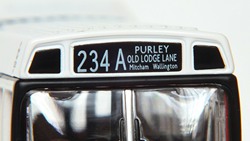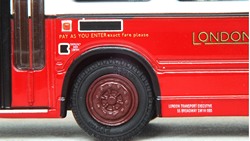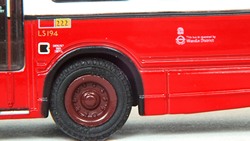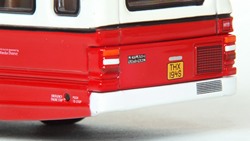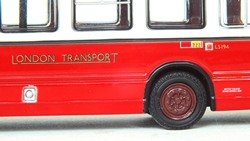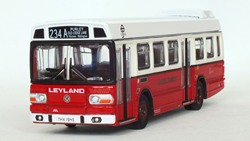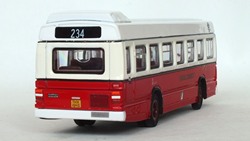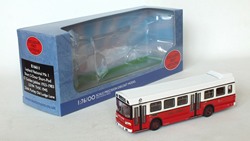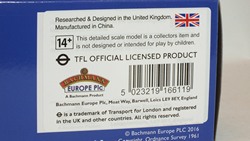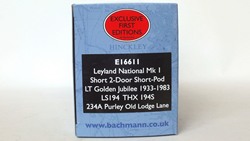 Below is a video slide show of all the above photographs & a few extras. Click the YouTube logo to view at full size.



This isn't the first model produced depicting one of the many special liveries applied to London vehicles during 1983 to mark London Transport's Golden Jubilee.
Here's a summary of the other models produced & some links to photographs of those so far overlooked.

The Gold Liveries
Two vehicles received gold liveries, Routemaster RM1983 & Leyland Titan T1983, RM1983 hasn't been reproduced in 1/76th scale yet, but Sunstar did it in 1/24th.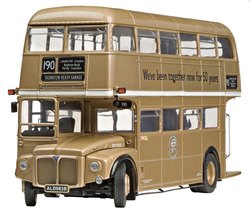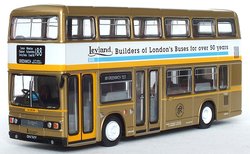 Sunstar H2911 - RM1983 EFE 28823 T1983 (aka T747)

The 1933 Liveries
Most of the other special liveries applied were based on the early London Transport livery of red with white window surrounds & silver roof. These schemes were applied to the following vehicles: DS1933, LS194, M359, RM8, RM17, RM1933, RM2116 & Ensignbus DF1682. The Plumstead Garage Sports Club also applied the livery to their privately owned RMA56.
Five of buses these have been reproduced in model form to date although again RM1933 can only be found in Oxford Diecast N & Sunstar 1/24th scales.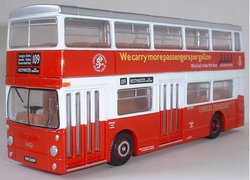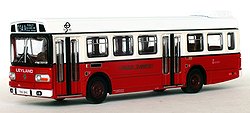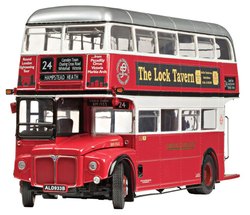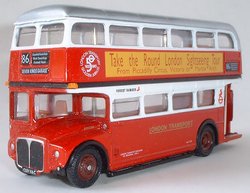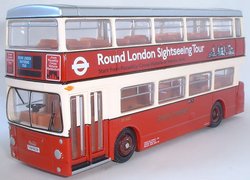 EFE 25706 (Set 99918) DS1933 EFE E16611 LS194 Sunstar H2909 RM1933 EFE 15619 (Set 99911) RM2116 EFE 28003 Ensignbus DF1682

Here's some links to photographs of the other four vehicles not yet available in model form.
M 359 (Flickr) - RM 8 (Flickr) - RM17 Flickr) - RMA 56 (Flickr)

London General Liveries
Two vehicles, MCW Metrobus M57 & Leyland Titan T66 received London General style liveries. Both vehicles have been modeled in 1/76th scale.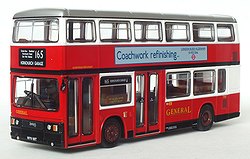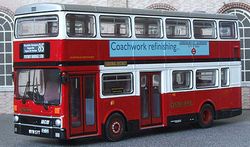 EFE 28826 (Set 99938) T66 Corgi OM45102 M57

The Other Liveries
There were three other special liveries. None of these have been reproduced on any models despite there being suitable castings available in the EFE range.
Daimler Fleetline B20 D2629 received a striking chocolate & cream livery in the style of that applied to Croydon Corporation Trams. Mark I Leyland National LS402 was given a simpler red & gold livery at Harrow Weald Garage while the lowest numbered Mark 2 National LS438 gained a revised Red Arrow livery with white roof & LT 50 logos at Ash Grove. Staff at various garages also applied gold between decks bands & LT 50 logos to several other vehicles and a number of garage "showbuses" were also restored to older style LT liveries.

Here are some links to photographs of these vehicles.
D2629 (Flickr) - LS402 (Flickr) - LS438 (Flickr)