Northcord has recently issued the following press release & photographs of the actual models.



NORTHCORD MODEL COMPANY - PRESS RELEASE

ADL Enviro400 MMC
ukbus 6507A / 6507B Bluestar




Following the significant success in launching the brand new casting of the Alexander Dennis Enviro400 MMC model in the livery of Go-Ahead London, National Express West Midlands, Stagecoach London & Stagecoach in Oxfordshire, First Bristol and Reading Buses, Northcord Model Company is releasing the eighth and ninth versions – ukbus 6507A and ukbus 6507B in the livery of Bluestar.

ukbus 6507A / 6507B represents fleet number 1641 (HF66 CFM) that has 10.9 metre, single door bodywork and was new to Bluestar in 2017. 1641 carries a full and colourfully branded livery for route 1. The special, comprehensive livery and branding are 100% reproduced onto the ukbus 6507A and 6507B models.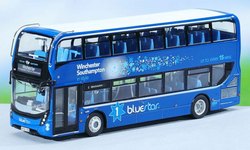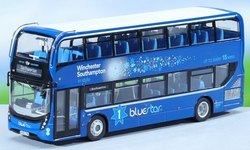 The stand-out features of the branding are : "Winchester Southampton in style", "up to every 15 min", and the prominent route number "1" alongside the Blue Star fleetnames. The newly released models carry destination boards showing the ultimate destination served inside the first full-width window on each side. The splendid shining "stars" are perfectly reproduced on both sides. Free wifi and USB power details are carried in the first nearside window as well as above the front destination board. Further lettering, extolling the comfort available on board, is carried on the rear engine cover.
Both ukbus 6507A and 6507B operate on route 1. ukbus 6507A is showing the destination Winchester, whilst ukbus 6507B shows Southampton.

The Alexander Dennis Enviro400 MMC ukbus 6507A / 6507B is a one-piece casting whose clean lines accentuate the square, gasket-mounted windows and the livery application on which all logos and lettering are clearly legible. Another main feature on the ukbus 6507A / 6507B models is the provision of twin tree protectors at the front. The front dome on the model is significant, with curved windscreens on both upper deck and lower deck.
Northcord Model Company is also creating new design standards within the interior of both saloons. These features, inside the compartments, will represent the real, outstanding layout of the Enviro400 MMC, such as the extensive portrayal of handrails on upper deck and lower deck, etc.
The brand new 10.9 metre Enviro400 MMC bus models will be distributed by John Ayrey Die-Casts Limited (UK), Porte Publishing Company (Japan), 80M Bus Model Shop and Concorde Hobby Shop (HK) respectively. The ukbus 6507A and 6507B models are each limited to 660 pieces worldwide respectively.