This press press was issued last week by the Northcord Model Company upon the Hong Kong release of both models.



NORTHCORD MODEL COMPANY - PRESS RELEASE

ADL Enviro400 MMC

ukbus 0061 Reading Buses /
ukbus 0062 Reading Buses Greenline


Following the significant success in launching the brand new casting of the Alexander Dennis Enviro400 MMC model in the livery of Go-Ahead London, National Express West Midlands, Stagecoach London, Stagecoach in Oxfordshire, and First Bristol, Northcord Model Company is releasing the sixth and seventh versions – ukbus 0061 and ukbus 0062 in the livery of Reading Buses.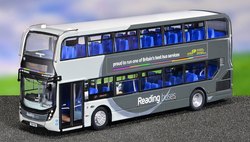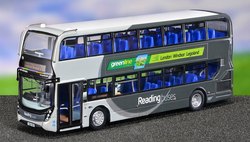 ukbus 0061 / 0062 represents fleet number 758 (YX64 VRU), utilising the 10.9 metre, single door casting (the actual bus has 11.5 metre long body), that was new to Reading Buses in 2015. 758 is unique in carrying Reading Buses' full, standard livery whilst other E400 MMCs in the fleet carry different route brandings. ukbus 0061 also carries the very special UK Bus Awards commemorative adverts on both sides, that read, "proud to run one of Britain's best bus services", "proud to be one of Britain's best bus companies", "Bus Operator of the Year 2015" and "Shire Operator of the Year 2012-2016". ukbus 0061 is showing the "generic livery" 758 operating on busy route 17 which runs between Wokingham Road and Tilehurst, a route that had previously featured on the much acclaimed ukbus 9005 that carried full route branding for route 17.
Reading Buses took over operation of "Green Line" route 702 (London Victoria – Bracknell) from First at the end of 2017. As one of the spare buses in the fleet, 758 was allocated to this 'Green Line' duty accordingly. ukbus 0062 carries special Green Line banners on each side as a temporary scheme on 758, with the destination at the front displaying "Legoland Windsor 702".
Further additional details carried by both models include the free wifi logo on the windows on the front and offside, and full rear advertising to promote "cheaper tickets on your phone".
The Alexander Dennis Enviro400 MMC ukbus 0061 / 0062 is a one-piece casting whose clean lines accentuate the square, gasket-mounted windows and the livery application on which all logos and lettering are clearly legible. Another main feature on the ukbus 0061 / 0062 models is twin tree protectors at the front. The front dome on the model is significant, with curved windscreens on both upper deck and lower deck.
Northcord Model Company is also creating new design standards within the interior of both saloons. These features, inside the compartments, will represent the real, outstanding layout of the Enviro400 MMC, such as the extensive portrayal of handrails on upper deck and lower deck, etc.

The brand new 10.9 metre Enviro400 MMC bus models will be distributed by Concorde Hobby Shop (HK) respectively. The ukbus 0061 model is limited to 1008 pieces, whilst ukbus 0062 model is limited to 504 pcs worldwide.