Northcord Models has issued the following press release.



ADL Enviro400H MMC
ukbus 6515 Metroline

Northcord Model Company is pleased to announce the release of ukbus 6515, the fourth release of the 10.3 metre, 2-door casting of this distinctive, modern, double-decker in the United Kingdom.

The fourth livery to be carried on the brand-new Alexander Dennis Enviro400H MMC model, is Metroline, produced in standard London red livery. ukbus 6515 represents fleet number TEH2087 (LK15 CUH) that has 10.3 metre, dual-door bodywork and was new to Metroline in 2015. Metroline has a fleet of 8 units of such Alexander Dennis Envoro400 MMC Hybrids. TEH2087 has a Euro6 hybrid driveline and forms the last bus in the batch for Metroline. The model carries the roof fleet number MTG TEH2087.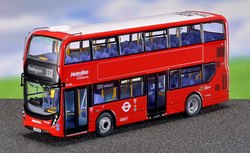 This bus is based at Metroline's Cricklewood Garage where it operates on busy route 332 which runs between Paddington and Brent Park Tesco. The Alexander Dennis Enviro400H MMC ukbus 6515 is a one-piece casting whose clean lines accentuate the square-cornered, patented quick-release windows of the real bus and the livery application on which all logos and lettering are clearly legible. Another main feature on the ukbus 6515 model is its dual individual tree protectors at the front. The front dome on the model is significant, with curved windscreens on both upper deck and lower deck.
Northcord Model Company is also creating new design standards within the interior of both saloons. These features, inside the compartments, will represent the real, outstanding layout of the Enviro400H MMC, such as the additional ventilation equipment on the upper deck ceiling, and the extensive portrayal of handrails on upper deck and lower deck, etc. Further additional detail carried by the model include the special sunlight protection shade on the top of the front upper and lower windscreens.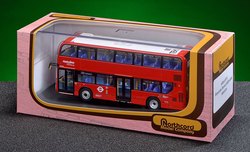 The brand new Enviro400H MMC bus models will be distributed by John Ayrey Die-Casts Limited (UK), Porte Publishing Company (Japan), 80M Bus Model Shop and Concorde Hobby Shop (HK) respectively. The UKBUS6515 model is limited to 1008 pieces worldwide.
Northcord Model Company (NMC)------The World's Miniature Bus Co.