ADL Enviro400 MMC ukbus 6517 Plain White ckd kit
Northcord Model Company is pleased to announce the release of ukbus 6517, the long awaited 10.5 metre single door casting of this distinctive, modern, double-decker in the United Kingdom, in ckd kit form.
The ukbus 6517 ckd kit includes a plain white 10.5 metre, single door diecast body, plain black frame windows, unpainted ceilings, seating units and seats as well as all hand rails. A fully illustrated set of assembly instructions is included within the ckd kit box to enable the modeller to build up the model in whatever way is desired by each modeller.
NMC understands the difficulty in attaching some very small items, particularly the windscreen wipers which can easily become lost, therefore those items are already attached to the windscreen assembly to avoid such losses. However, because modellers will choose to paint their bodyshell to their own desired scheme in the main, the driver rear-view mirrors have not been pre-attached to the bodyshell by the factory.
The attached photos show the progression as follows : Photo 1 illustrates all parts supplied in the ckd kit laid out on top of the illustrated instructions; Photo 2 highlights the plain white bodyshell with other major components and Photo 3 shows a completed kit that is described in more detail, below.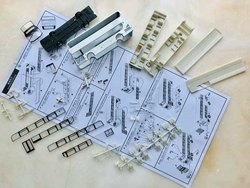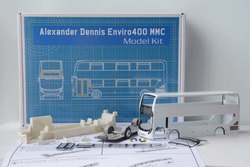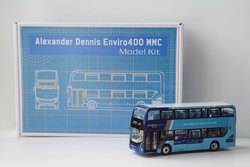 The fully-painted model is a completely amateur-built example representing Arriva Northumbria 7541 (YX17 NNO). This model took a total of five days from collection to completion and included all interior and exterior painting, assembly of all parts and final exterior detailing using home-made decals.
In addition to the featured Arriva Sapphire livery on the 10.5m Enviro400 MMC, other Arriva liveries are possible by representing fleets such as Arriva Midlands, Arriva Kent Thameside or Arriva Yorkshire.
Of the other companies that have specified the 10.5m bus, First companies feature largely and across much of Britain with a plethora of colours and livery layouts from which to choose.
Of course, modellers who maintain their own, fictitious, bus fleets will enjoy the flexibility to develop their style from the ground up as they build their own ckd kits.
NMC would welcome seeing photos of modellers' built kits shared on Social Media.
The ukbus 6517 ckd kit is limited to 1200 pieces worldwide & will be distributed by John Ayrey Die-Casts Limited (UK), Porte Publishing Company (Japan), 80M Bus Model Shop and Concorde Hobby Shop (HK) respectively.