Forward Models have issued a press release regarding thier plans for a new tooling of a Manchester Corporation Daimler CVG6K bus.

Forward Models
Product Announcement
February 2016

59 Ling's Coppice, London SE21 8SX.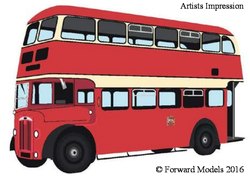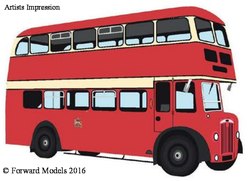 Manchester Corporation Daimler CVG6K NNB 284 4474

During 2016 and onwards, Forward Models plans to produce eight new model buses carrying the 'tin front' from the 1950s. This was the hey-day of municipal bus fleets and these buses represented the final development of the traditional double-decker. One of the first models in the series, due out in mid-2016, will be a Manchester Daimler.

Produced in diecast metal at 1:76 scale, these models follow the high standards set by Forward Models.
This model is finished in the post-war livery of red with the lighter contrast along upper deck windows and between decks stripe. It will carry adverts for Crawfords Cream Crackers and Air France, running on the 92 route to Piccadilly via Heaton Chapel.

Models in the same series will be produced in the liveries of other large cities and towns including Glasgow, Cardiff, Coventry, Rotherham and West Bromwich. The Suggested Retail Price will be about £45, due to the increased of cost of production. Actual retail prices will be lower.

Forward Models has turned to 'crowd-funding' in order to raise the funds for production by issuing 'minibonds'. Investors can buy a bond for as little as £125 or as much as £5000 or more. Contact Forward Models for more details. Or, collectors can simply order now and pay for their model in advance by sending £35 plus £2.80 p&p.

You can view the original PDF version of the press release HERE

For further information visit the Forward Models web site.