Corgi have published details of the models scheduled for release between January to June in 2019 today.
Bar the already announced twin bus set OM46620 I sadly have to report there are no other OOC models listed in this latest catalogue.

There is however one new bus tooling for an extensive new toy range called Chunkies, this comes in the form of a modern style open top London bus.
The Harry Potter triple deck RT model is also being re-issued. While the Best of British Routemaster model will be issued in a blue Scottish livery for the Edinbugh Festival.

In all there are 111 new models, these include an extensive new range of tanks & military vehicles, a new tooling for the vanguards range, and a large number of aircraft in various scales.
There's also two steam related models, a traction engine & a Sentinel lorry, which may mark a return of this range after an absence of several years.
Unlike previous catalogues this one appears to cover the whole of 2019 rather than just six months.


Full details of all the new Corgi models can be found on the www.corgi.co.uk site.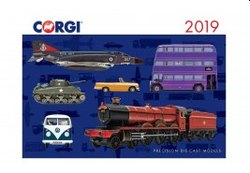 It's not yet clear from Corgi if this lack of new OOC announcements indicates a temporay or permanent end of the range.