Click the smaller thumbnails throughout the review to view larger versions.
A Review by Kevin Ellis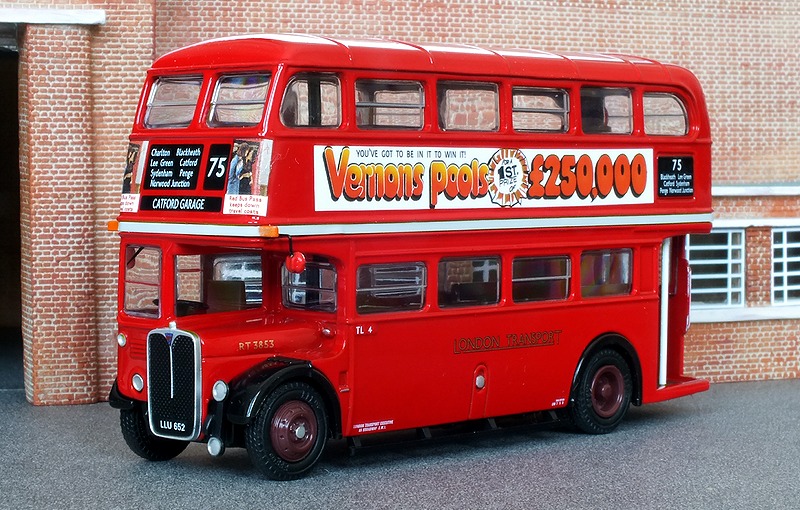 EFE: E34115 - London Transport's Last Route 75 AEC RT Bus


Bachmann's last EFE model release of 2018 featured the popular London RT bus model.
Unusually for a standard issue model in this range, it's supplied with a limited edition numbered certificate that indicates this is limited to 800 pieces.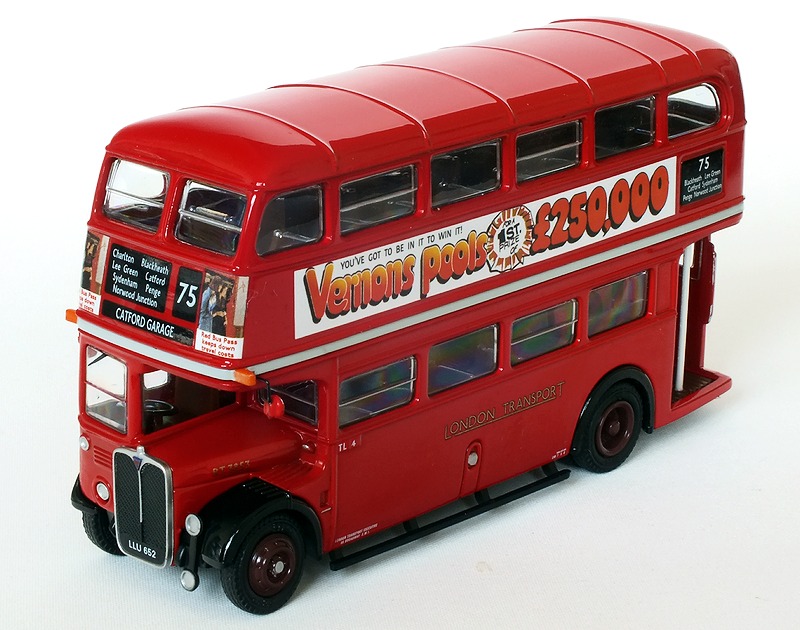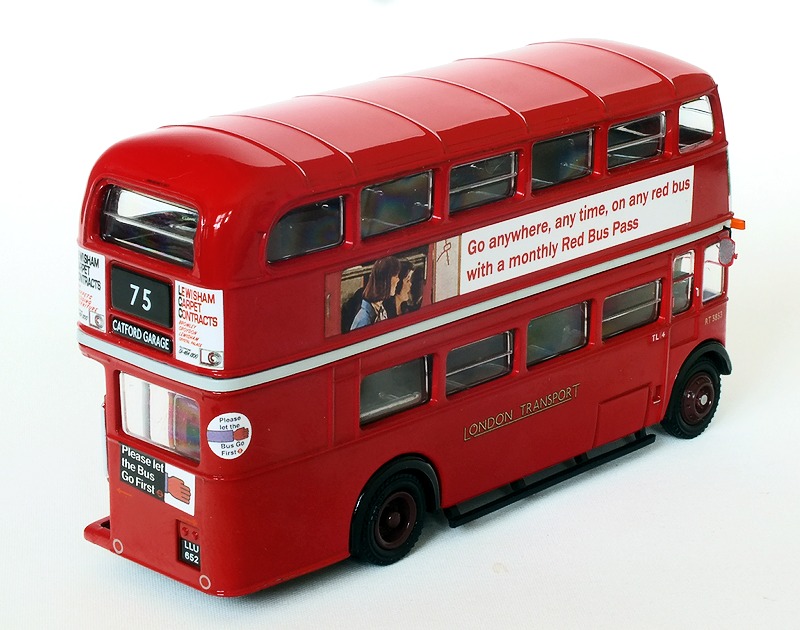 London Transport Route 75
London Transport route 75 has a long history & association with Catford Garage (TL), first introduced on the 3rd October 1934 as a joint operation with Croydon Garage (TC) it initially ran between Woolwich Free Ferry & Caterham Valley. ST class buses were used until 1939 when newer STL vehicles took over. The route became the sole responsibility of Catford Garage & was also cut back to West Croydon at this point.
Between April 1949 & May 1950 the route was converted in three stages to full RT operation, this started with the Sunday service, then the larger Saturday & finally weekday services.
The route continued more or less unchanged bar for a Mon-Fri extension to South Croyden Garage, which was only active between 1960 & 1964. The section between Woolwich Free Ferry & Blackheath also became a Mon-Fri only extension in 1962.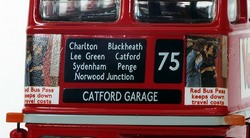 Elmers End Garage (ED) provided a small allocation of RT vehicles to the route on Saturdays between 1952 & 1964.
From September 1972 the Sunday operation was converted to RM while the RTs continued to be used the rest of the week. The route was also cut back at this time to Norwood Junction on Sundays, A few early morning runs did continued to served West Croydon.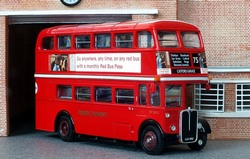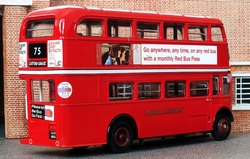 One person operation finally came to the route in late February 1977 when DMS vehicles replaced the ageing RTs that had provided almost 28 years of unbroken service.
The route was updated with Leyland Titans in 1983 and apart from the withdrawal of the service between Woolwich & Blackheath, & a two year extension from Lewisham to Surrey Quays between 1991 & 1993, remained very faithful to its original 1934 routing.

In 1993 the route was converted to single deck Dennis Lance (LA class), but these only lasted 15 months before Leyland Olympian & Titans double deckers took over. By this point the route was being operated by Stagecoach Selkent who had taken over the services following the privatisation of London Buses in the late 1980's.

The last change to the routing occurred 2002 when its Southern terminal point moved to the Fairfield Halls in Croydon.

Catford Garage's long association with the route was broken for the first time in 2009 when the tendering process saw the route reassigned to Metrobus, their operation of the route lasted until 2014, after which Stagecaoch once again won the tender and recommenced operation from Catford Garage with ADL Enviro400 vehicles.
Stagecoach were awarded another five year contact to run the route in 2018, so Catford Garage look set to operate the 75 until at least April 2024.

More detailed route histories can be found at www.londonbuses.co.uk
The Real Bus
The vehicle chosen for the subject of this issue is RT3853, it's depicted exactly as it was on the 25th February 1977 when it became the last crew operated vehicle to operate on route 75.



RT3853 (LLU 652) was delivered in September 1950 and arrived with a Weymann built body, it entered service at Wandsworth Garage the following month and stayed there until May 1953 when it was moved to Brixton Garage.

In 1957 it was transferred to Upton Park Garage and after its first Aldenham Works overhaul in July 1958 was allocated to Harrow Weald, it remained there until its second overhaul in mid 1962.
The vehicle was then sent back to Upton Park, after its third & final overall in 1966, it received a Park Royal body and was dispatched to Enfield Garage. It was given a final full repaint in 1972.

RT3853 arrived at its final garage of operation, Catford, in September 1973 and it performed its very last passenger carrying duty on route 75. The bus was sent to Bexleyheath Garage for storage after the conversion of the 75 to one person operation and two months later was dispatched to Wombwell Diesels in Barnsley for scraping.


Detailed vehicle histories & information about many of London Transport's buses can be found on Ian's Bus Stop
The 1/76 Scale Model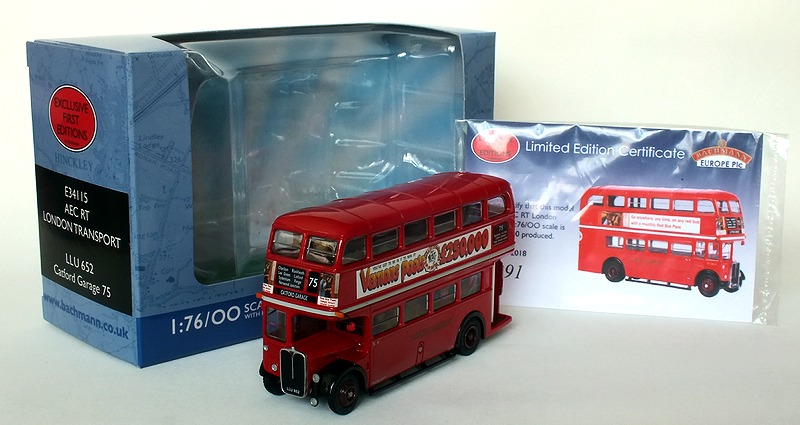 EFE: E34115 - London Transport's Last Route 75 AEC RT Bus & Certificate


This latest release is the second issue of the RT model since Bachmann acquired the EFE range in 2016, unlike some of the other recent new releases, this model hasn't yet received any casting enhancements. Several other models have had previously missing side panel beading added, a feature that has disappointingly always been omitted on EFE's RTs. The model also has the mirrors added during Gilbow's retooling of the model in 2008, these have always been considered weak feature by many collectors.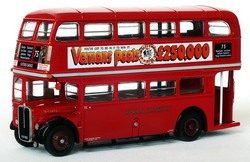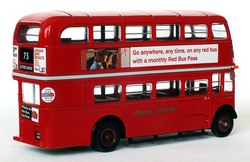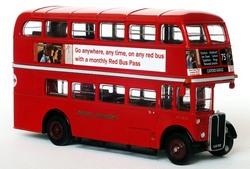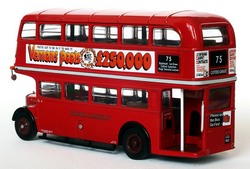 On a more positive note this model demonstrates how good detailing can enhance a model.
The full application of all the period advertisement really gives this model an authentic charm and 1970's feel.
On the model supplied for review, the rear lower advert appears to have been applied slightly out of alignment but otherwise all the adverts have been well reproduced and appear to match those present on the real vehicle during its last duty on route 75.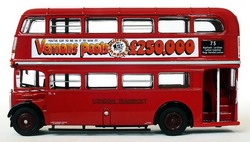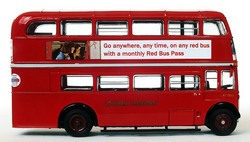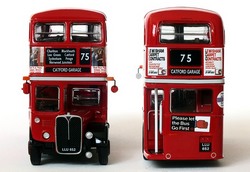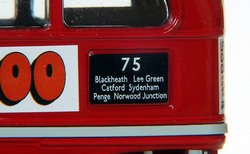 The paint finish is good & as always the EFE tampo printing of the decals is to a very high standard with even the smallest lettering in the legal address being legible. The model carries the traditional gold London Transport fleet names & numbers.
All three destination blinds have been correctly reproduced and are cleanly printed.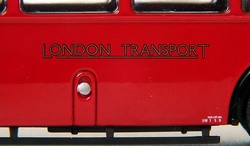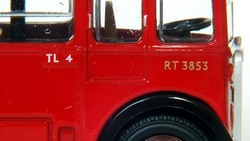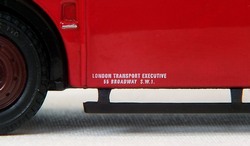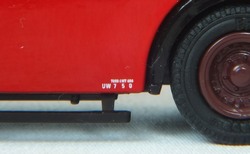 The plastic mudguards have been all been over painted with black gloss paint which greatly improves their appearance.
Silver paint has also been applied to the dividing bars on the opening passenger windows.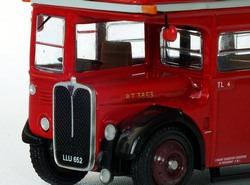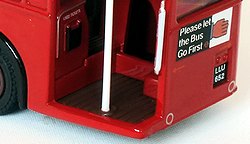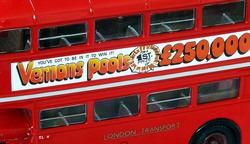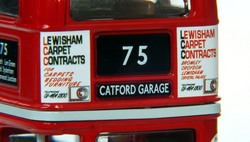 Internally the seating units are brown plastic, seat back grab bars have each been highlighted with silver paint and the platform floor has been painted brown.
Something that occurred to me was that the model depicts RT3853 in pristine condition, going by photographs of the real vehicle and given its last repaint was some five years previous to the occassion recorded. it is perhaps somewhat a unrealistic representation.
No diecast bus manufacturer has ever attempted to apply weathering to a model, but given the subject here it's a feature that I feel would have worked on this model and made it even more authentic.
Bachmann has offered this feature on some of its own railway range from time to time, but prehaps it isn't something that would appeal to the majority of model bus collectors.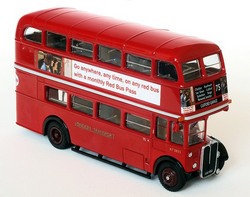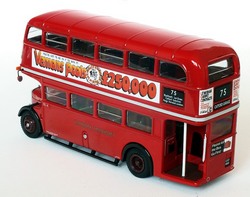 Overall this is still one of the best EFE London Transport RT models to date, hopefully in time the RT casting will receive some improved mirrors, and casting enhancements similar to those currently being applied to the EFE Routemaster models.
Pros:
Authentic representation of vehicle
Excellent paint finish and exterior detailing
Certificate with brief history
Cons:
Casting lacks panel beading
Rather chunky mirrors
Basic interior detailing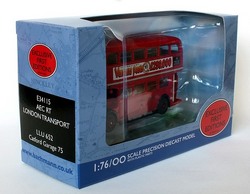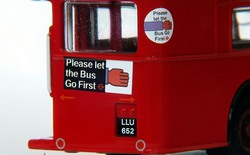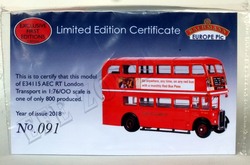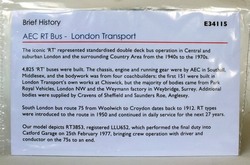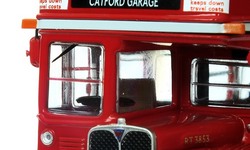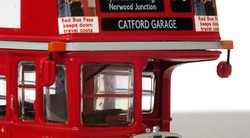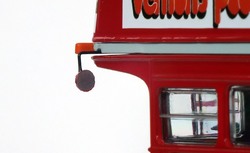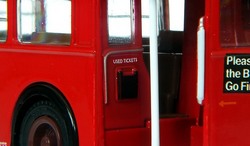 Model Review Index