Some further details regarding Bachmann's EFE release plans for the first seven months of 2017. All of these models were conceived by Gilbow (Holding) prior to the Bachmann acquisition.
Thanks are extended to TTC Diecast for sending me this information. They will be offering a 15% discount on the RRP of all these models.

January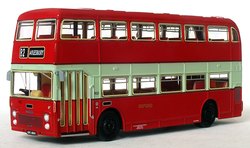 E38123 – Bristol VRT – City of Oxford – RRP £34.95 (TTCDiecast £29.71)
Originally ordered by Southern Vectis for operations on the Isle of Wight, OFC 901H was transferred to City of Oxford Motor Services in 1970, where it was painted in Oxford's striking green and red livery, shown running under the fleet number 901 and working on route 82 to Aylesbury.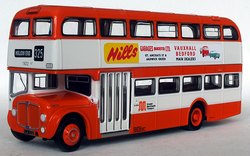 E30716 – AEC Renown – Greater Manchester PTE – RRP £29.99 (TTCDiecast £25.49)
In April 1974 SELNEC become known as Greater Manchester Transport (GMPTE) and the company's branding was refreshed to mark the change, implementing the iconic orange double M logo as displayed on our latest AEC Renown release. Registered AJA 122B, fleet Number 1922 ST, operating out of Stockport garage whilst running on route 325 to Hollow End, displaying side adverts for Hills Garages (Manchester) Ltd.

February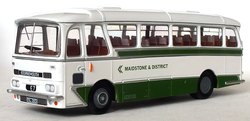 E12311 - AEC Reliance Harrington Grenadier – Maidstone & District NBC – RRP £34.95 (TTCDiecast £29.71)
Maidstone & District became part of the National Bus Company (NBC) on 1st January 1969. Our latest release depicts a Harrington Grenadier registration FKL 126D, fleet No. 4163 shown working on route E7 to Bournemouth and displaying the clean new green and white NBC livery.

March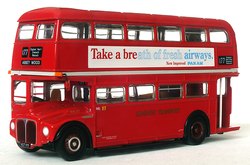 E31515 – AEC RM Routemaster – London Transport – RRP £34.50 (TTCDiecast £29.33)
Our latest depiction of one of London's iconic Routemaster's RM177, shown operating out of London's New Cross garage (NX) which is said to be one of London's biggest garages. Registered VLT 177 and shown working on route 177 to Abbey Wood via Elephant and castle, New cross, Greenwich and Woolwich, whilst displaying Pan Am advertising 'Take a breath of fresh airways'.

April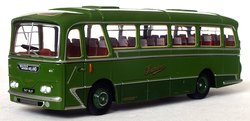 E12122 – Harrington Cavalier - Southdown – RRP £34.50 (TTCDiecast £29.33)
From the early 1960s Southdown began adding Harrington Cavaliers to their fleet, the vehicles' reliability meant that they were perfect for long journeys throughout the length and breadth of the country.

May


E23406 - Bedford TK – British Railways – RRP £31.00 (TTCDiecast £26.35)
Our latest Bedford TK flatbed runs in the maroon and cream livery of British Railways. Registered 423 PRO, cab numbered 5871 BO M and carrying a green tarpaulin covered load.

June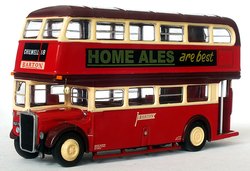 E36007 - Leyland RTL – Barton Transport – RRP £34.95 (TTCDiecast £29.71)
After beginning its life running around the capital's streets while working in London Transports extensive fleet, Leyland RTL registered OLD 790 moved up to Nottinghamshire to work in Barton's fleet. Re numbered 1089 our model is shown running on route 18 to Chilwell, whilst displaying 'Home Ales are best' advertising.

July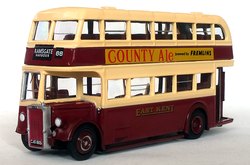 E15808 – Leyland PD1 – East Kent Road Car – RRP £34.95 (TTCDiecast £29.71)
After the Second World War East Kent ordered 50 Leyland PD1 Titans to refresh their fleet, our model portrays one such new arrival, registered CJG 965 shown working on route 66 to Ramsgate Harbour, whilst displaying advertising for County Ale brewed by Fremlins.