Bachmann has announced a new EFE Rail motorised 1959 Stock Tube Train four carriage set, this will be the first motorised release of the former static EFE 1959 tube train stock models and joins the already motorised 1938 stock models.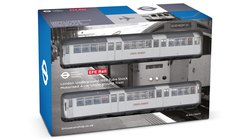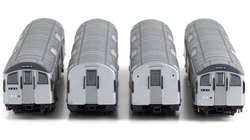 This set has been produced by Bachmann Europe exclusively for the London Transport Museum Shop and will depict a late 1970s Piccadilly line unit, Train No 254, working to Heathrow. (Product Ref: SKU 471169)

The set contains the following models:

Car A: Driving Motor Car No 1212
Car B: Trailer Car No 2212D ('D' for de-icer car)
Car C: Non-Driving Motor Car No 9213
Car D: Driving Motor Car No 1213

Release is expected in mid January 24, and the set is priced £399.95 plus delivery.
Pre-orders can be placed on the LT Museum Shop site.