Recent press release from Northcord Models which I missed earlier this month, UK release will likely be late October or early November.



NORTHCORD MODEL COMPANY - PRESS RELEASE
UKBUS6202 Alexander Dennis Enviro400 - Stagecoach Bluebird

Northcord Model Company is proud to release its first model of the UKBUS6200 range on the former CMNL long wheelbase Enviro400 tooling. This is UKBUS6202, replicated in the fleet of Stagecoach Bluebird carrying classic Stagecoach Stripes & Chevrons livery.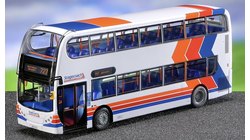 UKBUS6202 features Stagecoach Bluebird 19377 (OO05BLU) working on route 727 to Aberdeen Airport. 19377 was new to Stagecoach Bluebird in October 2008 carrying the registration number SV58BNB and painted in standard Stagecoach 'beachball' livery. The bus was soon allocated to Stagecoach Highlands for service in Fort William with 'the fort link' branding.
Stagecoach Bluebird 19377 was repainted at Tullos from 'beachball' to 'Retro Stripes' in August 2022 and the registration number was changed to OO05BLU at the same time.
It is important to highlight that, due to concerns with Health and Safety issues, the roof was not repainted at this time and it still carries 'beachball' livery; this situation is also replicated on repaints from 'beachball' into the new "local" livery in some other Stagecoach subsidiary fleets.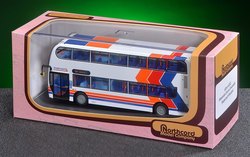 A further quirk with this replica is that, although on paper the registration is OO05BLU, differentiating between letter and numeral characters, the actual bus carries 0005BLU where the current registration digits do not differentiate between "O" and "0".
The replicas feature excellent detailing, inside and out, such as realistic-looking handpoles and handrails. The Enviro400 model is a one-piece casting whose clean lines accentuate the windows and livery application on which all logos and lettering are clearly legible.
The brand new UKBUS6202 bus models will be distributed by John Ayrey Die-Casts Limited (UK), Porte Publishing Company (Japan), 80M Bus Model Shop (HK) respectively. The UKBUS6202 is based on a Limited Edition of only 1008 pieces produced.