Northcord Models have issued the following press release today.


UK6510
ADL Enviro400 MMC - Yellow Buses

Northcord Model Company is pleased to announce the release of UK6510, the second release of the long awaited 10.5 metre single door casting of this distinctive, modern, double-decker in the United Kingdom.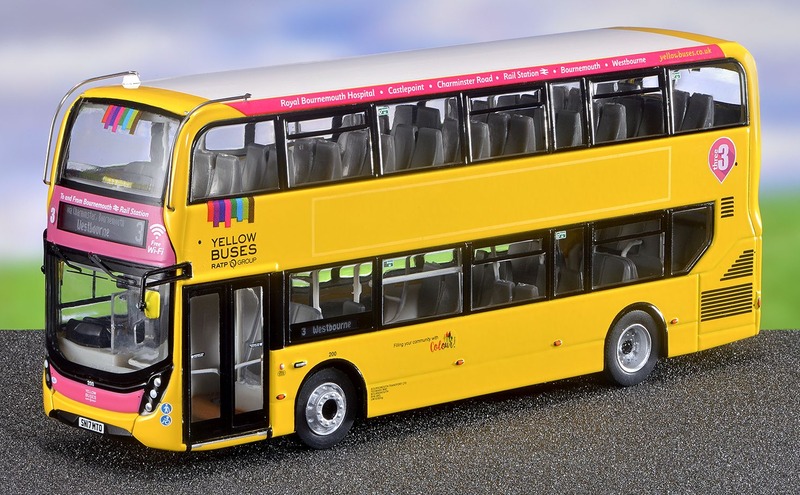 UK6510 represents fleet number 200 (SN17 MTO) that has 10.5 metre, single door bodywork and was new to Bournemouth Transport Ltd in 2017. 200 carries full Yellow Buses livery and branding for route 3. The special, comprehensive livery and branding are 100% reproduced onto the UK6510 model. The stand-out features of the branding are: the "contactless on every bus" and "To and From Bournemouth Rail Station" on the front, and "Direct up to every 10 mins Mon to Sat daytimes Bournemouth to Castlepoint" at the back. Additionally, the prominent route number "3" along with the key locations served, are repeated on both sides.
Further additional details carried by the model include the free Wi-Fi logo on the front and rear.
The Alexander Dennis Enviro400 MMC UK6510 is a one-piece casting whose clean lines accentuate the square, gasket-mounted windows and the livery application on which all logos and lettering are clearly legible. Another main feature on the UK6510 model is its dual tree protectors at the front. The front dome on the model is significant, with curved windscreens on both upper deck and lower deck.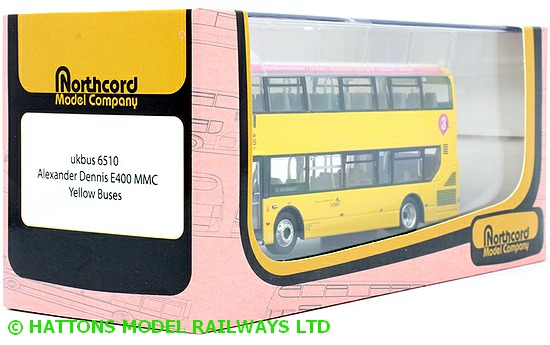 Northcord Model Company is also creating new design standards within the interior of both saloons. These features, inside the compartments, will represent the real, outstanding layout of the Enviro400 MMC, such as the extensive portrayal of handrails on upper deck and lower deck, etc.

The brand new 10.5 metre Enviro400 MMC bus models will be distributed by John Ayrey Die-Casts Limited (UK), Porte Publishing Company (Japan), 80M Bus Model Shop and Concorde Hobby Shop (HK) respectively. The UK6510 model is limited to 1008 pieces worldwide.


UK distributor John Ayrey Diecast has issued revised release dates for the outstanding Northcord Models as follows.

Already released in Hong Kong & due in UK soon. (RRP £59.99)
UK6508A - National Express West Midlands (6843 SN66 WFM) - X1 Coventry - Due May 2019
UK6508B - National Express West Midlands (6843 SN66 WFM) - X1 Birmingham - Due May 2019
UK6509 - Abellio Bus (ABL2616 SN18 KLJ) - Due May/Jun 2019
UK6510 - Yellow Buses (200 SN17 MTO) - Due Jun 2019

Other Future Releases (RRP £59.99)
UK6511 - Stagecoach West Scotland (10930 SN67 XAY)- Due Jul 2019
UK6512 - Southern Vectis (1660 HW67 AHY) - Due Aug 2019
UK6513 - Stagecoach South (10892 YX67 VCE) - Due Jul 2019
UK6514 - First in Glasgow (33982HB SN65 OFX) - Due Jul 2019
UK6515 - Metroline (TEH2087 LK15 CUH) - Due Jun 2019
UK6516 - Stagecoach South Gold (10770 – SN66 VYR) - Due Sep 2019
UK6517 - ADL Enviro400 10.5m ckd kit – Comprising a full set of unpainted parts for collector self-assembly - Due Aug 2019 (RRP £55.99)