The following press release has been recieved from the London Bus Museum at Brooklands.

PRESS AND RADIO RELEASE

The London Bus Preservation Trust Ltd holds its 42nd Season Opening Event at Brooklands Weybridge on 19th April 2015 between the hours of 10.00am and 5.00pm. This year the theme is Aviation and we will have a selection of single and double deck vehicles in their distinctive liveries reminding us of the times when they ferried passengers from the old Cromwell Road Air Terminal to London/Heathrow Airport. The distinctive one and a half deck vehicles that were used were unique and we have a photo of one of them on the front of our event programme this year.

Apart from our usual attractions(vintage and modern vehicle bus rides, rides for the children, many sales stalls, static display of ex London Transport and Provincial Buses) there is of course the full heritage transport collection that Brooklands has to offer. We are promised the latest modern vehicles in LT use, as yet unregistered, and we will also have a special moment at 11.00am in the Paddock by the Clubhouse when London Bus Museum will take into its collection two "new" vehicles. One is RLH48, the only surviving London Transport Country Area Low Bridge bus which saw service from Addlestone Garage, and the other is TD1, a Dennis Trident with Alexander Bodywork dating from 1999, and the first low floor wheelchair accessible double decker in London service. There may be other vehicles included in this Paddock line up which will not be finalised until the day. This is so there can be a photo shoot for 15-20 minutes uninterrupted by passing humans and a few words of introduction from the Bus Trust's new Chairman, Chris Heaps, as he takes on his new duties at London Bus Museum. He comes with a wealth of experience in the heritage transport area and has been at two stages in his career a Traffic Commissioner in the West Country and London. So all in all at the start of the Bus Rally Season, new beginnings and opportunities on a range of fronts. We look forward to welcoming you all to our Spring Gathering this year.

Simon Douglas Lane, Event Organiser: APRIL 2015
Museum website : www.londonbusmuseum.com.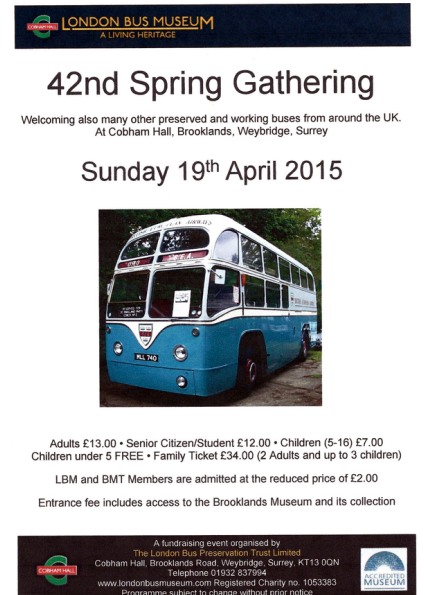 2015 Event programme cover
---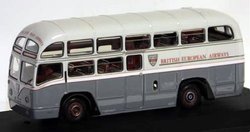 To tie in with the Aviation theme of this year's event the museum has also commissioned another exclusive model from Resin Specialists/Jotus, it should be available for the first time at the Spring Gathering.

The model depicts NLP 650 a Park Royal bodied AEC Regal IV 4RF4 coach in the two tone grey livery of British European Airways. Like the first issue RS76635 it is highly detailed both inside & out.
It will be limited to just 200 pieces & is expected to be priced around £75.00. The museum will also be make the model available through its on-line shop for those unable to visit the museum in person.