How to provide information for model manufacturers
Campbell H. Morrison
Taking STANDARD ANGLE photographs for model manufacturers
Writing to a model manufacturer

I am sure that anyone with sufficient interest in pushing a potential model to any, each or all of the major players should present a suitable business case for the model by providing the manufacturer with a portfolio of photographs and written evidence that it would be a suitable item to produce.

I would suggest that, while this portfolio could be emailed to the chosen manufacturer(s), it should, or indeed MUST, be followed up - preferably timed to arrive the same day or as soon after the email - with a written presentation sent by courier that should also be SIGNED FOR on arrival. Many large companies have SPAM filters that might suck your email in to that filter, and it could be lost for ever.

(NOTE: Your portfolio package should NOT be sent by Royal Mail if being sent to Hong Kong addresses for Britbus or CMNL as Royal Mail will only track within the UK. You need a courier service such as UPS or DHL that will track your package OUTSIDE OF the UK).

What sort of photographs should be taken?

Obtain all-round, general and detail photographs to assist in preparation of the pre-production prototype model.

"All round" would include straight-on side, front and rear views from distance to show livery layout in relation to panel joins, beading and windows etc. Using a local contact first can be useful if you prefer to take photographs within a depot rather than outside. Detail photographs should be take close-up and should be STANDARD ANGLE.
Q: WHAT is a "STANDARD ANGLE" photograph?

A: It is a photograph that is taken of some bus detailing that is taken perpendicular to the vehicle side (rather than at any sort of oblique angle) and level to the height of that detailing.

Q: WHY is a "STANDARD ANGLE" photograph necessary?

A: It is the preferred method of acquiring the necessary information for the production of the tampo films. In addition to STANDARD ANGLE photographs, a detailed commentary should be provided to highlight the detail within the photographs, as well as some more general photographs to show the location of this detailing within the rest of the bus – i.e. in relation to windows or to panel joins so that the detailing can be placed in the correct location.

Q: How do you photograph detailing on the upper deck of a double-deck bus?

A: Either use a telephoto lens to ensure that, if you are standing at ground level, the angle is flattened as much as possible, or use a second double-deck bus to take photographs at eye-level to the detailing.

Part One – exemplar photograph sets

The examples in this first part show the sort of photographs that should be taken. The photographs should show a general view of the area surrounding the detail that is being photographed as well as a close-up view of the detailing.

Set 1: The detail that is needed is the lettering "IN EMERGENCY PUSH HERE TO OPEN" and this is shown in full close-up, but a general view of the doors is also provided to show where these two stickers should be placed, and also to show their size relative to the surrounding glass, hand poles etc.
Set 2: As well as an accompanying set of close-up photos of the individual items (below left), the general view (below right) would accompany the photograph set. Detail views (as below) show clearly where each item is placed in relation to other items and the panel joins.
Set 3: This set of photographs shows the general view of the area where the detail close-ups come from and also, for your guidance, is an exemplar of the sort of accompanying notes that should be provided.

Emergency door and engine access doors:

"EMERGENCY EXIT" in WHITE on BLACK at top of emergency door window

WATER on access door rearward of it

Water sight glass set into gold harlequin

ENGINE OIL access door within engine access door + additional lettering "ENGINE OIL // TO STOP ENGINE // IN EMERGENCY // LIFT FLAP // PUSH RED BUTTON"

Emergency lettering under emergency door handle – "IN EMERGENCY PULL HANDLE TO OPEN DOOR"

General view for location of detail: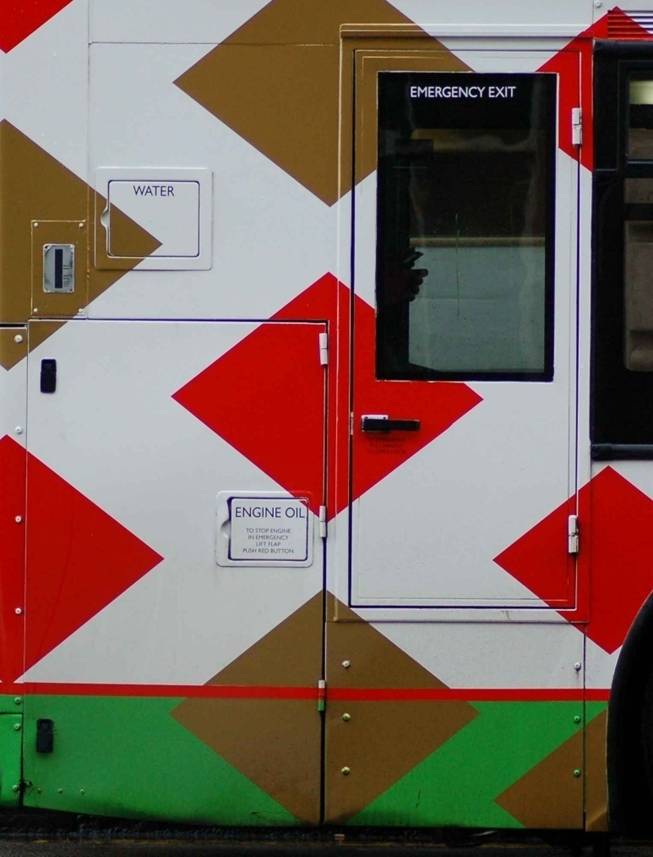 Close-up detail:
Part Two – Standard Angle and non-Standard Angle photographs

Below is a set of photographs showing what IS and IS NOT a STANDARD ANGLE photograph

Example 1: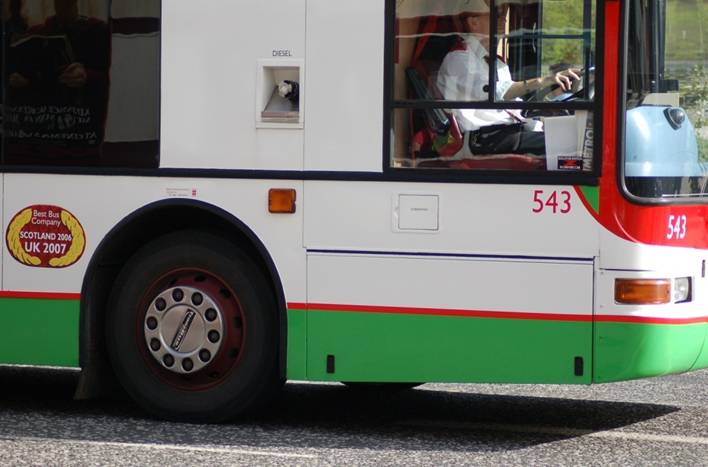 Although OK for a "general" view to show location, the detail is not straight on and it involves the factory in taking longer and making more effort to extrapolate the information and detail work to make it suitable for making the tampo films. In doing so, the quality of an image can be destroyed and its suitability to be used for the films can be useless, thereby creating further delay and expense if the lettering etc has to be created from scratch.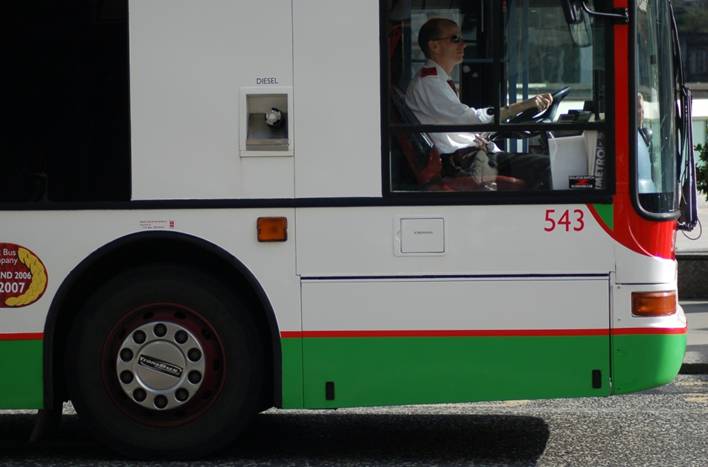 This view is straight-on and would be more suitable for factory use, although the detail work should be photographed in true close-up (like the door lettering at the very top of this article).

Example 2: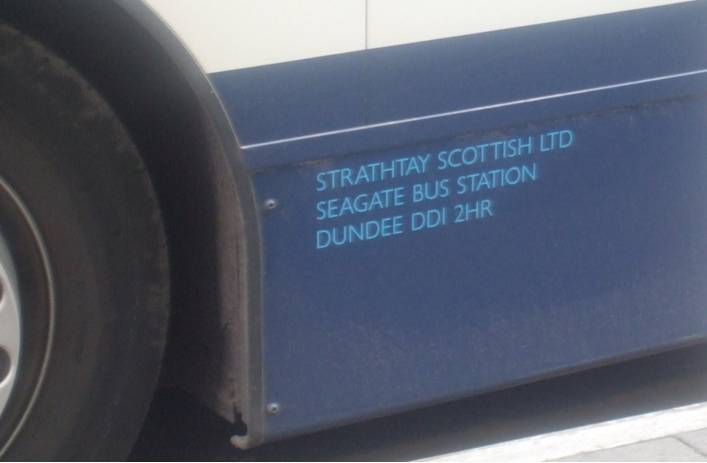 The legal address lettering has been photographed from above and too far to its left. The amount of pre-production manipulation required to obtain the tampo films would probably cause the image to break down and to be of little, direct use.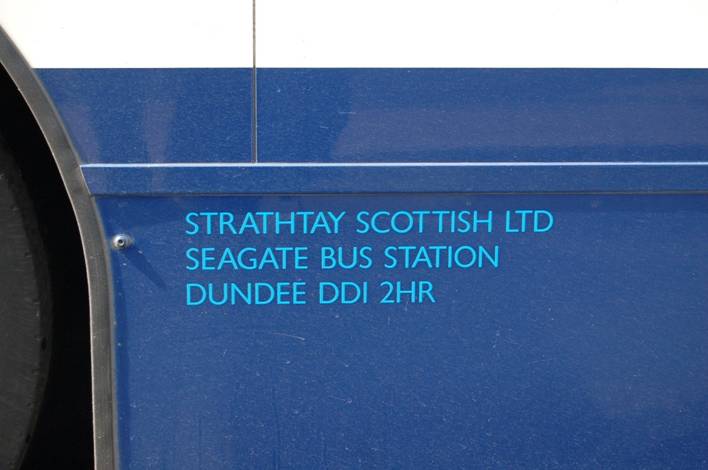 The choice of camera CAN have a huge bearing on how easy or difficult it is to photograph the images successfully. Although this image looks to be a proper standard angle, it has been taken slightly from above, though probably not too much of a problem to correct to make the tampo films. In this case a digital SLR was used to take the photograph requiring the photographer to bend down near to ground level – not too easy for those of advancing years or with a back injury to contend with.

Example 3:

2 general views .....
Although useful to the manufacturer in showing locations, the left hand image above would not be a suitable starting point for the photographer to start taking detail close-ups as the angle is oblique. The right-hand image should show where, in relation to the subject matter, the photographer should stand to obtain the close-up detail work and lettering.

Part Three – Camera equipment

Any camera should be suitable for providing the images that are required nowadays by the manufacturers, though cellphone (mobile) cameras should be avoided unless of the highest quality.

An SLR camera should offer better results – especially when a telephoto lens has to be used to flatten the angle for photographing close-up detail on the top deck of double-deckers. The main disadvantage of the SLR is that, generally, the photographer's eye has to be up against the viewfinder and this limits the ability to photograph with the camera set high above the photographer's head (for fleetnames etc) or below the waist or knee level (for legal address etc).
The non-SLR digital camera (especially with a flip screen) offers a better opportunity to get to "eye level" with the detail that is to be photographed – either above head height, or below waist or knee level. However, when using the telephoto facility on this type of camera to "flatten" the angle to obtain high level detail on a double-decker, the detail can break down once the limits of the optical zoom is exceeded and the digital zoom takes over.

Example 1
Photo (above left) taken with standard lens on Digital SLR but pointing upwards from too close to the subject, therefore at an oblique angle and NOT at STANDARD ANGLE. Quality of image is good but, in making the tampo films, this may suffer as the image has to be manipulated. Using a non-SLR digital camera above the photographer's head (above right) would give a clear image and at a STANDARD ANGLE
Photo (above left) taken further away from subject but at full telephoto zoom so image is slightly degraded – assisted by the over-bright sunshine (a slightly clouded day can reduce contrast and improve saturation). Angle (above right) is more flattened and suitable as a STANDARD ANGLE photograph

Example 2:

Part Four - Further advice

1: "GET UP CLOSE"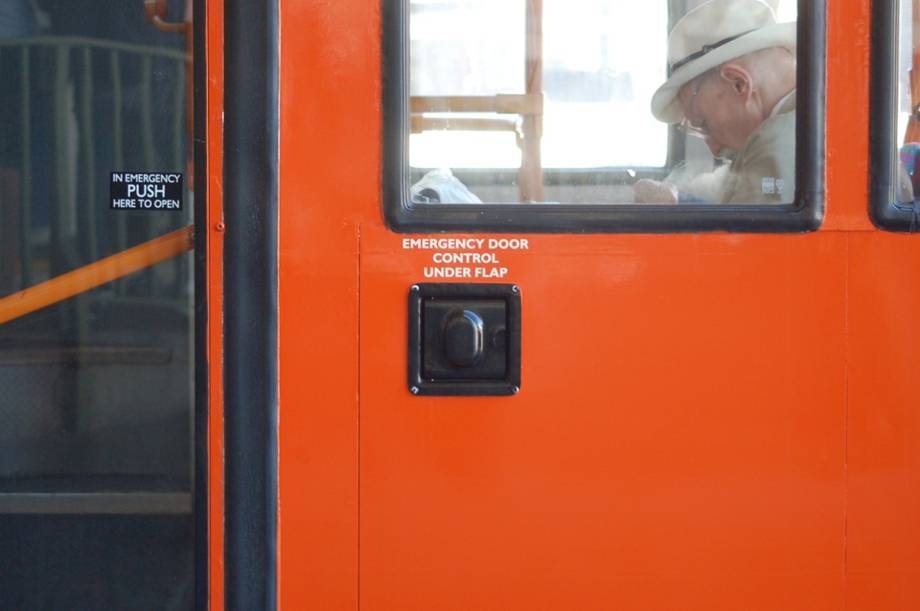 Although taken as a STANDARD ANGLE shot, the photographer is too far from the door lettering for the image to be CLEAR and WELL DEFINED when it has to be enlarged to make the tampo films.

Sample A (below left) shows the door lettering cropped from this photograph (above) but subsequently enlarged to the same size within the frame as the close-up photograph of the same lettering as shown in Sample B (below right).

In the enlarged image from the photograph immediately above (below left), the white lettering is fuzzy, lacking clarity and definition whilst the black background is snowy and greyed rather than a well contrasted black as in the original image that was taken as a close-up and as shown without any cropping (below right).
2: "LED Destination displays"

Some LED destination screens render fully and brightly when photographed but, depending on the shutter speed, they can alternate with dimmer rendering, or with nothing at all (for example many Stagecoach ones). Others only come out in "lines" – notably many of those that are retro-fitted – especially the green ones! So, be prepared to have to take multiple images in order to get full coverage of the screen.

Also, be careful to try and get an even light on the glass screen – preferably a black building behind the photographer should provide the best contrast and try to avoid trees or other items that will not give an even shadow on the glass (the Strathtay ALX400 is an example of a "split" shadow AND it has rain on the glass which can cause distortion when the image is being copied for the model).

LED examples:

Below left: a Stagecoach Strathtay destination that alternates from bright > dim > blank

Below right: a Go North-East Citaro showing the "lines" effect on the numerals.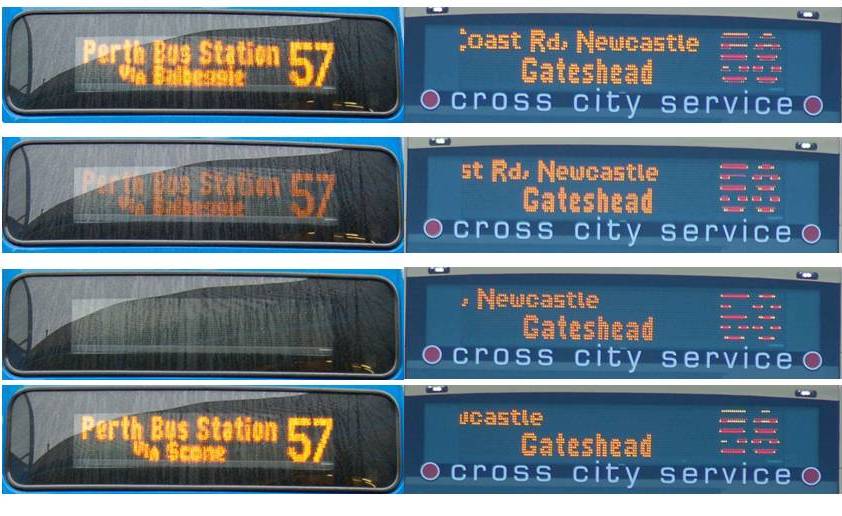 3: "Don't forget the roof"

Q: What is often overlooked, yet is rarely overlooked?

A: A bus roof

Whilst there are so many opportunities in Hong Kong to view bus roofs due to the high incidence of tall buildings, in the UK bus roofs are more likely to be overlooked when a bus enthusiast takes photos, or when someone wishing to propose a model to the manufacturers takes photos.

Yet, a bus roof can be a minefield of unexplored detail – whether it is the application of the livery, or the plethora of aerials or air intakes.

So, don't forget to photograph the roof of your proposed model bus .... whether it is from the top deck of an open-top bus (how I photographed the Mac Tours Solo SR) or from the upper level of a car park (how I photographed the ONE Solo SR) or from a footbridge across a road.
Copyright:

No part of this article may be reproduced in any form or by any means, without the written permission of Campbell H. Morrison
Falkirk
August 2009