Corgi OM46003 Wright Eclipse Urban - Lothian Buses
Released October 2006
Review by Donald Grant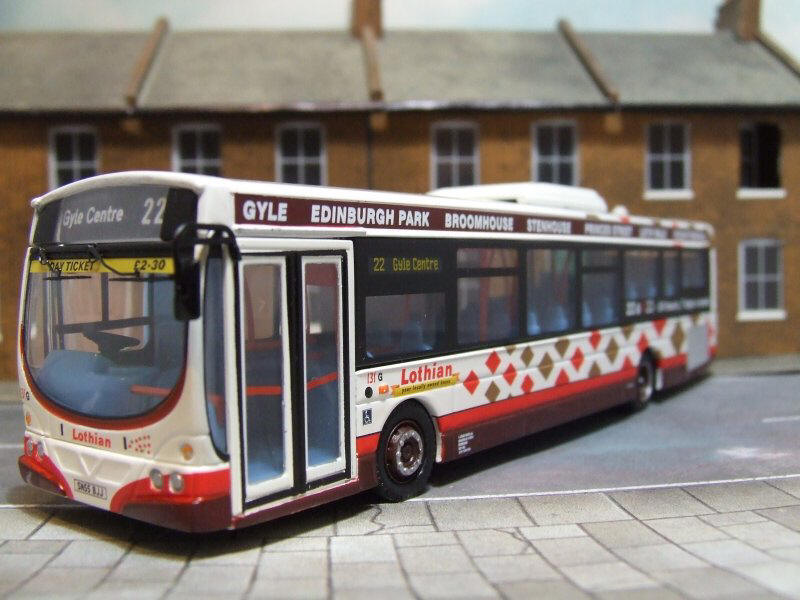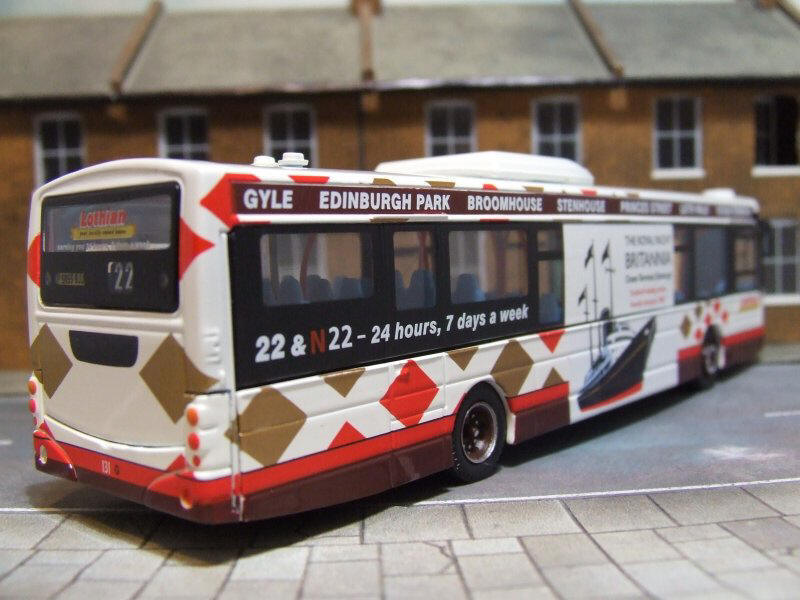 One of the new castings from the Corgi Original Omnibus Company stable for 2006 is the Wright's Eclipse Urban single deck bus. It's a welcome addition to the range complimenting the Gemini and Fusion models already in the OOC range.

The model I purchased is OM 46003 and is a replica of one of the large fleet of Urbans with Lothian Buses in Edinburgh. Dealing with the casting itself first, I find that the example I have is well made and well put together with no obvious flaws to the casting itself. Most important of all is that it does capture the look of the real vehicle very well indeed and should prove to be a popular casting for Corgi. Crucially the vehicle is current and still in production which gives Corgi as yet unknown livery options for the future over and above those of operators already running these buses.

Now I'll deal with the Lothian Buses version itself and sadly Corgi have got it horribly
wrong. We knew from the outset that it wasn't going to be 100% accurate but I'm afraid in this case too many liberties have been taken. For some reason known only to themselves Corgi seem to be totally incapable of reproducing the correct shade of Madder as used in Edinburgh, theirs always has too much of a brown hue. For this there is no excuse! Within their range in the past they released an Optare Solo in the Park & Ride colours for the Addenbrooke's Shuttle which is in a maroon livery.

Even this is closer to Lothian's madder than Corgi used on the Urban. Had they used it on the Lothian Urban the model would have been greatly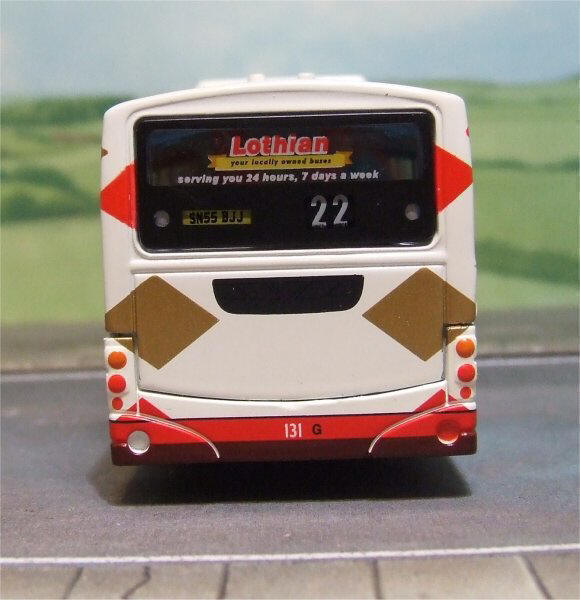 improved. Incidentally in comparison to an EFE model of an Edinburgh bus the Adenbrookes Solo is almost identical in hue.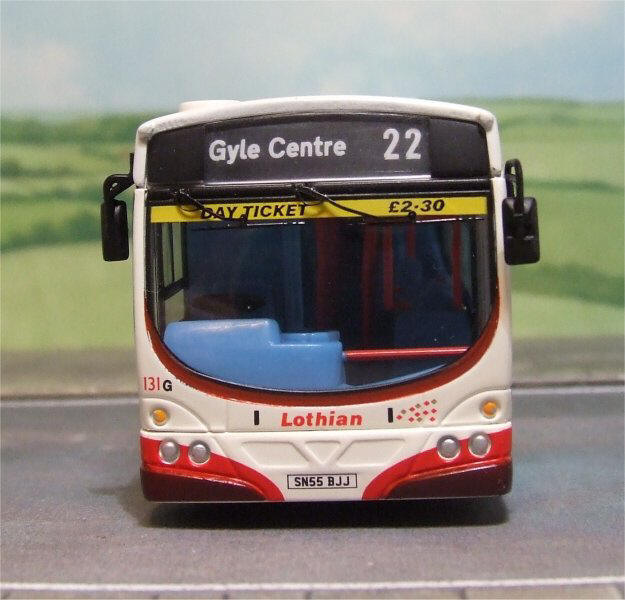 Whilst the application of the Lothian Harlequin livery is very well executed Corgi have again taken a liberty by applying an advert for the Royal Yacht Britannia on the offside. The advert itself is well done but the bus being modelled has never had the advert applied to it in real life! The real bus (fleet number 131) also has guide wheels for the guided busway on the western outskirts of Edinburgh, the model does not. Finally the worst sin of all. The model has a large air conditioning roof pod fitted, the prototype does not! Again there really is no excuse for this as a more correct smaller pod type (two of them) is fitted to the Fusion models so Corgi already had the moulds in place for the Urban model if they had chosen to use them.

So summing up what we have is an excellent casting with loads of potential but in the case of the Lothian model too many inaccuracies which spoil the enjoyment of the model for collectors of this fleet. It's such a shame that what should have been a jewel in Corgi's crown has turned out to be a crown of thorns.
LDG
The opinions offered in the reviews on this page remain those of the author, and do not necessarily represent the of views of The Model Bus Website.