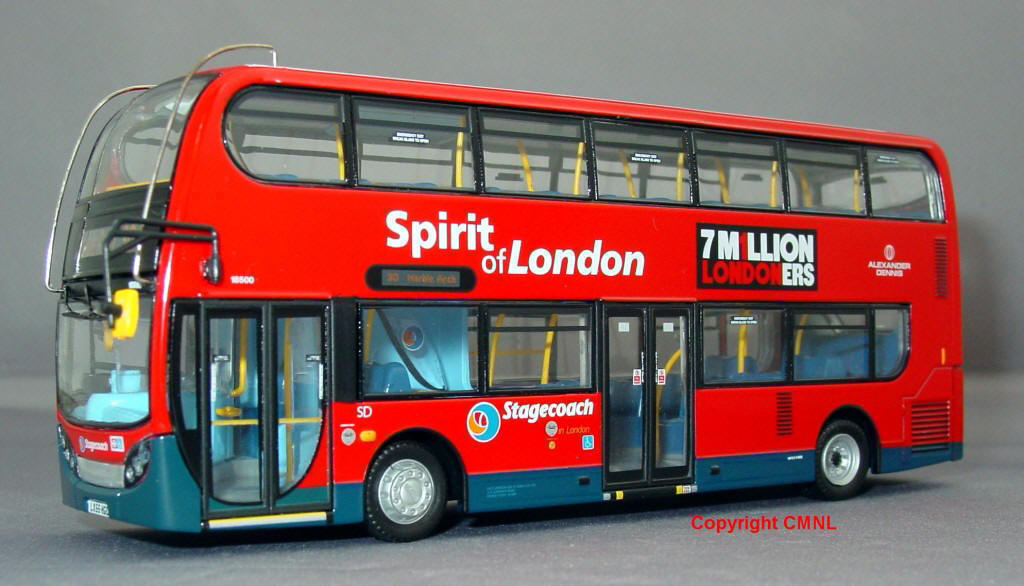 CMNL ukbus 6001 Alexander Dennis Enviro400 - Stagecoach London
Released September 2006
Review by Brian Knights
It was in August 2005 that CMNL announced they would be producing a 1/76 diecast model of the Alexander Dennis Enviro 400. It was to be the first model bus casting developed alongside the full-size bus upon which it was based. The first release of the new casting was to be the Stagecoach's Spirit of London, the bus nominally replacing the ALX400 destroyed by a terrorist bomb in London on 7th July 2005.
Having seen pictures of the model I was eager to see the casting: would it be as good as the pictures promised? When I saw the model in the box I knew that I would not be disappointed; it looked just right, and to all intents and purposes an exact replica of the real thing. Since receiving the model I have not been able to see Spirit of London in the flesh but have seen the Metroline versions on route 24, and the model looks perfect in nearly every detail, even the near-side wing mirrors which look strange on the model are indeed copies of that on the real bus. The interior is well modelled, even to the seat behind the driver which on the real Enviro 400s looks to be claustrophobic and like a cupboard underneath the stairs. Stagecoach have now sold their London operation and as a result the bus has lost its Stagecoach branding and blue skirt and is now in overall red livery but still retains the Spirit of London wording – could this be future release?.
There are minor things that detract from the overall perfection and they are the passenger door grabs on the front are painted straight lines on the doors on the real thing of course they are attached to the door and are curved, not straight. Similarly there are no passenger handles on the side bulkheads as there are on the bus: also, on the top deck the passenger handles for the front seats are all yellow whereas on the actual vehicle it has grey foam protection around the handle. These really are minor issues in what is overall an excellent casting.
BJK
The opinions offered in the reviews on this page remain those of the author, and do not necessarily represent the of views of The Model Bus Website.