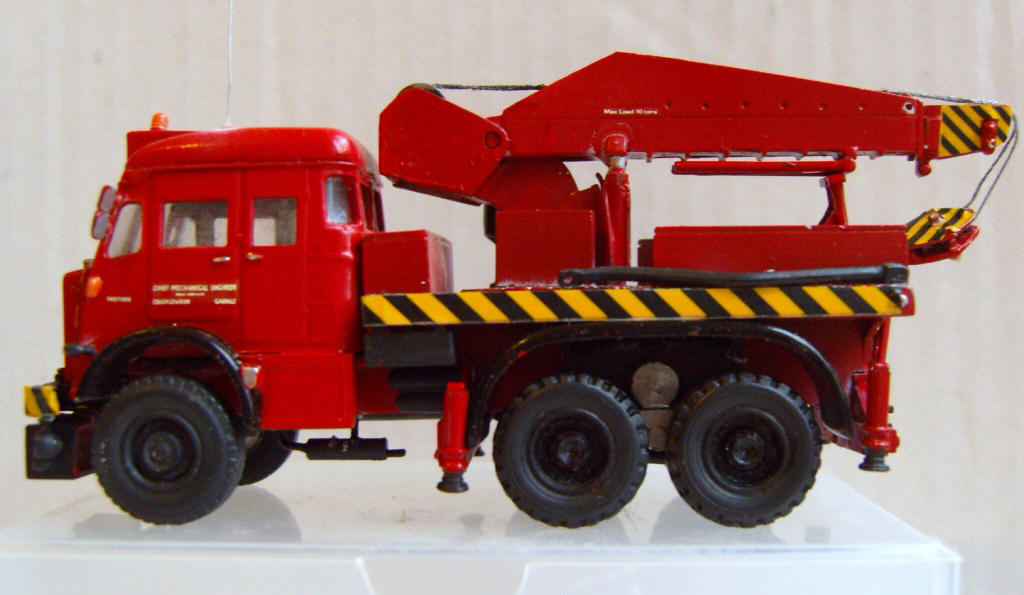 AEC Militant Breakdown Tender,
Fleet numbers 1456MR and 1457MR
From MBC - Kit No. 201/251
Subsequently made available by Adrian Swain of ABS Models

Review by Andy Kent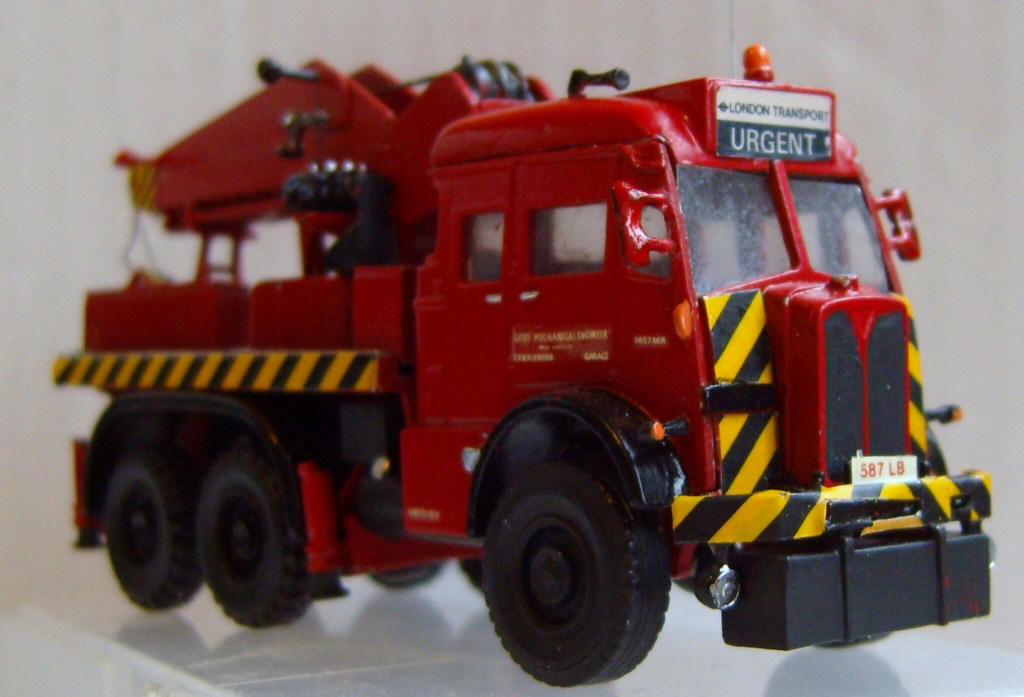 Prototype notes (available with the original white metal kit)
The AEC Militant 1, on which this kit is based, was introduced in 1952 for the war department. Two types were produced- the 0859 which had a 6x4 drive arrangement, and the 0860 which was a 6x6. Both were available in long and short wheelbase versions. The type was displayed at the 1954 commercial motor show where it was offered for general sale. Production lasted until 1962 until it was superseded by the Militant MK3. Around 3000 MK1's were built. The army used Militants as general cargo trucks, tippers, crane lorries and artillery and anti aircraft gun tractors.
The RAF used them as high pressure aircraft refuellers and the National Coal Board used them with special bodywork equipped with emergency pit winding gear. Vehicles were fitted with AEC A223 11.3 litre 6 cylinder diesel engines developing 150 bhp at 1800 rpms, and crash gearboxes with 5 forward and one reverse gear.
Two ex- army militants, built around 1954, were purchased by London transport in October 1966. They were bodied as master breakdown tenders with cranes by Boughton of Amersham, and were given the fleet numbers 1456MR and 1457MR. 1456MR is a 6x6 militant with chassis number 0860 039, and 1457MR a 6x4 militant with chassis number 0859 078, Formed army registration numbers 36BM73 and 36BM12 respectively.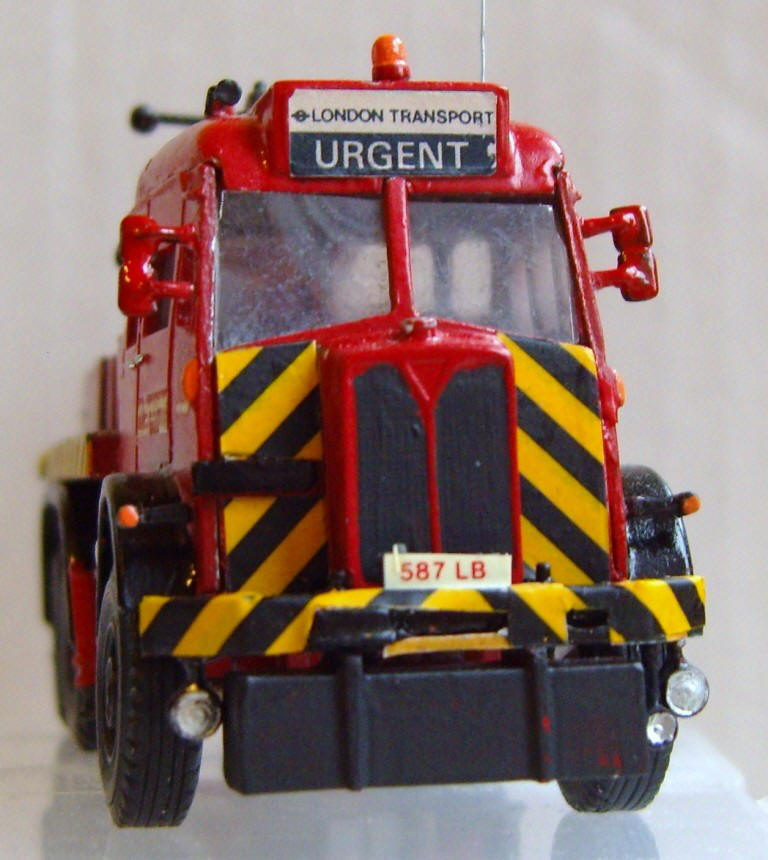 1456MR ran from Camberwell garage- trade plates 598LB and 559LC are among those known to have been used. It was withdrawn in September 1980 due to a fractured chassis and was sold in May 1981 for preservation (the chassis being repaired by its new owner).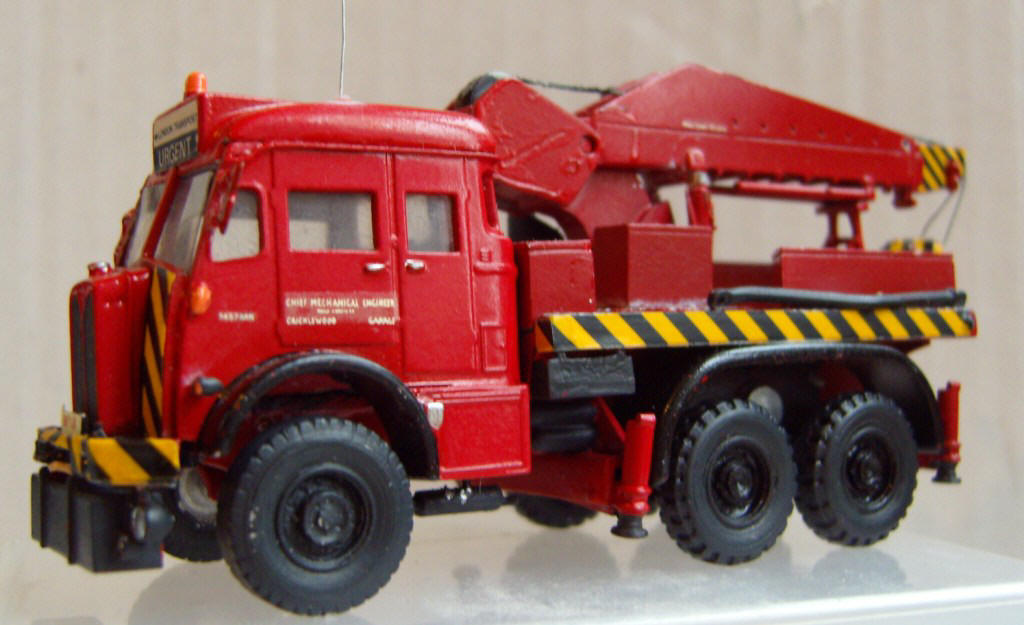 1457MR ran from Cricklewood garage on trade plates 587LB and was withdrawn in November 1982 being sold in April 1983 to the same owner as 1456MR. 1456MR was later sold to National rescue who currently use it as a recovery vehicle in S.W. London and Surrey. It is registered XGP 389W.
Livery Details
In London transport service the vehicles were finished in all over bus red livery with yellow and black marker striping. Wheels were black. In service with national rescue, 1456MR is finished in all over dark brown livery with ivory coloured crane assembly and rear mudguards, lettering is cream shaded red.
The above text is copied from the instruction sheet supplied with the kit.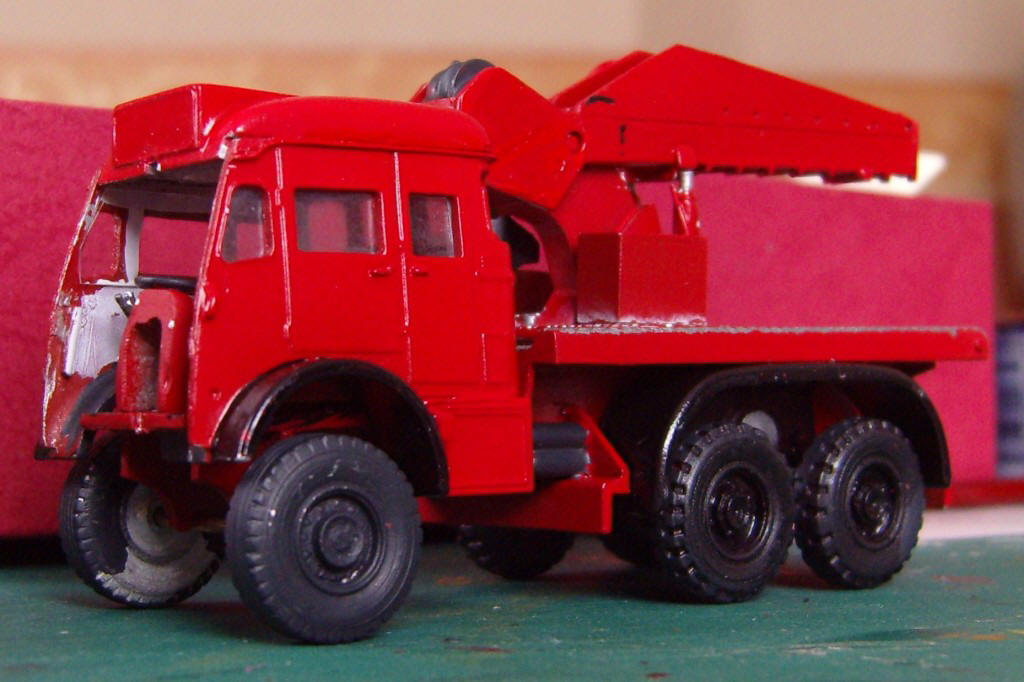 Building the kit
The rear of the instruction sheet gives a very straight forward diagram of assembly, which is good seeing as I have never really made a kit before (I have made code 3's but never a proper kit).
All the parts were clean of any flash so no filing was required, after a spray of undercoat and two top coats of red it was time to have a dry run of fitting the bits together. I have to say everything went together nicely and virtually no filing was required to get snug fits.
The instructions give a comprehensive order of assembly which I didn't read, I just went by the diagram and not once did I have a problem, the temptation was to do the cab first but I resisted and done the chassis and rear load area, then the main crane jib/ turntable, you have to fit this before the rear wheels or you'll never get the turntable holding nut? In place and will end up with a turntable which will always fall off or will have to glue/solder it but then it will never turn!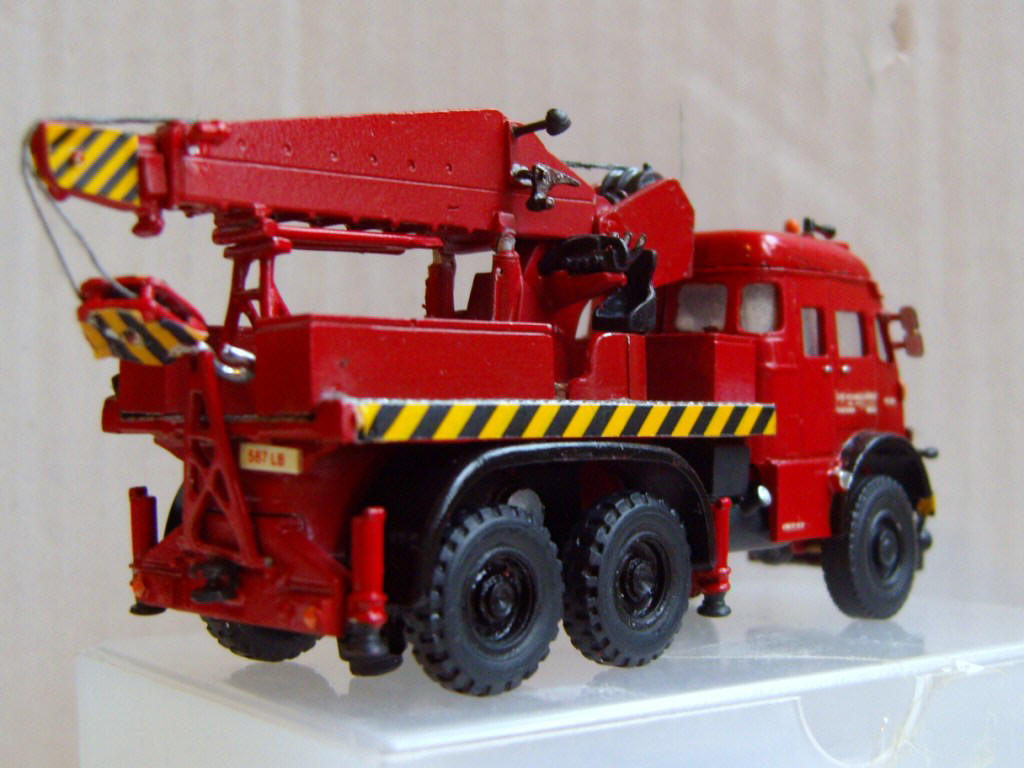 The jib can be assembled in either the retracted or extended position as can the outriggers (two versions of outriggers are supplied along with a jib extension). This creates the dilemma of do I have it displayed with the crane and outriggers out in a 'working' position for a diorama or with the jib/ outriggers retracted so it can be displayed as if driving along.
I opted for the latter as it gave more scope i.e., just arrived at breakdown/ on way to breakdown etc. but I guess it's just a matter of choice.
The glazing was supplied as a clear acetate sheet and had to be cut to size, the most difficult bit was creating the curve for the rear cab corner windows, this was overcome by rolling the glazing around a paintbrush handle until the curve required was obtained.
The kit also comes with two types of jib hook, a small one and the larger one which I used. A bit of grey cotton was used to imitate the steel crane cabling and painted it to stiffen it.
The only bit not supplied with the kit was the Ariel, but this was resolved by unravelling a bit of wire from a spare length of picture wire.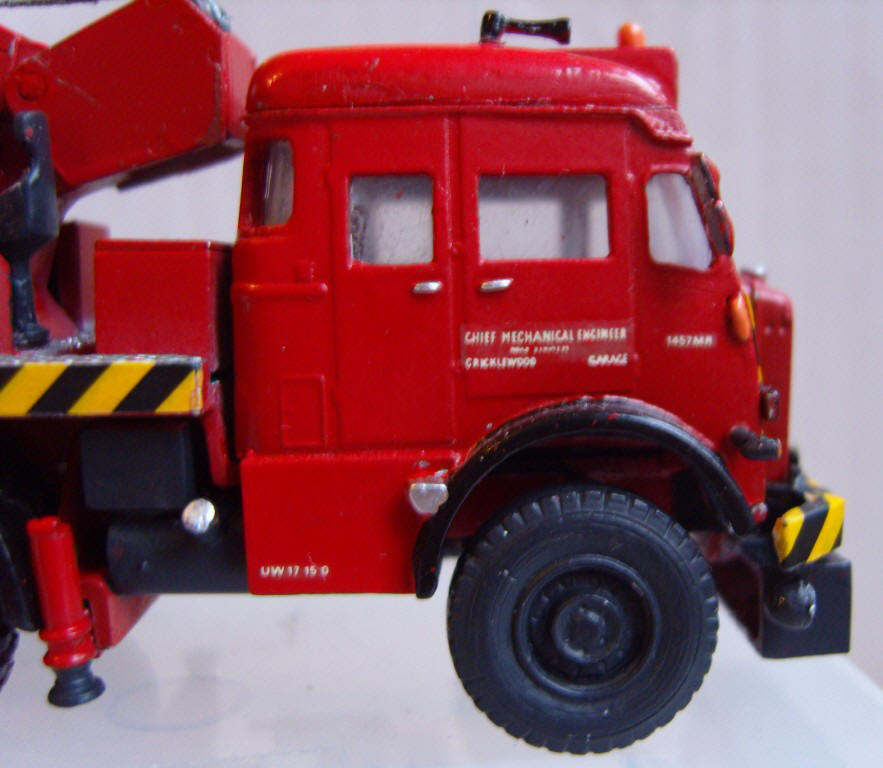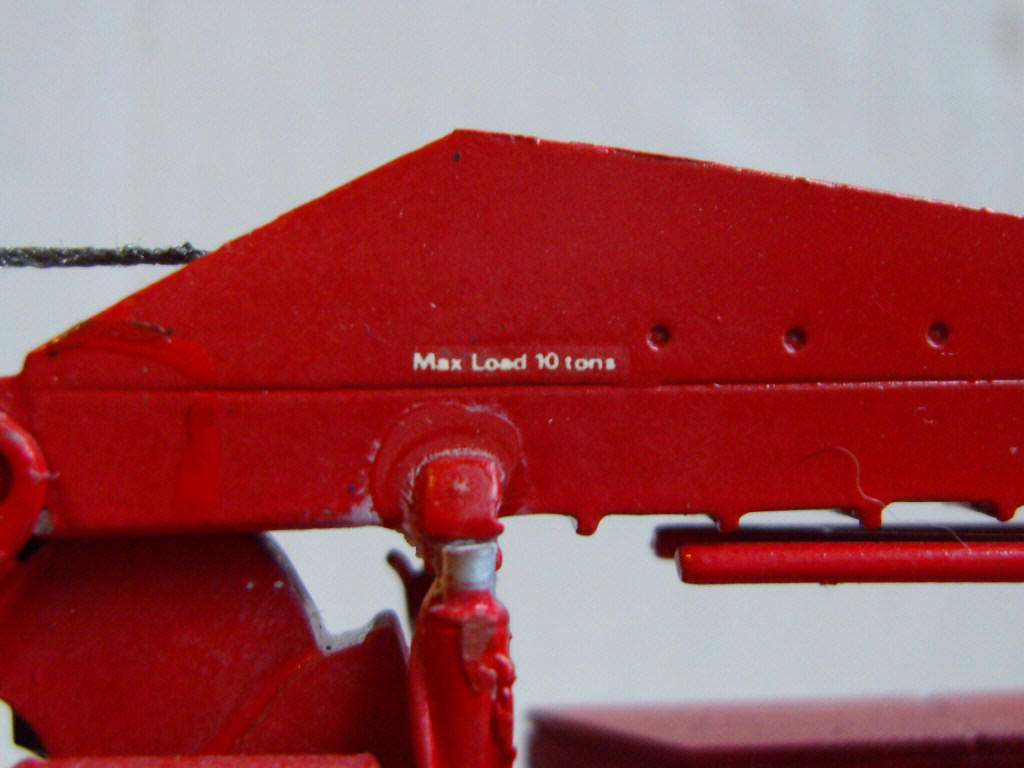 The decals (waterslide) were very good in quality, and the yellow was bright and vibrant even after being applied over a darker painted surface (in hindsight I would paint these areas in a lighter colour before applying the decals, but in this case there was no dulling of colour).
For the positioning of the decals and a picture reference I did scour the internet but only came up with a few photos. I also used as reference the book 'London Transport service vehicles' by Kim Rennie and Bill Aldridge (ISBN 1-85414-274-7).
Lastly I would like to say it's a great shame this kit is obsolete, it was a pleasure to make as my first kit. There must be a market for this kit out there, although the liveries are somewhat limited I'm sure it would still sell well, I wonder if the moulds are still in existence……………………..
Andy Kent
http://photos-by-andy.fotopic.net/