Northcord models issued the following press release earlier today.



NORTHCORD MODEL COMPANY - PRESS RELEASE
ADL Enviro400 MMC
ukbus 6521 Xplore Dundee




Following the significant success in launching the brand new casting of the Alexander Dennis Enviro400 MMC model in the liveries of National Express West Midlands, Stagecoach in Oxfordshire, Bluestar, Stagecoach West Scotland, Southern Vectis, Stagecoach South and Ensign Bus, Northcord Model Company is now releasing the tenth livery on the 10.9 metre long, single-door casting – ukbus 6521 in the livery of Xplore Dundee with full branding for route 22.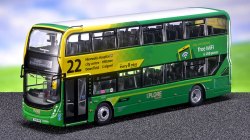 ukbus 6521 represents fleet number 6695 (SK68 MBO) that has 10.9 metre, single door bodywork and was new to Xplore Dundee in 2018. 6521 is one of the 14 new Alexander Dennis Enviro400 SmartHybrids finished to Emerald standard entering service on 2nd December 2018, almost 2 years to the day to the launch of the model version. 6521 has a revised two-tone bright green livery that is a great improvement on the rather dowdy two-tone dark green applied to buses in the Dundee fleet in recent years which was, in turn, a throwback to an earlier colour scheme of Dundee Corporation. These brand-new buses were unveiled to the public at a ceremony in City Square in Dundee on 30th November 2018.
6521 carries a full, branded livery for route 22, showing the destination to Craigowl. The special, comprehensive livery and branding are 100% reproduced onto the ukbus 6521 model. The stand-out features of the branding are : "free WiFi & USB power" on all sides, except offside; "22 up to every 8 mins Mon-Fri daytime" on both sides and rear; "Ninewells Hospital H l city Centre l Hilltown l Downfield I Craigowl" on the nearside and rear.
The Alexander Dennis Enviro400 MMC ukbus 6521 is a one-piece casting whose clean lines accentuate the square, gasket-mounted windows and the livery application on which all logos and lettering are clearly legible. Another main feature on the ukbus 6521 model is its single tree protector at the front. The front dome on the model is significant, with curved windscreens on both upper deck and lower deck.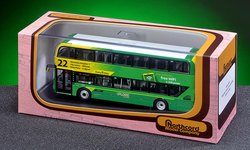 Northcord Model Company is also creating new design standards within the interior of both saloons. These features, inside the compartments, will represent the real, outstanding layout of the Enviro400 MMC, such as the extensive portrayal of handrails on upper deck and lower deck, and a screen monitor on the upper deck, etc.
The brand new 10.9 metre Enviro400 MMC bus models will be distributed by John Ayrey Die-Casts Limited (UK), Porte Publishing Company (Japan), 80M Bus Model Shop and Concorde Hobby Shop (HK) respectively. The UKBUS6521 model is limited to 1008 pieces worldwide.
Northcord Model Company (NMC)------The World's Miniature Bus Co.