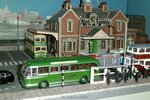 "I began collecting models in 1994 and my collection has always followed the same rule over the last 20 years : only one of each casting (to limit myself). As I didn't plan to do dioramas at first, I purchased different liveries, to have plenty of colours, operators, etc... Of course, this became a problem when I had to display them in the same scene. The first layout was thus based on a fictitious place, somewhere in central England. After that I tried to make more regional specific layouts
Halchester bus station, my first diorama, built in 2000-2001
Newcastle scene (built in 2001) and Walsall (2003)
Portsmouth harbour (built in 2001, with extension-the warehouses in 2006)
London Transport "East Ealington" layout (built in 2004-2005).
Note: I've nearly never been in Great Britain, only a week in London in 1992, which was a long time after all these scenes vanished. All has been inspired by a handful of "Glory days.." and "Heyday of.." books (I didn't have the internet when I built my layouts).

"Halchester bus station" was my first diorama. Don't look for this town on a map, the name only exists in "Tintin and the black island". This diorama displays the buses from areas not covered by my other layouts, so this explains why we can see a Royal Blue OB and "Macbraynes" SB together, etc... A place certainly very attractive for bus spotters... The scene is set in the early 60's.

The second layout built is divided into two parts, a "Midland Red" garage on the left 1/3rd and a Newcastle market on the other 2/3rds; The bus garage is the current Superquick kit, with interior and additional parts added. A very busy street is used to display buses from the municipal sector (no PTE yet...) : Walsall, West Bromwich and Wolverhampton. The "scenic barrier" between both parts is an elevated railway, with a low bridge (inspired by a picture of the book "Glory days : Tilling group" on page 61) : pass under this bridge and you arrive directly in... Newcastle.
The main piece there is the Superquick market, a little bus stop and a trolleybus route (with of course a Q trolleybus) are a feature here. Buses from north east are shown in this area.

"Portsmouth Dockside" I began in 2001 with a Superquick station kit, but once built I didn't know how to display it. The picture of the Birkenhead ferry station published in 'Glory days-the Tilling group" with large lettering on the roof gave me inspiration and I situated the scene in Portsmouth. I already had several buses from the region (Southdown, Wilts and Dorset, etc...) and I also loved the Portsmouth livery (I purchased the EFE PD2/Orion soon after it was released). For the "harbour" atmosphere, I've added the background, the Royal Navy figures, and some seagulls on the roof. I've imagined a ferry embankment with an interchange bus station. The docks extension came later when EFE released its new lorries and I wanted somewhere to display them. In hindsight this wasn't the best decision, with the subsequent arrival of plenty of model cars from Pocketbond and Oxford a more urban landscape with large streets and perhaps a fire station (for fire service models) would have been more appropriate.

The "London " diorama is divided in 2 parts, separated by a public garden. On the left, a cobbled street with Feltham tramway and older buses represent the capital in the postwar years when the trams was still in service.
The main part of the layout is set in 1965 and has a LT bus terminal and various streets. A wide selection of familiar London bus types can be found here including different versions of Routemaster, RT, etc.. The background of the layout features a section of tube line with the platform and station ("East Ealington"). The station building is a Alphagraphix kit which has been greatly improved with the addition of a canopy, glazing, & interior detailing, etc..
Note that the tube train, formed with two driving cars and no motor unit wouldn't be able to move in reality!

Jean Luc, France