New model bus & coach toolings have become somewhat rare over the past few years, the almost constant flow of new models we witnessed in the 1990's & and early 2000's have now dwindled to a mere trickle.
All four of the established 1/76 scale model producers have clearly cut back on the development of new products.
The largest producer EFE, haven't released any new tooling since their flat screen Bristol VRT appeared in December 2012, while Corgi hasn't announced any new castings for the OOC range since early 2014.
B-T models has expanded its small range of bus & coach products with a few new models over this period, but releases of these has become spasmodic with some items remaining unreleased well over 12 months after first being announced.
Meanwhile the much regarded Northcord Models range now seems to have gone into hibernation, with no new UK releases since September 2013 and what seems like little chance of any new toolings on the horizon.
Fortunately for model bus & coach fans one manufacturer hasn't followed its rivals and continues to investment in new toolings
. Oxford Diecast has thus developed an interesting range of 1/76 scale models over the past four years. These new models have had a strong bias towards coaches and this trend has continued with their latest new product.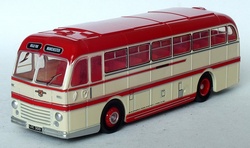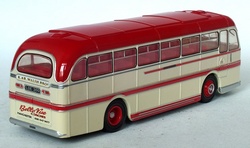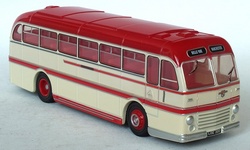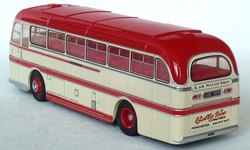 Oxford Diecast - Duple Roadmaster LOE 300 in Belle Vue Coaches livery.
Oxford has chosen the 1950's Duple Roadmaster Coach, this vehicle has been modelled before by Dinky Toys and was part of that range between 1952 & 1960.
The somewhat basic model lacked both glazing and internal detailing and during it long production run was produced in several different colours as either model number 29h or 282.
The Real Coaches
The Roadmaster was developed by Duple to take advantage of the new range of the under floor mid engine chassis, such as the Leyland Royal Tiger. These offered an alternative to the more traditional half cab front engine products when introduced in the early 1950's.
The Duple body offered a front entrance and modern full front design. In many ways the design was similar to Midland Red's C5 vehicles, both share features such as the small side windows, a high waistband & general body shape.
Like the Midland Red C5 these vehicles were probably conceived to take advantage of the growing motorway network & the new express services that would use them.
Sadly for Duple the design, which became known as the "Iron Duke", didn't prove popular and only around twenty coaches were built, only two of the larger operators bought any examples.
Ribble took the largest batch of coaches, nine examples operated at first with Scout & Standerwick, before eventually joining the main Ribble fleet. Red & White acquired the demonstrator vehicle JWO 99, but this was the only Leyland coach example ever operated by them. They did however buy another twenty one Guy Arab examples with the bus version of the body, this made them the largest operator of the Roadmaster type.
It should be noted that the Belle Vue livery depicted on the model, has only been carried on the real vehicle since its restoration in 2012.
A number of smaller independent operators also brought new or acquired second hand examples, these included Bamber Bridge Motor Services, Samuel Legards, South Notts, and Jacksons of Castle Bromwich
List of known vehicles with Roadmaster Coach bodywork
Registration
Chassis
Original Owner & Fleet Number
Notes & Later Owners
New
JWO 99
Leyland PSU1/15
Red & White 899 / UC151
Former Prototype & demonstrator
2/1950
SB 8250
Leyland PSU1/11
McConnachie, Campbeltown
Fitted with bus seats & narrow passenger door
?/1951
HVJ 733
Leyland PSU1/11
Wye Valley, Hereford
?/1951
JWO 980
Leyland PSU1/11
Jones, Aberbeeg 45
With A & C Wigmore of Dinnington by 1958
?/1951
LOE 300
Leyland PSU1/15
Jacksons, Castle Bromwich
Sold to South Notts, 64 in 1957
?/1951
LOE 900
Leyland PSU1/15
Jacksons, Castle Bromwich
Sold to South Notts, 63 in 1957
?/1951
KAX 41
Leyland PSU1/11
Hill,Tredegar
Sold to Bevan Bros, Cinderford
?/1951
DRN 355
Leyland PSU1/11
Scout
3/1951
MAL 310
Leyland PSU1/11
South Notts, 42
5/1951
DRN 356
Leyland PSU1/15
Scout
6/1951
DRN 357
Leyland PSU1/15
Scout
Sold to Bamber Bridge Motor Servivces, 5
6/1951
GUT 398
Leyland PSU1/11
Browns Blue, Markfield, 42
With Kelleher, Co. Cork in 1968 (re-reg IZK 623)
6/1951
GVA 289
Leyland PSU1/11
Baxter, Airdire, 42
Sold to Samuel Legards in 1957
6/1951
GVA 320
Leyland PSU1/11
Baxter, Airdire, 43
Sold to Skills Motor Services 62, Nottingham
6/1951
LTV 61
Leyland PSU1/11
Skills Motor Servies 61, Nottingham
6/1951
EFV 145
Leyland PSU1/15
Standerwick, 120
Transfered to Ribble, 1054 in 1963
7/1951
EFV 146
Leyland PSU1/15
Standerwick, 121
Transfered to Ribble, 1055 in 1963
7/1951
EFV 147
Leyland PSU1/15
Standerwick, 122
Transfered to Ribble, 1056 in 1963
7/1951
EFV 148
Leyland PSU1/15
Standerwick, 123
Transfered to Ribble, 1057 in 1963
7/1951
EFV 149
Leyland PSU1/15
Standerwick, 124
Transfered to Ribble, 1058 in 1963
7/1951
EFV 150
Leyland PSU1/15
Standerwick, 125
Transfered to Ribble, 1059 in 1963
7/1951
If anyone knows of any other vehicles please let me know.
The coach body was available in two widths, either 7ft 6in or 8ft, all the coach bodies were mounted on Leyland Royal Tiger chassis using either the PSU1/15 for the 8 foot version or the PSU1/11 for the narrower option.
Additionally there was also a more successful bus version of the body which had a much plainer body design and was fitted to a wider range of chassis types.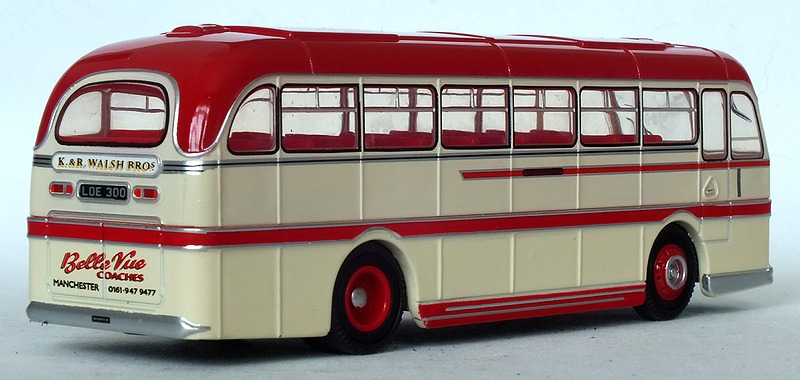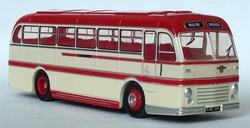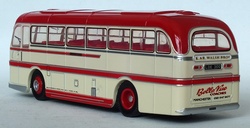 LOE 300 was one of a pair new to Jacksons of West Bromwich in 1951, they operated both coaches for six years before selling them to South Notts of Gotham. LOE 300 remained with South Notts until 1969, it was then purchased by the local Gotham branch of the Royal British Legion.
The Legion used the vehicle for members outings and fishing trips for many years. In 1990 Arthor Collins purchased the coach and operated it for two years, he planned to restore it, but due to other commitments and the deteriorating condition of the vehicle, this was never completed.
In 2011 the vehicle was donated to K & R Walsh and they carried out a full restoration of the vehicle over the next 12 months. Much of the work was done at the K & R Walsh's Belle Vue Coaches' Stockport premises, and it was decided to paint the vehicle in a livery similar to that used by company in the 1950's.
The Model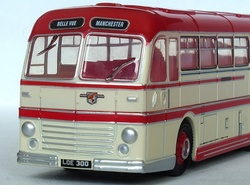 Moving onto the model itself, it's construction uses Oxford's favoured combination of die-cast metal & plastic for the bodywork. The lower half of the model is a single die-cast component while the upper section is a single clear plastic part. Oxford has chosen to model the wider 8 foot version of the body.
Like the previous Oxford coach models the upper section has all the panels & window detailing masked sprayed or tampo printed on to its exterior surface.
Once again Oxford has achieved a very high standard of paint finish with no sign of any bleed between the red & cream areas. The paint finish is evenly applied and thin enough not to mask any of the finer detailing.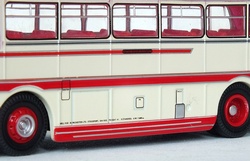 Body detailing for such things as the window surround rubber gaskets, window hoppers and the thin chrome beading are all reproduced using paint. This has been very accurately applied across all of these features.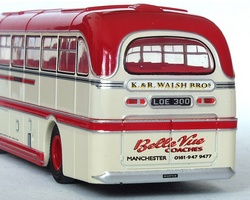 Decals such as fleet names and some of the side beading have been applied using tampo printing, these include the small legal lettering & a tiny Duple badge on the rear. All of these are sharp and even the smallest are fully legible.
As is normal for Oxford models no driving mirrors are fitted, however windscreen wipers are depicted. These are moulded into the front windows and are highlighted with black paint which looks convincing.
All the lights on the front and rear are reproduced using paint, the radiator grille bars are also highlighted with silver paint along with the front & rear bumpers.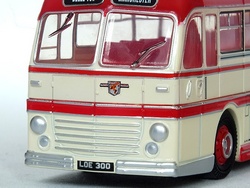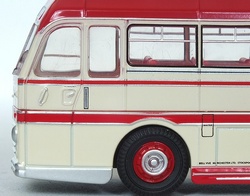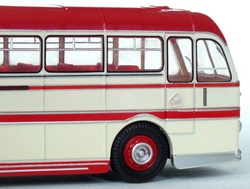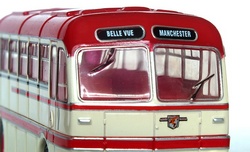 The roof depicts a representation of sliding central sections, there are also some air vents and beading detail. Two destination displays are moulded into the front roof dome.

The base of the model is finished in satin black and contains a fairly basic representation of the chassis, drive train, exhaust, along with various tanks & component casings.
Generally speaking the model appears to capture the body shape well and I can't find any faults with its external looks.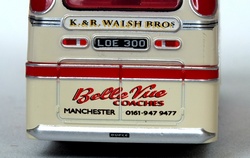 Comparing the model to the preserved LOE 300 (now re-registered RSK 615) does throw up a few differences, the red side skirt panels and the semaphore indicators are missing, but it appears these were both features that were originally fitted to the vehicles when new.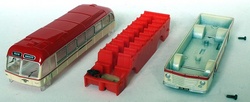 The model is held together by two cross head screws in the base, removing these releases the upper plastic body and the attached plastic interior seating & cab moulding. The seats are attached to the upper body by four snap fit tabs at the front & rear. These can be easily released using a small flat head screw driver.
The joint between the two body halves is extremely good & it's one of the best I've seen on any model.
A very basic low relief representation of the dashboard is also moulded onto the ledge behind the steering wheel.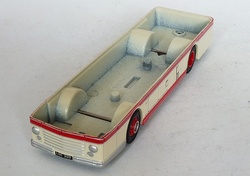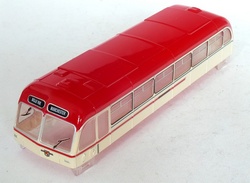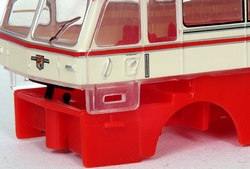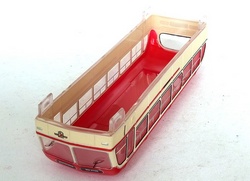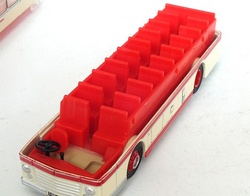 The interior detailing is fairly basic, with the passenger seats in the rear being represented by bare red plastic. At the front the entrance floor area has been sprayed light brown, there is also a black plastic steering wheel & gear stick. The driver's seat is another separate part, although again this is just an unpainted red plastic part.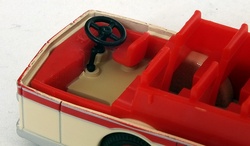 Sadly there's a rather major error regarding the position of the driver's cab area, the dashboard panel has been made the same height as the top of the die-cast lower component. This means it's set way below the height of the bottom of the front windscreen.
It's doubtful that any driver sitting in the position modelled would actually be able to see out of the windscreen. Photographs of the real LOE 300 show the steering wheel should be much higher and clearly visible through the front windscreen, the dash panel should actually be level with the lower edge of the front windows
Although this is hidden inside the model, it does still impact somewhat on the overall frontal appearance.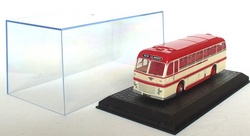 Other minor problems with the model are to do with the plastic & die-cast mix of the body, the clear plastic used can under bright light become slightly translucent, this can result in the upper body colours appearing slightly lighter than those on the metal areas.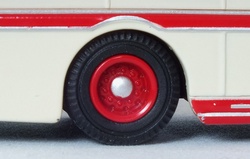 Given the fairly poor sales of the Duple Roadmaster coach it will be interesting to see just how many liveries Oxford can produce, bearing in mind that the vehicles were produced in two different widths this may also further reduce the choices unless there's a degree of compromise.
A second model of sister coach LOE 900 in South Notts livery has already been announced by Oxford. I'm sure a Standerwick or Scout version will also be high on the list of future releases.
Overall another nice model from Oxford who have once again produced something a little different, it just a shame there are the issues with the interior seating unit, one has to hope Oxford can address this on future issues.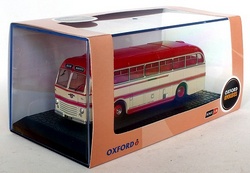 Pros:
Excellent vehicle likeness
Good value for money
Excellent paint & decal application
Cons:
Drivers cab area positioned incorrectly
Poor interior detailing
Marks:
Construction: 10/10
Livery Application : 9/10
Decal Application: 10/10
Interior Detailing 5/10
Likeness to Subject: 9/10

Overall: 8.5/10

A detailed account of the restoration of the real vehicle depicted by this model along with many photographs can be found on the www.krwalsh-classics.com site.

Model Review Index