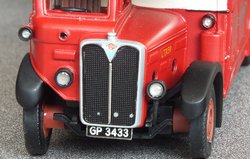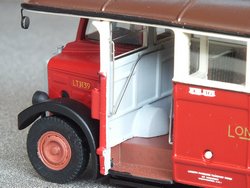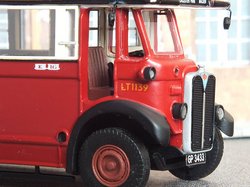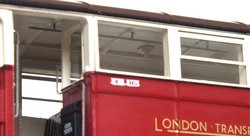 Another new feature are small black round driving mirrors on the front corners of the roof which have silvered rears.
Like the first model small silver metallic discs are used to represent the filler caps found on both sides of the vehicle. A small single wiper is also fitted to the top of the cab windscreen.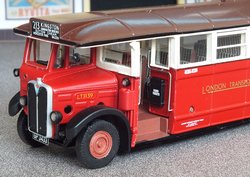 The all important front AEC radiator which has so often been a weak point on other models has been very well executed with both the shape & depth looking right. A small transfer has been used to reproduce the AEC badge.
The glazing used on the model is some of the best I've seen. Not only is it thin & very clear, but the side windows appear to have the pillars moulded in to the glazing, this has then been over painted to produce a very convincing and flawless effect.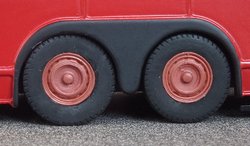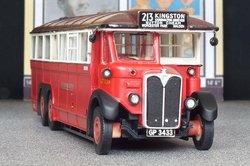 The six wheels are all single tyre and have identical hubs, examining period pictures of vehicles suggests there should be a variation between the front & rear hubs, but to be fair this was slight.
The tires are made of a soft rubber and have some tread detailing.
The hubs are painted in the normal LT reddish brown colour & it is here that one of the few short comings of the model is evident. The rear of the front hubs are clearly visible at the front of the model and the reddish brown colour does rather spoil the otherwise excellent looks. The first issue of model had these painted black and its a shame this wasn't repeated on this latest issue.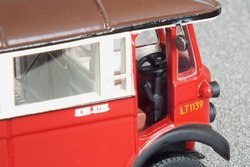 Moving on to the interior, the drivers cab includes a steering wheel, gear change & hand brake. There doesn't appear to be any representation of the dashboard however, although to be fair that's not really noticeable in the rather cramped cab.