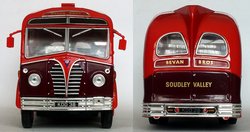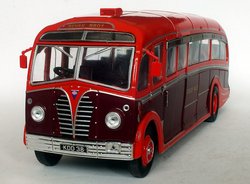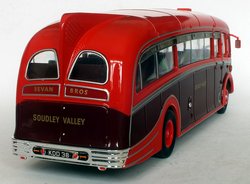 Driving mirrors are fitted and these have a silver painted rear, the windscreen wipers are moulded into the glazing and again silver paint is used to enhance their appearance.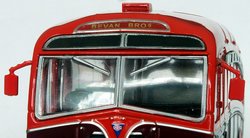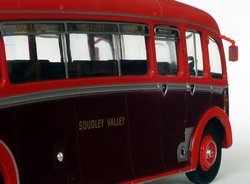 Roof detailing includes the dorsal fin which has some vent detailing. The panel beading is reproduced and looks to be to scale. A final touch is a raised plastic intake vent at the front which has been painted to match the roof.


Detailing on the base is fairly good and includes the engine, transmissions and drive line. Various tanks are also included along with the exhaust pipe, the rear section of which is finished in silver paint..
Soft plastic tyres are fitted to the red painted wheel hubs. The tyres include tread detailing while the hubs also contain a good level of detailing. The front wheels have silvered central hubs & decorative wheel rings.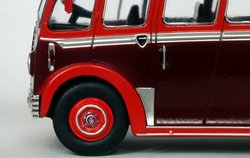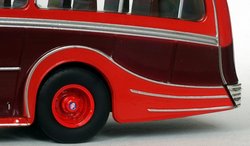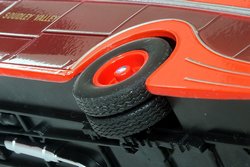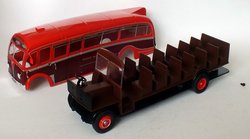 Construction wise the model can be easily disassembled by undoing a single cross-head screw at the rear of the baseplate. This allows access to the interior which is fairly basic in terms of detailing.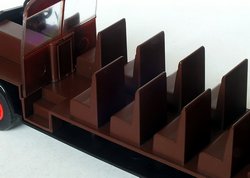 The interior consists of a seating component made of brown plastic. All the seats are reproduced and include some detailing for the headrests. There's certainly scope for some enhancements should you be handy with a paint brush. Passengers & a driver could also be added with ease if desired.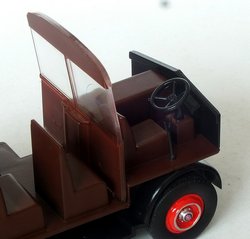 The drivers cab & the area over the engine is partitioned off using a nice internal glazed panel. The internal engine cover has been modelled along with the drivers seat, black steering wheel & a small non-detailed instrument panel.
All in all for the price this is a very detailed larger scale model.
1/43rd scale isn't a particularly common scale for UK bus & coach models. Corgi produced quite a large number of 1/50th scale models back in the 1980s, but these will look out of scale next to these larger IXO models.
On the plus side there are plenty of 1/43rd scale cars & vans which would work well with this coach if you were planning a diorama scene.