Please note : There are lots of
pictures on this page which may take some time to download.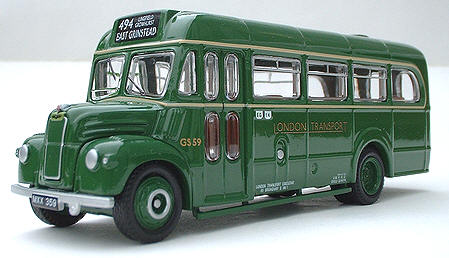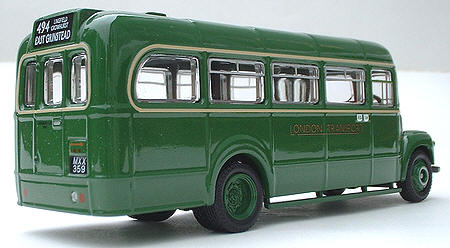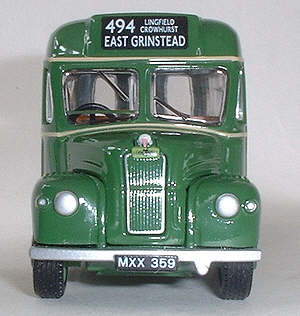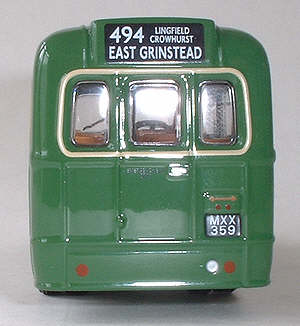 After over a years wait the little GS bus has finally made it's debut in the EFE range.

The first model features GS59 registered MXX359 wearing London Transport's traditional green country area livery, the model carries blinds for route 494 to East Grinstead and garage codes for the towns bus depot.

First impressions are good the model looks right and seems to capture the shape of the real vehicle extremely well, one thing I'll notice when you pick the model up is how light it feels, the main body casting is diecast although the mudguards and radiator grille are plastic along with the base and interior.

The interior details are formed out of a single brown plastic casting however there is only one very thing black pole and a cross head screw holding the model together.

The model does not have wing mirrors but these were very small on the actual bus anyway, also missing is the handrail forward of the entrance door, and the traffic indicators either side of the windscreen, however to be fair the indicators were only fitted to the vehicles later in their life so may not be relevant on this model. The side window openers have all been highlighted with silver paint while the driver side and front windows have fine green glazing bars, the windscreen wiper are also finished off with black paint.

The model carries a very delicate gold London Transport fleet name which even has a thin black outline, one omission may be the gold roundel which I believe was usually applied below the rear emergency door.
The head lamps, side lights and front bumper are all picked using silver paint as is the thin radiator grille surround. Finally the famous Guy Indian head is present complete with white painted head dress feathers and flesh coloured face.

There are a few negative points, the area around the Indian's head appears slightly sunken into the bonnet top, it should be flush, the London Transport badge at the top of the radiator grille is shown sitting across silver surround, it's top edge should butt up to the chrome surround which should continue all around the grille. Finally it become apparent when compared with pictures of the real bus that the pillars either side of the windscreen are rather on the thick side.

However overall I think even with the slight inaccuracies this model does a good job of capturing the classic shape of the GS class. I'm happy anyway!