A new addition to the EFE range is this cold cast resin bus garage. This model isn't actually a new product, as it was previously issued by Bachmann several years ago in its Scenecraft range as item 44-074. Bachmann also produced this garage in N scale more recently as item 42-074.
With the take over of EFE its seems a sensible move to transfer this product into the range best known for its model buses, it joins a number of other railway & diorama accessories previously developed by Gilbow in its Railway Collection.
This new EFE re-issue comes with the added extra of a free EFE coach model, but more about that later.
The Garage Building
Style wise the building has a 1930's art deco feel which is particularly apparent in regards to the design of the small office building on the front of the garage.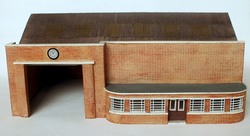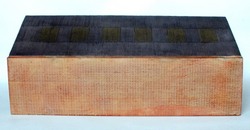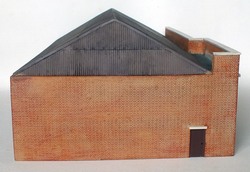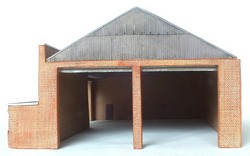 EFE Bus Garage - Elevations
The model is a fairly large item, a fact that is reflected by both its weight & RRP of £84.95.
Dimension wise the garage measures in at 268mm long, 198mm wide, & 110mm high. This makes it large enough to accommodate four average sized double deck bus models or three longer single deck models. The entrances just have enough clearance for double deck models to pass through.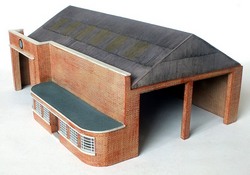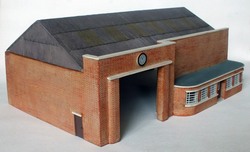 The building is a single resin casting and its construction generally appears to be quite robust with all the main outer support walls being around 5mm thick, the only slightly vulnerable looking area is the central brick support column found between the two side entrances.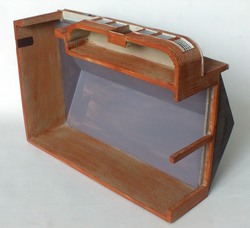 Detailing is to a high degree with a convincing finish on all the fully textured brick walls, this also extends to those on the interior of the main garage area & on the back wall inside the offices.
The main garage roof is covered in corrugated sheets, while the office area has a flat felt covered roof, both areas are again fully textured and have again been decorated in a very realistic manner. There are also painted concrete crapping stones along the top of the main front wall, and around the roof of the office, these once again look convincing.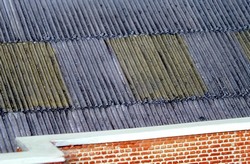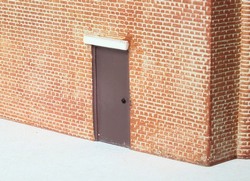 There are a number of other nice detailing touches. A clock is present above the font entrance and shows the time of 11:05, there's a small brown access door on the side of the garage which matches the two double entrance doors on the front office. The office is fully glazed and the windows give a good representation of the metal frames used for a building of this era.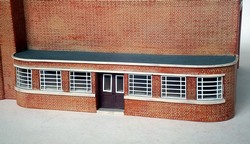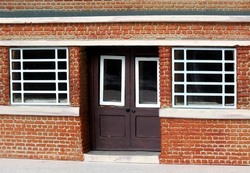 The Office area has Art Deco styling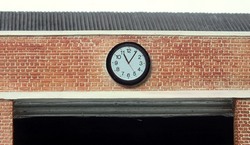 The depot clock and roller door above the front entrance
The Model Coach
An extra bonus with this re-issue over the previous Scenecraft version in the inclusion of a free EFE model coach.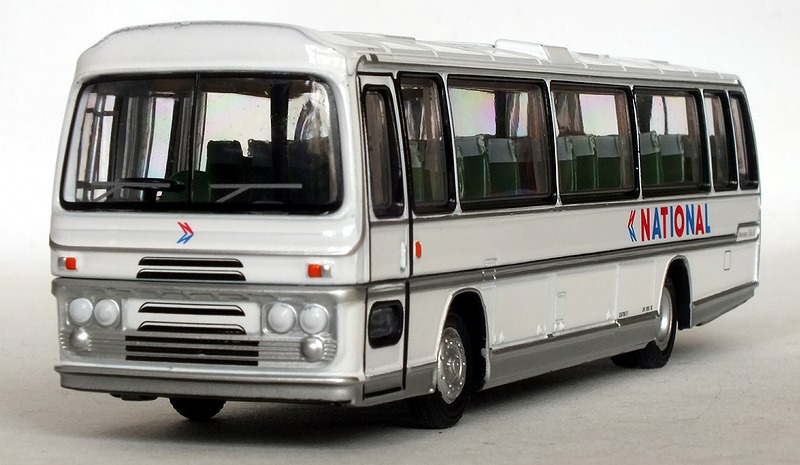 The free Plaxton Panorama coach supplied with the garage


This takes the form of somewhat unusual Plaxton Panorama Elite model that is only partly decorated. It has large red & blue "National" fleet names on the sides & a double "N" logos on the front & rear boot. The only other decals are some small text signs.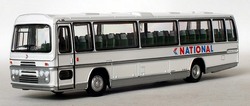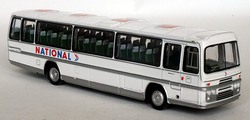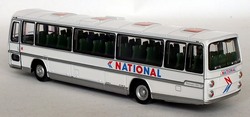 Bachmann have included this coach with a view to buyers using it as a basis for their own individually customised model.
There are a number of third party transfer suppliers who offer destinations, company fleet names & registration plates for OO scale model buses. If however you wanted to reproduced an authentic "NATIONAL" vehicle of this type, I think it might prove a little more of a challenge finding suitable off the shelf registrations & destination transfers!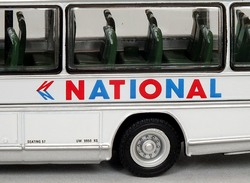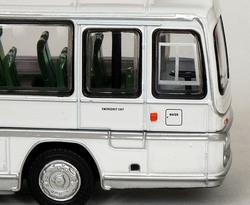 This model appears to have been blank produced by Gilbow and was probably produced at the same time as the similar Tilling National model 29510 back in 2015, the intention being to produce further variants at a later date by adding the missing decals using the tampo printing equipment at Gilbow's UK base.
These blank models were often produced by Gilbow, but they have rarely been released into the public domain.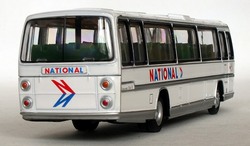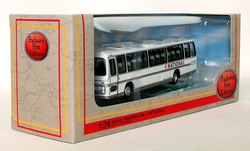 Overview
This is clearly a fairly expensive item, so it will be a considered purchase that will likely appeal to those planning a diorama or wanting to add a scenic feature to a larger model railway layout.
The design of the garage means it looks at home with both older and more modern era vehicles, as real bus garages go it's not really that big, and would likely work best combined with an open garage parking area or bus station where more models could then be displayed.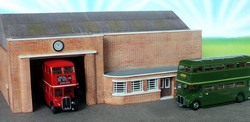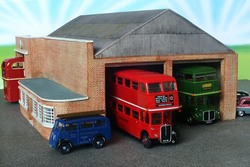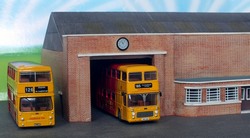 Some simple dioramas
Overall this is a well made product which is ready to go straight out of the box. There are many cheaper bus garage options available, must of these are however low relief card kits which will need skill and patience to build and will offer a less robust end product.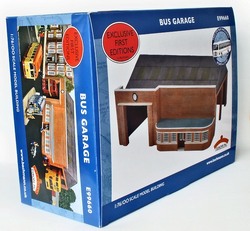 Pros:
Good detailing & realistic appearance
Overall sturdy construction
Use straight out of the box
Free model coach included
Cons:
Price
Side entrance support column looks a little vulnerable
Model Review Index